The 68 mixer is Rane's answer to Pioneer's popular line of 4 channel club mixers equipped with built in effects. This serious interface takes the quality, strength, and Serato integration from the 57 series to new heights with a full sized mixer aimed at club installs. Continue reading for a full review on the Rane 68 mixer along with a video going through our favorite, and least favorite features.
Reviewed: Rane 68 Digital DJ Mixer
Price: $2499
Available: Now
Ships With: Serato Scratch Live
Good
Two USB ports and dual sound cards makes DJ switching truly seamless.
Sturdy, robust and well made, this mixer will last for a long time.
Two channels of full Scratch Live controls on each side of the mixer.
Full featured and well equipped mic input section.
ASIO/Core Audio drivers allow sound card use with any software
Scratch Live DJs can route sample players and up to four decks of audio into the mixer.
Bad
Really expensive for the home DJ, it might be primarily an install mixer
Lacks automatic beat detection on the effects.
Average effects offerings don't include beat slicing, beat masher, or looper.
Stiff cue point buttons are not great for rapid play back.
Bottom Line
Even after the release of the brand new Pioneer Nexus, the Rane 68 is still one of the only mixers on the market to support two DJs at the same time on the same mixer via its built in dual soundcards. It really can't be stressed enough how convenient this feature makes the 68 mixer.  With integrated controls for Serato Scratch Live and a bullet-proof construction style, this is an easy choice for clubs that primarily serve Serato DJs. Sadly, there is no Traktor Scratch support, and that fact alone may be enough to give the new Nexus the edge in Europe. Here in the U.S however, I think most DJs would be very happy to find a Rane 68 installed in their local club since it means seamless switching between each performer.
THE VIDEO REVIEW
EFFECTS SECTION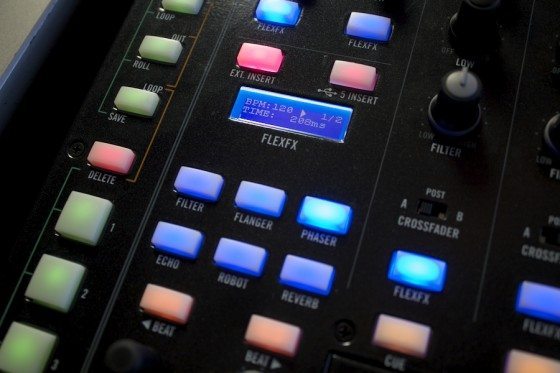 This is the one area where Rane falls slightly behind Xone and Pioneer mixers. The effects section performs like an early DJM-500, with limited manual controls and basic effects. For the average Serato DJ, you probably won't care too much since the effects in Serato offer far greater control, flexibility and automatic tempo timing. The only challenge is finding knobs and faders to control those internal software effects. While the TTM-57SL mixer offered limited controls for Serato's internal effects, the 68 does not offer any dedicated controls. Since all of the controls on the mixer are MIDI-mappable, you can assign them to Serato's internal effects but that would mean losing some of the loop, cue, or browse controls.
One difference between the Rane 68's effects processor and other mixers is that once a BPM is set for each effect, it is stored to that effect when switching between effects. For example this allows you to set the delay value to ½, and the flanger to 16/1.  This is a different experience compared to the DJM series which is driven by one single master tempo value.
Editor's Note: Rane did tell us that they are working on auto tempo detection and that may be available as a free download sometime in the future.
INPUT/OUTPUT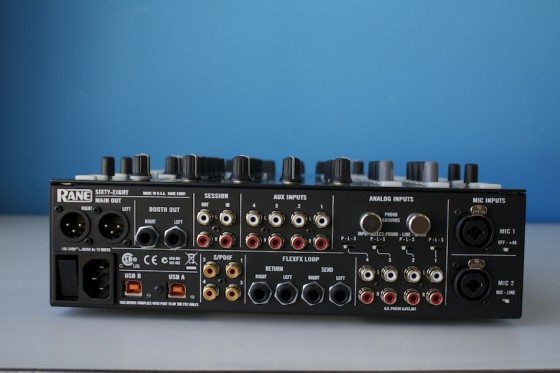 As usual Rane's input and output section reflects their professional audio pedigree. The mixer offers a wide range of connection options that will be more than sufficient for any club install and certainly plenty of connection points for a home studio. Since the 68 is a digital mixer, it offers 4 SPIDF inputs and outputs available directly available on the mixer.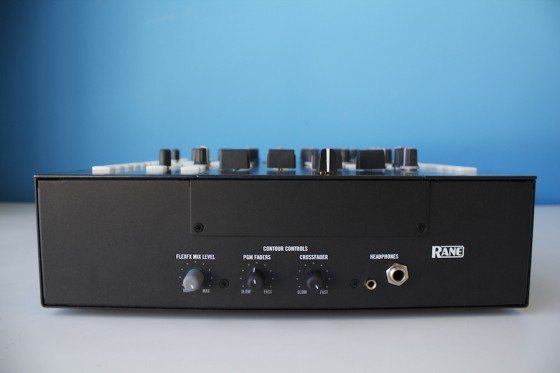 SERATO CONTROLS
The 68 offers dedicated Serato controls for Deck A and Deck B on either side of the central mixer area. In terms of layout, spacing and position, these groupings are ideal. Each channel strip is equipped with dedicated deck scrolling, a full looping section and five cue points.
The only downside is the feel of the encoders and buttons, both of which are less than ideal. On the positive side, all buttons found on the 68 are solidly built with high resistance tact switches that should survive a lor of abuse (The TTM-57SL was notorious for switch failure from hours of button presses). The downside is that the buttons are really stiff and un-playable. For basic triggers, it really won't be a problem at all. However, if you're the type of DJ that likes to get crazy with cue point juggling, a pair of Dicers would be more appropriate.
SOUND CARD

Dual sound cards sporting ASIO, Core audio and Serato Scratch live support makes this a mixer that will truly work for everyone.  Traktor and Serato DJs can not only play back to back without any awkward swap moments, they can easily play together – each mixing on 2 of the consoles 4 digital channels.
In two months of extensive testing in the office, we had no problems with driver failure or poor performance. It's safe to say the dual on-board sound cards work really well and can easily replace your trusted Audio 2 or 4. The only downside? A lack of Traktor Scratch support means those timecode-reliant Traktor DJs still need to plug in a NI sound card to play ball.
Editor's note: Although the Rane 68 mixer is not Traktor certified, you can use HID controllers like the CDJ-900 and 2000 directly in Traktor Scratch Pro (without time code). It's primarily turntable control through time code records that is not supported without a NI sound card.
BRIDGE INTEGRATION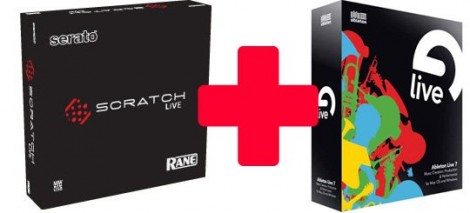 If you are a Serato/Ableton "Bridge" user then this mixer does pack some ideal features:
Independent routing of ASIO channels from Live to each channel in the bridge
Full recording of 4 channels of audio including mixer automation of all 4 faders and EQ's.
You can MIDI-map the buttons on the side of the mixer to trigger clips in Ableton Live
Use of the effects in Ableton as inserts on all channels in the 68 (digital send and return)
MIDI-MAPPING IN TRAKTOR
As a bonus, every knob, fader and button on the 68 is MIDI-mappable in Traktor. The entire mixer surface both controls the audio and sends MIDI signals at the same time without requiring any shift buttons. With this you could theoretically layer Traktor effects on your low EQ or do anything else our crazy readers might dream up. Rane's product specialist Zach Stone created a Traktor mapping for the 68 and we will be posting that later in the day.  and here it is!
Rane 68 MIDI TSI file for Traktor