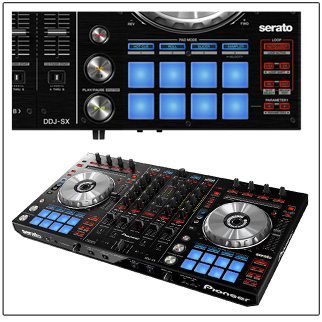 Today Pioneer introduced the very first controller designed for the new Serato DJ software, the DDJ-SX. As the background audio in the launch video not-so-subtly suggests, this controller is designed to give DJs "total control" over the Serato DJ interface, and with eight velocity-sensitive performance pads, a four channel standalone mixer, and two jog wheels that can switch into a mode that controls two decks concurrently, it's a very serious new contender about to step into the market.
It's clear the level of controllers that Pioneer is taking aim at with this unit – the large VCI-400-sized all-in-one controllers that have become the premium option for gear-lusting controllerists worldwide. It can be hard to introduce a new product into an already saturated market- but being the first controller to launch with Serato DJ integration could make the DDJ-SX an even more successful version of the popular Numark NS7 for ITCH.
KEY FEATURES
From our perspective, there are two main features that set this unit apart from a lot of the other four-channel standalone controllers on the market. First up, the conductive touch jog wheels that, in addition to standard scratch and scrub functions, can be switched between three modes of control:
Dual Deck – The DDJ-SX enables two tracks to be controlled at the same time, allowing scratching or setting and recalling hot cues on both tracks as if they were performed on a single track.
Slip Mode – While activated, Slip Mode silently continues song playback during a performance loop, scratch or hot cue and resumes audible playback when the loop, scratch, or hot cue operation is ended, creating smoother and more seamless transitions.
FX Mode – Provides access to two types of effect modes:
Multi FX Mode – Allows multiple effects to be applied simultaneously
Single FX Mode – Allows a single effect to be controlled with numerous parameters
The second feature of the hardware that we really think shines are the velocity sensitive pads sensibly located at the bottom of the unit – allowing for quick triggering of cues and samples. Not only are there eight of them, but they look relatively large – obviously the real test will be actually playing with them to see how they respond. Pioneer doesn't have a lot of experience in making pads, so we'll be very interested in comparing them to MPCs, Machine-style pads and Vestax-style pads.
COST + AVAILABILITY
The DDJ-SX controller will be in stores starting November 1st at a suggested retail price of $1,199, and comes bundled with Serato DJ. The first 10,000 SX controllers sold will also include a copy of Serato Video, which normally runs $150 to get started mixing videos.
More Info:
Do you think you'll be checking out this controller and considering buying it? Let us know in the comments!