For todays artist gear setup we get to take a look inside the travel bag of veteran DJ/producer, Danny Tenaglia. The New York based DJ started collecting records at 10 years old and in 1979 got his first taste of no boundaries mixing when he heard DJ Larry Levan's genre-less mixing at Paradise Garage. A longtime vinyl advocate, he has now switched to DJing Traktor Pro 2. See what's in Danny Tenaglia's bag after the jump.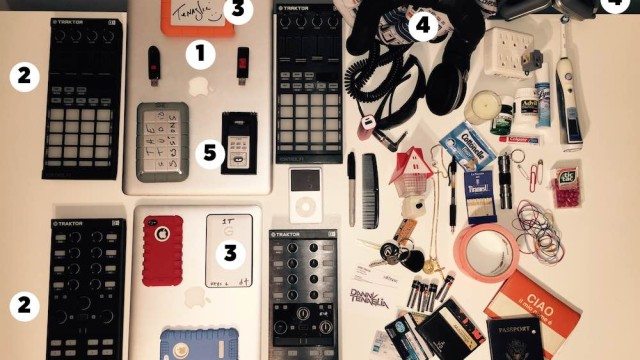 1 – Laptop
17″ MacBook Pro fully loaded to run Traktor
13″ MacBook Air lightweight laptop used as tablet, organizer + works great in bed too when chilling and unwinding.
2 – Midi Controllers
3 – External Hard Drive
1 x Lacie HD – Total backup of MacBook Pro 17″ just in case
1 x Lacie HD – Loaded with more music & studio session stuff not in 17″ in case I desire to bring up an older classic or to always be prepared if a studio session arises, so I will have all my personal sounds with me since "Bottom Heavy"
1 x G-Drive to use with Pioneer CDJ's as backup if Traktor was to fail, but so far so good!
4 – Headphones
Sony Headphone Custom Handle Bar style designed for me by close friend and lighting person Ariel Figeroa.
Monster Headset with noise cancellation for reviewing music and programming Traktor, mostly used while flying.
5 – Recorder
Edirol R-09HR Digital Recorder
Personal Items
2 x USB flash drives to always have in pockets to share files with friends, although I am frugal in this dept. with my session work! LoL
iPod to use in the unlikely event I will be at the gym (hehe) but usually for chilling by a pool or beach if possible
Old iPhone 5 as a backup if phone (taking this pic) iPhone 6+ happens to break, get lost, stolen or fall in a toilet bowl!  :-0
USB battery backup for iPhone or Mifi portable Internet box
6 Prong Electrical Outlet extension (and cords) for multiple useage, mainly in hotels.
Variety of batteries for headphones, mouse, razor, etc.
Mini-Flashlight for various uses
Duct Tape – Keeps USB cables steady at gig + various other uses like taping curtains to a wall to help blackout room to sleep
Nightlight (as seen on cover of my Back To Mine CD Comp). Helps when staying in many different hotels, gives sense of home.
Scented candles when possible to rid some hotel room of cigarette odors and toxic chemical smells from vacuuming product
Lysol disinfectant spray. Works great on airplanes if someone stunk up the toilet before you go in, has many other uses
Excedrin Brand Aspirin! Works best on massive headaches often associated after a long set with banging loud monitors
Advil Ibuprofen – Because I haven't got time for the pain! I strongly suggest taking 2 before bed after a gig to wake up feeling much better than if you didn't. I've shared this with many people over the years and received many, many thanks for the advice.
Comb for the hair on my chest!  🙁  (just checking to see if you're paying attention)  lol
Tic Tacs or breath mints. These often help when politely given to people that have partied all night and have dead horse breath!
Variety of Rubber Bands. Traveling with so many cables for Traktor, Power Supplies, USB's, etc, helps keep things organized.
Other miscellaneous items: Matches, safety pins, house keys, pens, sharpies, adapters for foreign countries .  . .
Passport, Credit Cards, Drivers License, Business Cards and Cottonelle Fresh wipes (for that not so fresh feeling) . . .
All humor aside! Lastly, and extremely personal to me is this gold crucifix given to me as a young boy and a medallion of Saint Christopher (Saint of Protection) that my mother (rest her soul) gave to me many years ago for me to wear in travels. I can be quite the clown at times being the overall entertainer that I am, but when not being a DJ or silly person, my faith is by far the most important thing in life to me. Yes, you can BE a freak while also being a loving child of God and acknowledging what the most important things in life are.
Danny Tenaglia Tour Dates
May 16  Dallas @ It'll Do
May 17  Toronto @ NEST
May 23  Las Vegas, NV @ Daylight Beach Club at Mandalay Bay
June 6  Montreal @ Stereo
July 4  Brooklyn, NY @ Output
For more Danny Tenaglia check him out on iTunes, Twitter, Facebook, and Instagram.
Looking for more artist gear setups? See what's in these artists bags:
What artist gear setup would you like to see?
Let us know in the comments below!