Twisted Gratification: Instant Gratification FX For Midi Fighter Twister
DJing is all about being in the moment, creating new sounds and blends without thinking too much. For that reason, I wanted to make a dead-simple mapping that makes it very easy to create complex effects techniques with just a single press. The Twisted Gratification mapping gives you 16 powerful effects preset, designed with house and techno in mind. Each knob does the job of three effects, adding original flavor or building seamless transitions between songs.
Twisted Gratification Traktor FX Mapping For Midi Fighter Twister
The original Instant Gratification mapping was perfect for bass music and had a very glitchy feel. These effects are much more subtle and emulate popular effect chains in house and techno like DubFire's Rattle echo and Richie Hawtin's famous techno snare rolls. Each knob gently increases the level of the effects, while manipulating carefully-chosen ranges that will sound perfect every time.
For example, instead of just dropping out the low end with a filter, why not also add just a touch of reverb and a little drive for grit at the same time. These effects setups would take too long to setup live, so this mapping delivers 16 in a single press.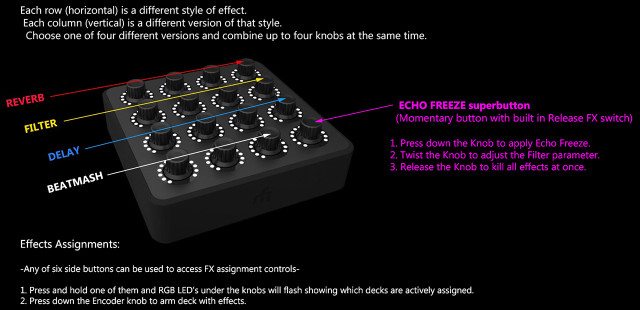 Each row is a different style of effect, each column is a different version of that style. This means you can have four FX units activated at any one time.
The bottom right knob is a Release FX knob – press to echo freeze and kill all FX, press and hold to filter the echo freeze
Hold any side button to see FX assignment, and press any of the four quadrants of the Midi Fighter Twister to
assign/remove FX from that deck.

Twisted Gratification Contest: Limited Edition Twister + $200 Store Credit
Do you have a Midi Fighter Twister and want to show off how it works to the world in a mix? We're throwing a quick video performance contest – the winner will get $200 store credit and a super limited edition Twister unlike any other made. Here's how to enter:
Download the mapping and set it up with your Twister
Record yourself using the mapping – make sure the video looks good, people can see what you're doing, audio is solid, etc. (See winners of past DJTT video contests for an idea:
Videos should be between 1 – 5 minutes long
Upload your video to any video site (YouTube, Vimeo, Facebook, etc) make sure #twistedgratification is in the title!
Link the video in the comments below by Monday, February 15th at noon PST Extended to March 1st at noon, PST!
UPDATE: We've chosen lefreak, below, as the winner for this contest. Thanks everyone for entering! 🙂
Watch Ean's freestyle jam with the mapping for inspiration:
Twisted Gratification 4 deck freestyle jam with the new Twisted Gratification mapping from DJ TechTools. http://djtechtools.com/2016/02/02/twisted-gratification-instant-gratification-fx-for-midi-fighter-twister/

Posted by Ean Golden on Wednesday, February 3, 2016
If you're a Midi Fighter Twister owner, we invite you to try out the new Twisted Gratification mapping right now on Maps.DJTechtools.com and leave your feedback; or post videos on Instagram with you using the mapping with #twistedgratification in the description so we can check it out!
Want to take advantage of this mapping and future versions of it?
Get a Midi Fighter Twister of your own, available on the DJTT store.