Denon DJ has announced a brand new DJ controller, the MC7000, a feature-heavy 4-channel unit with two built-in soundcards. That means that two DJs can be using the setup at the same time with two different laptops, which until now was only possible on the Pioneer DDJ-SZ. Keep reading for a video overview and all the details.
Denon DJ MC7000
We often see a few bits of DJ gear get announced around this time of year – the week of the DJ Expo in Atlantic City, New Jersey. Denon DJ is going big with this announcement of the MC7000. At first glance, this is effectively is a non-standalone, no-screens version of the MCX-8000 that was unveiled earlier this year.
The biggest feature that is being championed on this controller is two discrete USB audio interfaces, allows DJs to trade-off seamlessly, or to concurrently use the unit to mix back to back.
MC7000 Feature Set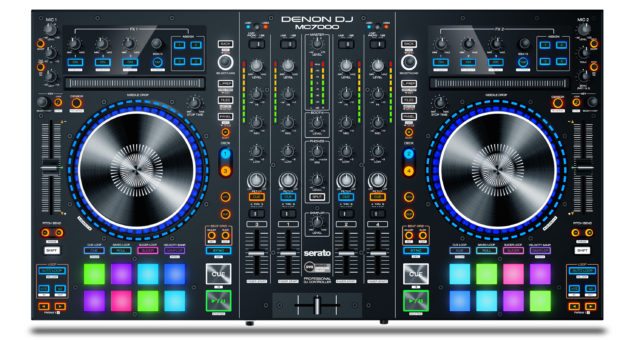 16 Velocity-Sensitive Performance Pads
New Dedicated Key Matching and Changing Controls
Solid 6-inch Touch-Capacitive Platters with Tracking LED

2 Mic Inputs with Dedicated Controls
XLR Booth and Master connections
4-Channel DJ Controller with Digital Mixer
Dual USB Audio Interfaces
3 Serato Expansion Packs Included (Pitch 'n Time, Flip, and Video; worth $200)
Solid Compact Design
With this level of feature-set and included software, it's becoming pretty clear that Denon DJ / InMusic (which includes Numark) is very serious about taking on Pioneer DJ, who have dominated the controller market over the last two to three years.
For $999, it's not a bad price either. For comparison, the Pioneer DJ DDJ-SZ is $1,997 – and aside from some onboard effects, there's not that much that it does that the MC7000 doesn't have.
Interested in owning this controller? Sign up here to get an email when preorders launch (we won't spam you beyond a single email).