Mixars Launches Quattro Four-Channel Mixer and Primo Two-Channel Controller
Following their announcement of a non-DVS mixer and professional-grade fader range, Italian company Mixars is again on the radar with the launch of two new products designed specifically for Serato DJ: a four-channel mixer and a two-channel controller.
MIXARS QUATTRO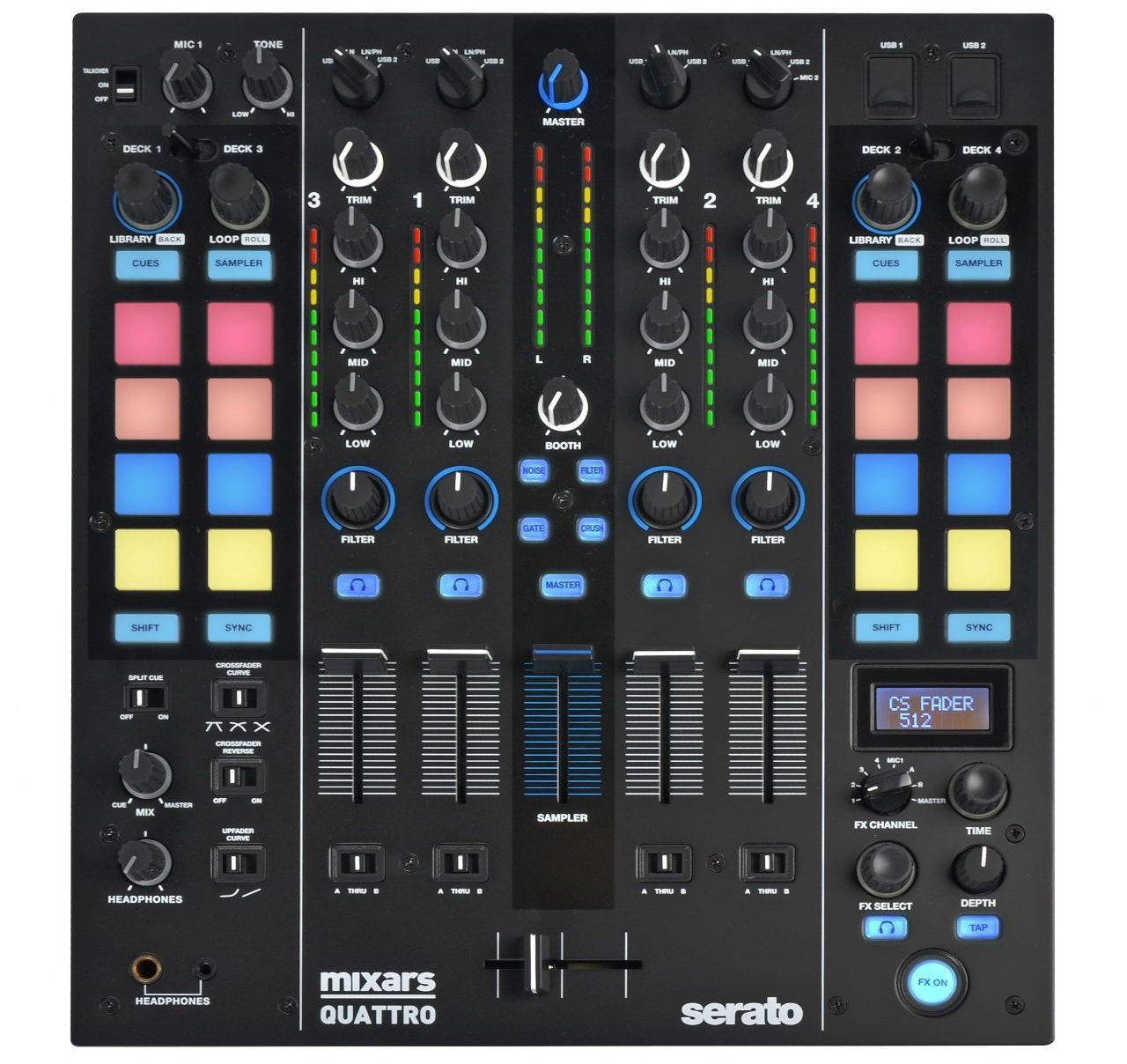 Product: Mixars Quattro four channel mixer
Price: $1,499
Availability: "later this year"
The mixer, called the Quattro, takes much of the features found on their popular Duo mixer released a year ago and adds two additional channels. The DVS capable mixer has four full-EQ channels with a fifth vertical fader for the Serato SP-6 sampler and four channel instant effects (Noise, Filter, Gate, and Crush).
At the edge of the mixer are 8 RGB performance pads with four assigned per deck and rotary knobs that either control track loading or trigger auto loops. DJ switchovers seem straightforward with the Quattro's twin USB ports located at the top of the unit. Interestingly, the mixer appears to have built-in effects in addition to the Serato software effects, suggesting this mixer could be easily used by non-software DJs.
According to Mixars, the Quattro will be available later this year for $1499.
MIXARS PRIMO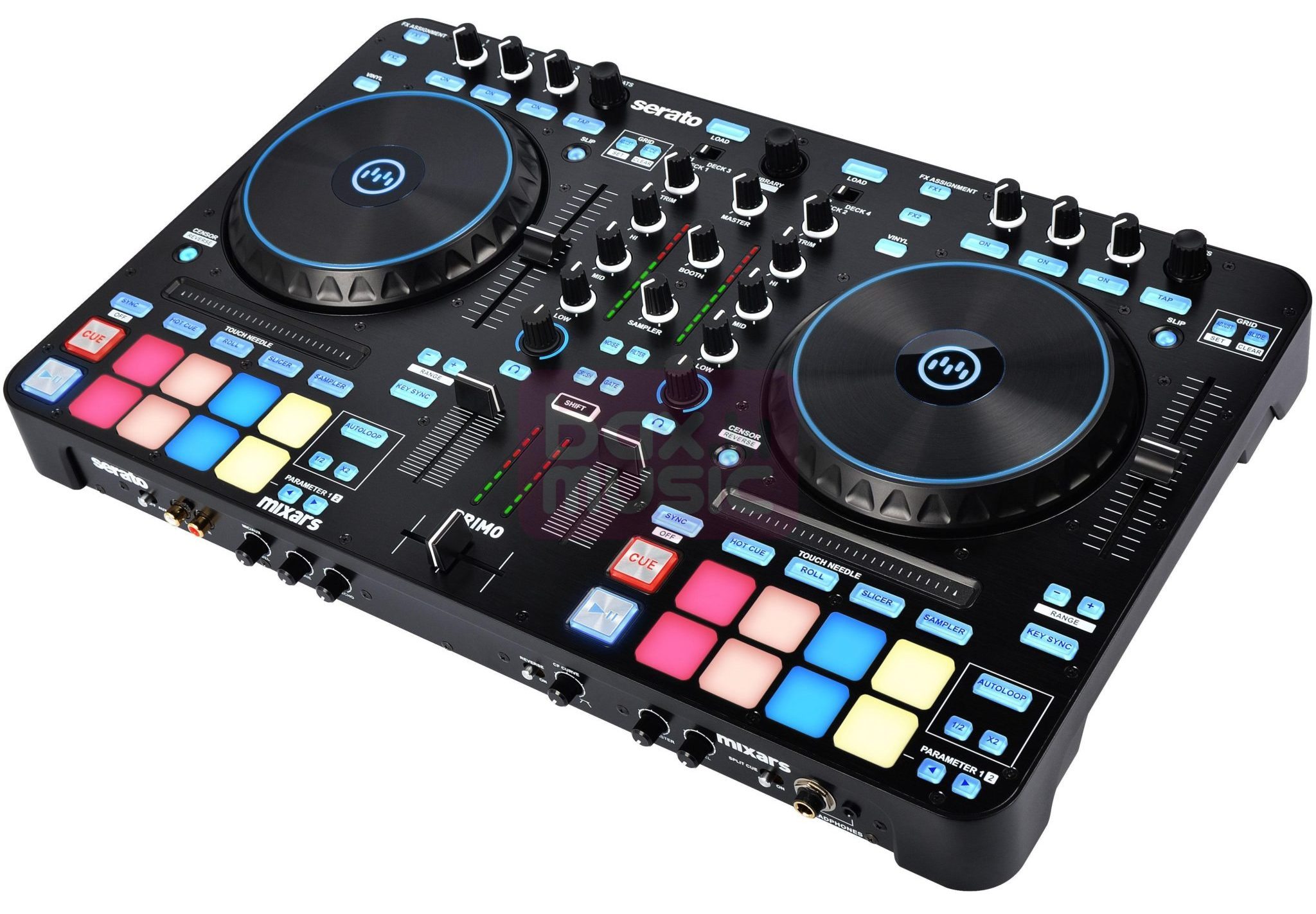 Product: Mixars Primo two-channel Serato DJ controller
Price: $599
Availability: Q2 2017
Called the Primo, it follows similar design cues as the Quattro but offers even more performance features for Serato DJ. Instead of the four performance pads per channel seen on the Quattro, each of the Primo's channels feature eight RGB pads. Costing just $599, Primo represents serious value for DJs wanting to use the full version of Serato DJ.
We see this as a pretty direct angle for Mixars – trying to offer a comparable feature set to the DDJ-SR, which Pioneer DJ has yet failed to upgrade for the year (stay tuned – see our predictions for Pioneer DJ's NAMM here)
Utilizing Mixars DVS experience, the Primo also offers Serato DVS upgrade ready capabilities, making it one of the most affordable DVS-capable controllers. Another interesting thing about the Primo is its asymmetrical layout mirroring modular gear with two identical "player" sections flanking the central mixer.
The Primo will be available later this year (Q2) costing $599.
CONCLUSION
These product launches represent Mixars morphing into a serious competitor for DJs. Their Duo mixer has found a significant among turntablists and DVS users and offering a four-channel places Mixars within competition of Pioneer DJ's DJM-900NXS2 and Rane's four-channel Serato mixers, all while offering a lower-priced alternative with potentially more features. Their Primo controller seems to challenge two channel controllers, like Pioneer DJ's DDJ-SR but offers the advantage of DVS capability like the DDJ-RR does in RekordboxDJ.
[h/t to DJ Worx for first reporting on Mixar's new NAMM gear]
---
Wondering why there's so much new gear news on DJTT right now? Companies are rolling out their new products ahead of the NAMM 2017 industry convention. We're giving DJTT readers the first coverage and insights into what's coming out:  See all of our NAMM 2017 coverage here.