Welcome to 2017! This week we're launching a brand new version of the DJ Techtools blog, redesigned from the ground up. It's been a while since we've updated the look and feel of the site. This new version aims to be faster, easier on all devices, and to show you more helpful content. Keep reading for a quick overview.
A New Look
Out with the old and in with the new. The last time that the DJ Techtools blog got a refresh was in the middle of 2013 – almost four years ago. A lot has changed since then, so today we are happy to present a new version of the blog. You're on it right now!

What's Changed
Faster – This new iteration of the DJTT blog should be substantially faster to load for everyone on all devices. We're still working on some optimization and caching this week, but overall it's a much snappier experience.
Show You Even More Content – Particularly on the homepage of the site, we wanted to show you – our readers – even more helpful and interesting content. One of my favorite sections is the Classic DJTT Articles (screenshot below) – which I've filled with some of the best articles from the many years that we've been writing posts.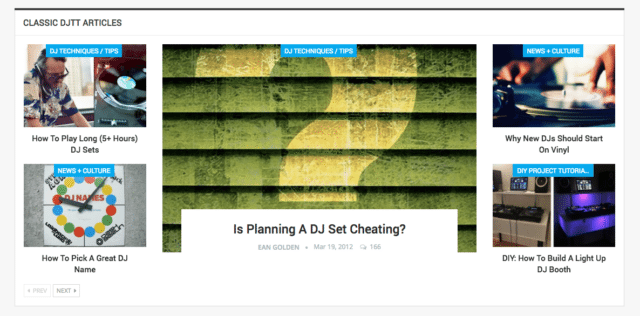 Mobile is Better – At popular request, this new version of the site was built with our many mobile and tablet users in mind. In the past, many news articles weren't visible on the homepage, and there were some design issues on blog posts. This new version feels a lot better to use on the go.
Easier Searching – Try it out for yourself – the new search bar in the menu at the top of the site loads results in line, making it simple to find what you're looking for.
And more! – There are a ton of other small features on this new version of the DJTT site that you'll discover as you use it. Load more posts in line on the front page, jump back to the top of the site with a single click, and other things that just make browsing the site substantially smoother.
Your Feedback!
We're still working on the finishing touches of this new look for DJTT's blog. What do you think of the new site so far? Take a few minutes to look around the site and see what's new – then let us know what you think in the comments, below!