A surprise annoucement from Numark came out today – a new version of the NS6 controller, the NS6II. Numark was absent at NAMM this year, so we're excited to see they've got a new controller out – and this one aims to be a price-competitive four-channel Serato DJ controller. Read on for details.
Gear: NS6II
Manufacturer: Numark
Price: $699 $799 (there was an error with the original press release)
Availability: Summer 2017
Software: Unlocks the full version of Serato DJ
Earlier today, Numark (part of InMusic, along with Akai and Denon) released a long-awaited update to their NS6 DJ controller. Called the NS6II, the new device promises to pick up right where the old device left off (the original NS6 was launched at NAMM 2011).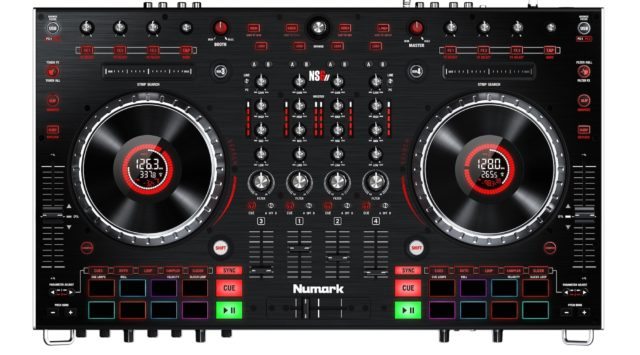 The new model features a four-channel mixer capable of standalone functionality, two high-res jog wheels with built-in screens, full-band equalizer with touch-sensitive knobs, full metal construction, and two USB sound cards for seamless DJ switches.
NS6II Improvements + Pricing
Numark improves upon the original NS6 by adding: touch-sensitive knobs, 16 backlit RGB performance pads, twin sound cards, Serato DJ DVS support, and built-in jogwheel screens. Numark notes "The new NS6II builds on the NS6's amazing legacy of innovation and performance and delivers to you a truly iconic 4-channel DJ controller, with two USB outs for seamless DJ hand-offs and built-in high res screens"
This new product joins a suite of four-channel Serato controllers all offering a similar feature set – like the Pioneer DDJ-SX2 and Denon MC7000. What's interesting is the price point that Numark put this new device offered at $799. It's considerably less than the Pioneer and the Denon controllers and Numark still offers a similar feature set. Sharing the same price point with the NS6II is the NVII, whose features are identical except for the screens on the NVII and the standalone mixer on the NS6II.
NS6II Feature Set

Dual USB ports for DJ handoffs
2-inch color LCD display integrated into each jog wheel
Digital mixer with (2) phono/line inputs that can be mixed directly without software
Comes with Serato DJ (full version)
Touch-capacitive knobs
6-inch multi-function jog wheel with smart learning capacitive technology
4-channel USB Audio
Stereo XLR outputs, Master RCA outputs, Booth RCA Outputs
(2) 1/4" mic inputs
Stand-alone mixer 24-bit, 44.1K audio
USB 2.0
4 in, 4 out with (2) phono preamp
Replaceable crossfader
Roll bar to protect front panel control knob
24-bit, 44.1K audio
USB 2.0
4 RCA in, 4 RCA out with 2 phono preamp
Think you'll be interested in getting this new Serato DJ controller, or is the market already saturated? Share your thoughts below.