Hiding behind the much more prominent announcement of the NS6II earlier this week was another piece of gear – a "new from the ground up" NTX1000 turntable from Numark. Keep reading to get the stats on this new DJ turntable.
Numark NTX1000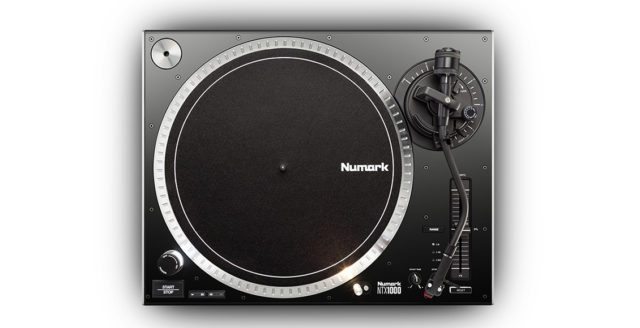 Numark (part of InMusic, with Akai and Denon) launched a new vinyl turntable aimed squarely at the DJ market. Called the NTX1000, it features a direct-drive motor, S-shaped tonearm with height adjustment, damped cueing, three pitch ranges (± 8, 16, and 50%). To be attractive for DJs, the NTX1000 is designed from the ground up to be resistant to heavy vibrations and external feedback.
The official product website indicates a strong desire to satisfy a low price point demand:
 "Numark recognizes your need for a professional turntable that capitalizes on the resurgent popularity of vinyl for DJ gigs. But we're mindful that you need for both versatility and value. The NTX1000 gives you everything you're looking for."
It will be available later this year with a street price of $399!
NTX1000 Features Include:
Full-size platter with high-torque direct-drive motor
2-speed design: 33 1/3 and 45 RPM
S-shaped tonearm for accurate tracking
Tonearm with height adjustment, damped cueing and anti-skate control
Pitch range adjustable to ±8%, ±16%, and ±50%
Adjustable counterweight for perfect tonearm balance
Pitch fader with reset button
Start and stop time knobs for adjustable time ramping
45 RPM adapter included
Entering a Crowded Market?
The NTX1000 joins a crowded suite of direct-drive turntables with offerings from the likes of Denon, Pioneer, Reloop, Stanton, Numark themselves, and more. Unfortunately, the NTX1000 doesn't really break any new ground in terms of features, so it will be entering a very crowded market. Perhaps its biggest competition will be the Pioneer PLX 500, which offers a very similar feature set at a similar price point.
What's most intriguing is that Numark decided to take a "ground-up" approach to this turntable, and not incorporating the design from the classic Super OEM turntable, which, under one form or another, can be seen under many brand names, like Pioneer and Reloop.