It's exciting when a serious new competitor comes to the market, and this week, it's Denon DJ's turn to enter the fray. Their new SC5000 Prime players (and potential CDJ challengers) are finally launching this week and we have them in stock in our Dj store. We're working on a full review over the next few days, but in the meantime, we've got answers to a few frequently asked questions and an unboxing video to share.
SC5000 Prime Unboxing + In Store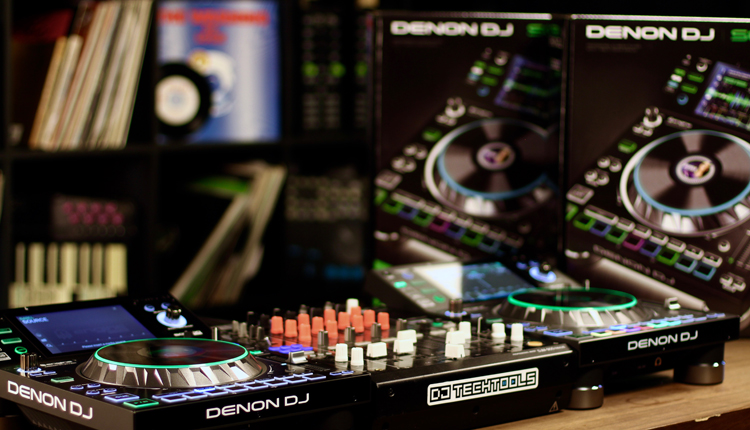 First up is a video of the SC5000! It's not a review or a demo, but rather a hands-on unboxing video. We don't normally do these, but it was very well received on Facebook Live, so we'll do more in the future when we get units. Watch it below:
Unboxing the Denon DJ SC5000 – finally here! This is a final version, not a prototype like other videos. Get yours before they run out: http://djtech.tools/sc5000prime

Posted by DJ TechTools on Monday, May 22, 2017
Also worth noting: the SC5000s are now available and shipping immediately in our store. Supply is limited so hop on it now if you're keen on getting an early unit:
Get A Set Of Denon SC5000s Now
FAQ About Denon DJs's New Players
We've gotten a lot of questions already about the new Denon players, so in advance of the review, I thought it would be good to cover a few of the questions we've gotten so far. These questions were accumulated from comments, our live chat team in the store, and social media. If you have more to ask, let ME know in the comments on this article and I'll answer them promptly.
Are they robust / how do they feel physically? Will the screen survive heavy club use? 
The units have a very high quality feel, with a soft touch plastic case. They have smooth transitions from one surface to the next (sides, top, angled screen section). In general, it feels like a unit that will hold up to the rigors of club use. The touchscreen feels stronger than the Pioneer XDJ-1000/700 lineup, more comparable to an iPhone's screen, and isn't recessed.
According to Denon DJ's product manager, they've already taken two serious weather challenges:

How do "layers" work? Are there really two sound cards per unit?
This is one of the best parts about these players: yes, each unit can play TWO decks simultaneously. The interface feels a lot like a Kontrol S8 or D2 – one deck is in the top section with a big waveform, while the other is shrunken down to just a length waveform. There are two sound cards – one for each layer – so we expect most users will only buy two units and mix 3-4 decks with just two players in their setup.
What DJ softwares are supported? 
Serato DJ is supported at launch in MIDI mode – there's no announced Traktor support yet, and it's very unlikely that we'll see Rekordbox DJ support.
Will these become the standard in DJ booths? 
Taking on Pioneer DJs dominance is no easy feat, but Denon DJ seems to be really spending a lot of energy and resources to get artists onboard. That's how this all started – remember the stealth #ChangeYourRider campaign they teased in the lead up to 2017? Their strategy is clear: get individuals (artists, bedroom DJs, etc) onboard first, and then the clubs and booths will follow.
With the feature set on these units, Pioneer will need to answer soon or risk losing their foothold.
Can you use Rekordbox USB drives / SD cards? 
You can – but currently the only way to use them is to browse the Contents folder. This means you have to browse by Artist – not exactly ideal.
Tracks can be analyzed directly on a player (it takes about 15 seconds to analyze a 5.5 minute song), and the waveform / analysis is then saved on your drive to be recalled next time. Analysis sets a beat grid and detects key (we'll have to do a test of the Key Analysis in a future article). It can also analyze songs at the same time as it is playing a track on a different deck, which it uses the built-in multi-core processor for.
We're waiting on a few more details from Denon about the state of Rekordbox libraries – but apparently the Engine Prime software will be able to import Serato DJ libraries at launch…
Why is there no CD drive? 
Probably because it's 2017 – and instead of spending money on the added weight and space of a CD drive, the Denon engineers seem to have focused on making the experience more like a miniature DJ software in a media player.We also suspect features like slicer, beat jump, etc all are a bit harder to get working if when playing back in "real-time" from a CD.
If you're still mixing on CDs, speak up in the comments and tell us why you're holding on.
How do they compare to the Pioneer CDJ lineup in price and size? Keep reading.
Denon DJ SC5000 VS. Pioneer CDJs
One of the big topics that we'll cover in the review is comparing the CDJ line to the SC5000 Prime player. Here's a very general summary of these two units (CDJ-2000NXS2 used as comparison):
Price: $1,899 (Denon) vs $2,197 (Pioneer)
Dimensions: 16.5″ x 12.6″ x 5.3″ vs 16.31″ x 12.6″ x 4.46″
Weight: 8.79 lbs vs. 12.57 lbs (likely because the CDJ has a CD drive)
X1800 Prime Mixer
Denon DJ also shipped us their brand new X1800 mixer as well – (which we mistook as a S5000 originally) – and you can watch the full unboxing of that unit here. The mixers are still on their way to the US – with an expected in-store date of roughly June 9th or 10th.