Many DJ booths have had a "standard" media player in them for a decade or longer. With the new SC5000 Prime players, Denon DJ takes an almost surgical aim at the biggest feature gaps and performance weaknesses of CDJs. In today's review, learn how the SC5000s work, and if it's worth it to consider switching from your current setup.

Product: SC5000 Prime media player
Manufacturer: Denon DJ
Availability: Now! In the DJTT store now
Price: $1,899 
Best Features: Each player has two layers (decks) with independent sound cards for each. This means a two-unit setup allows DJs to easily mix on four decks. Each unit has onboard analysis of songs for key, tempo, beat grid.

Still Needs Work:

 There's no way to immediately convert existing Rekordbox USB keys/collections into Engine-ready libraries. Engine Prime's iTunes integration and collection syncing isn't as "robust" as Rekordbox yet.
The Bottom Line: Denon DJ has paid careful attention to DJs complaints and feature requests on the CDJ lineup – and as a result have built one of the most versatile pieces of standalone gear on the market. While many DJs (rightfully) are nervous about investing time and energy into learning a new system, the experience is fairly intuitive, and the company seems to be investing a lot of their resources to build a stable and reliable tool.
Why Buy Standalone Gear vs A Controller Setup?

If you're going to pay $2,000 for digital DJ media player, it should have almost all the advanced features that a laptop-based setup should have, right? That's the approach that Denon took with the SC5000, delivering a complete, modern DJ software-style experience right inside of the unit. This makes it unlike other standalone setups, which mostly aim to improve on CDJ-style experiences.
Not every DJ wants to bring out their laptop and controller to every gig just to get advanced transport controls
Having standalone units makes sense because not every DJ wants to bring out their laptop and controller to every gig just to get advanced transport controls, four decks of audio, etc.
But for a lot of controller DJs who want to make the move to the "club standard" gear, they're often left wondering why there are so many missing features versus their software solution. Even DJs moving from Pioneer's own Rekordbox DJ software to standalone CDJs or XDJs are rightfully confused when they discover there's a feature gap.
In today's review, we answer a few key questions about the new 5000s – and if your questions aren't answered, let us know in the comments! 
SC5000's Unique Feature Set
What makes these SC5000s unique? Effectively, their onboard computer with a multi-core processor makes each unit equal to a two deck DJ software, with functionality similar to Traktor or Serato DJ – except with no laptop necessary.
Onboard Track Analysis
all other standalone units require you to use a companion software to analyze tracks
The SC5000s can analyze tracks straight from a USB. This takes longer than on a computer, but is still fairly fast. As demonstrated in the above clip, we found that it takes about 20-30 seconds to analyze a 4.5 minute length song. By comparison, other standalone units require you to use a companion software to analyze tracks (beat grid, key detection, tempo).
One point for improvement here – with about 30% of the tracks that I loaded in and analyzed on the units and in the Engine Prime software, the tracks analyzed fine, but the beat grid was off by exactly half of a beat. This is easy to fix, just use the jogwheels to slide the beat grid over by half a beat – but it still was a slight annoyance. To their credit, Denon has asked me to send over some tracks that fell into this category to help them improve their algorithms. Additionally, many DJ softwares have this issue, usually when they confuse the first significant transient (a sudden audio peak – like kicks or snares – that analysis software uses to set grids) with the first beat of the song.
Two Layers (Decks) = Four Deck Mixing Is Easy To Try

The 5000s have two layers (decks) per unit, with discreet 24-bit/96kHz sound cards for each. There's separate outputs on the back (RCA and digital out). Both layers can play at the same time. The layer interface feels very similar to what you get on a Kontrol S8 – one layer "minimizes" but still has a full-length waveform, while the selected layer gets a zoomable waveform and is affected by all the controls.
I immediately found myself experimenting playing with three to four layers active at once
I immediately found myself experimenting playing with three to four layers active at once. Not having to add two more devices to have four deck control is convenient, plus you don't have to move "down the booth" to see what's happening on the outer decks.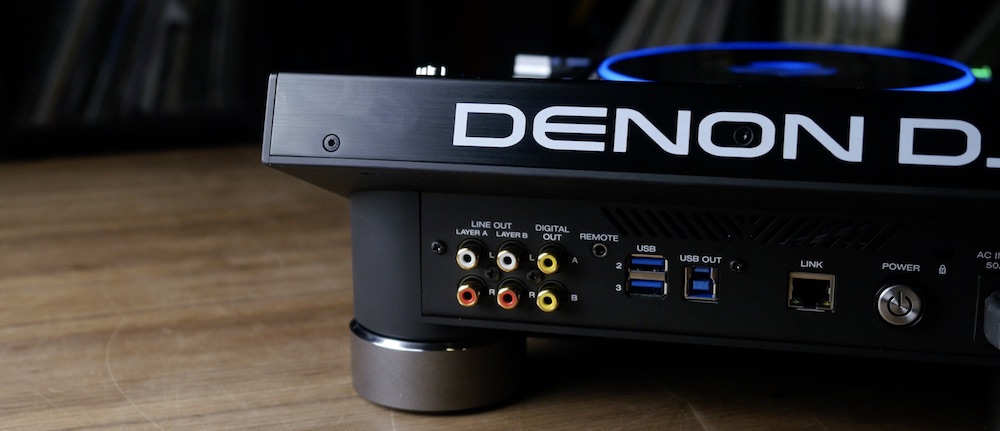 The performance while using two layers on each 5000 has been stable so far. The only time I've seen the multi-core processor start to get taxed is while playing a track on one layer and analyzing a track on the other – the waveform starts to drop in frame rate slightly. Most of the time you won't be analyzing tracks, and the audio was completely unaffected.
Advanced Transport Controls (Loop Move/Beat Jump)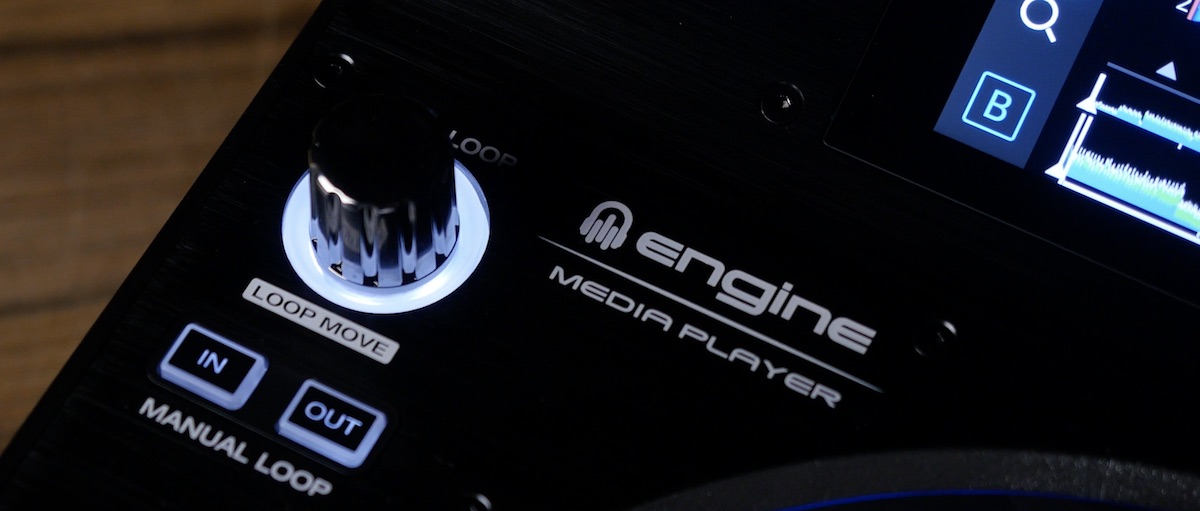 The main area where the SC5000 feels very similar to Serato or Traktor comes in the ways it is capable of moving around a playing track. Here's what you can do:
Choose a loop length with the loop encoder and set it (or set manual in/out points)
Move a loop forward or backward (moves the same length as the loop itself)
Beat Jump around the track (also moves whatever the loop encoder is set to)
It would be great to see Denon add functionality that separates how far the loop move/beatjump from the current loop length – in other words, adopting exactly how Traktor manages loop move.
Performance Pads

You also have performance pads at the bottom of the SC5000s which allow you to:
Set/jump to/delete 8 cue points per track. They're auto-colored, and show a name on the LCD screen (name can be edited in Engine Prime software)
Set/activate/delete 8 loops per track. They have the same auto-color and naming potential as cue points.
Loop Roll a track – activates slip mode and rolls the current beat while the button is pressed)
Slice up a track – this works just how slicer/freeze mode works in other units, except I wasn't able to adjust the granularity, it only seems to be 1 slice per beat right now.
The pads feel like they will last to heavy abuse, but only time and rigorous use will really tell how they fair in the long run.

HD Touchscreen

Using the onscreen browsing interface on the 7″ touchscreen is intuitive, although this is an area where I think Denon DJ can stand to continue to fine-tune the consistency of the experience. A small example: on most pages you can filter tracks by BPM, key, etc – but you can't on the "Prepare" temporary playlist. The user interface is easy to understand (i.e. swiping to load tracks) – but you can almost always use the browse encoder instead, making it a natural switch for CDJ users.
A lot of the filtering and track finding functionality is very useful when playing sets. In track search mode, you can quickly pull up tracks in a compatible key or similar BPM (adjustable in the preferences).
Solid Keylock Algorithm
There's a very powerful keylock / time-stretching algorithm built into the unit. It's far more impressive than most DJ software, and gives Serato's Pitch 'n Time DJ a run for its money. Meaning that I was able to mix between genres with locked keys. I enjoyed mixing from lower-tempo house (120) to drum and bass (~70/140) without melodies falling out of tune.
SC5000 versus CDJ-2000NXS2
The reigning champion versus a new challenger: who do you think will win?
? for Pioneer's CDJs, ?? for the new Denon SC5000s; learn more about them here: http://djtech.tools/5000sUnboxed

Posted by DJ TechTools on Thursday, May 25, 2017
A lot of DJTT fans have asked me very particularly about comparing the SC5000 to the Pioneer DJ CDJ-2000NXS2. Below I've embedded a straight factual comparison. It's important to note that one of these units was released in mid-2017 – while the other (CDJ) was released in early 2016.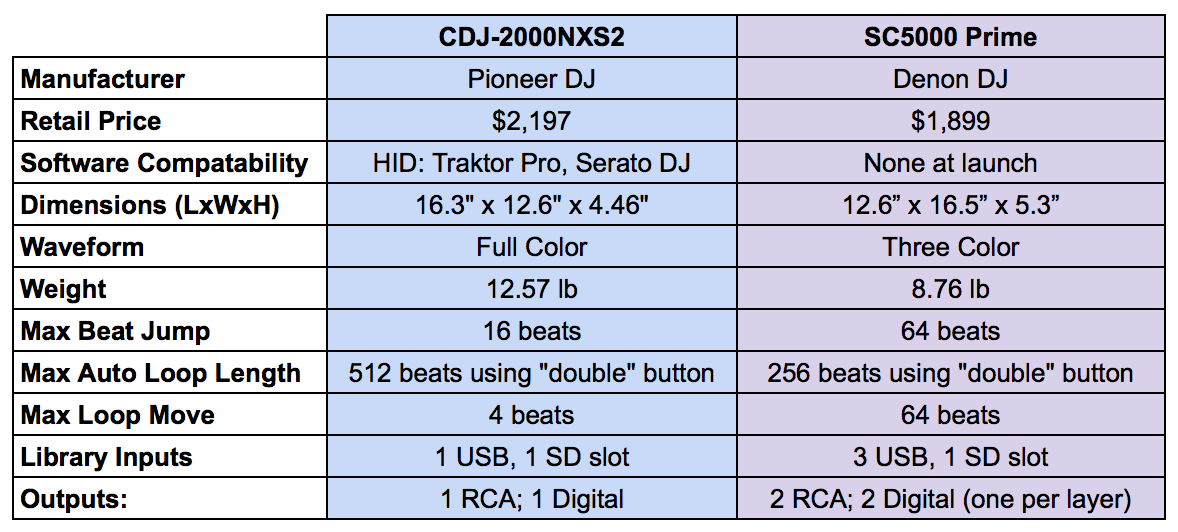 Because Pioneer DJ's product cycle for top-of-line CDJs tends to be 3-5 years, I suspect we won't see a competitive unit in terms of feature set in the coming year – but they could surprise us with a new XDJ. I particularly found myself thinking that an updated XDJ-RX2 all-in-one would be able to win over the many bedroom setups that might otherwise be gunning for these new Denon units.
SC5000's Build Quality + Reliability

The 5000s feels smooth and sleek – largely thanks to the soft touch case with very few seams. As a result, we suspect that this must be an expensive unit to build and tool up in factories.
The units are hefty. As expected, they're not as heavy as CDJs (there's no CD drive) – but they still feel like a solid piece of gear. It's unlikely that many will pick it up and think it's an unsubstantial weight, particularly since the newer XDJs without CD drives have started to lighten the Pioneer lineup.
What About The Play/Cue Buttons?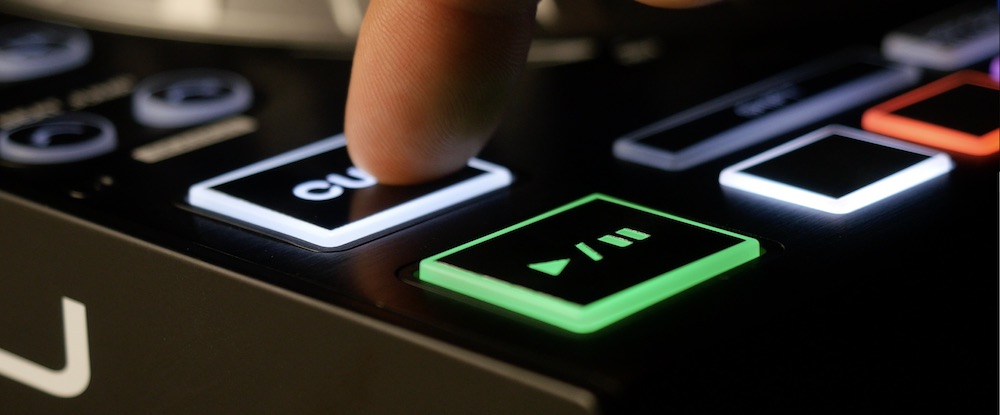 Many long-time Denon DJ fans will remember the squishy rubber pause/play and cue buttons on the older units. Those are long gone – replaced with normal tactile switch buttons as you would expect. Anyone used to tapping the cue button on a CDJ won't be able to detect much of difference.
Jogwheel Platters
The jogwheel is probably one of the most impressive physical elements of the player. It's an 8-inch metal jogwheel with a center LED display for showing the playhead, cue point, slip position, and album artwork (finally, a use for artwork). I expected the artwork display to be cheesy, but it turns out that it's nice to associate unique artwork with different tracks, helping me to create a visual association with each track I played.
There's a four position tension adjust – and impressively, the entire jog floats nicely. There's very little mechanical noise when spinning the platter, which is a massive contrast from Pioneer DJ units which make a lot of physical noise. Additionally, the LED ring around the jog is adjustable for each layer. It's an easy way to distinguish between active layers very easily.
One other nice design element that I really like is the underglow on the front of the 5000 where the USB and SD slot is. This is useful when inserting/removing drives, but it also just looks clean:
Engine Prime Software
For a lot of people excited about the launch of these new players, the big unknown has been the analysis and library organization software that comes with them. It's a brand new release of their Engine software, called Engine Prime. The software does everything you need it to do – it can
analyze songs (faster than the onboard analysis, but seemingly identical results)
adjust beat grids, saved (and named) cue points and loops
sort tracks into Collections and Playlists, both copy-able to USB/SD drives
set player preferences that can be loaded onto SC5000s when plugging in
There is still no tool to allow DJs to quickly convert their Rekordbox [libraries] into Engine-analyzed collections
In terms of external software compatibility, you can quickly and easily import crates/playlists (as well as cues/loops) from Serato DJ. It's also possible to import playlists from iTunes, although at launch it doesn't seem to recognize folder structures in iTunes.
My biggest criticism of this new Denon DJ Prime setup is that there is still no tool to allow DJs to quickly convert their Rekordbox USB drives or SD cards into Engine-analyzed collections. For now, you'll have to re-analyze all of your tracks and re-add playlists / songs to your drives.
Denon DJ notes that they're going to announce an "elegant solution, coming soon" for Rekordbox library conversion – but at time of press, we have no details on what it is or how well it works. This will critical for adoption in DJ booths. If a Pioneer-only DJ walks up to a booth full of SC5000s, they won't want to browse their "Contents" folder manually (by artist only) and analyze tracks during their set.

Should DJs Consider The Switch From Traktor / Serato DJ / Pioneer CDJs?
if you're used to features you'd get on a DDJ or Kontrol unit, the SC5000s are the best standalone option
Investing in a new DJ platform is a huge financial cost; but if you've been looking to make the switch from a DJ software, or if you've wanted more out of your CDJ-style rig, it's worth considering. If you're used to the advanced features controls that you would get with a controller setup like with a DDJ or Kontrol unit, the SC5000s are the best standalone option to upgrade to.
We're in the "early adopter" phase of the Denon Prime ecosystem. But there are touring sponsored DJs like Laidback Luke and Tiësto already using these units regularly, so the company has a lot of work on the experience since we first saw these at NAMM. We suspect with these big-name artists onboard, they'll be forced to continue to refine the units' workflow – which is great for the rest of the early adopters as well.
What about the competitors? Who else could deliver this feature set in a media player? Traktor and Serato don't have a vested interest in making standalone gear – the money for them is in controllers and hardware that use their own computer software.
Pioneer is trying to grow their Rekordbox DJ software and has invested so heavily in the controller end of their market (because it's a money-maker). Considering the normal product cycles of CDJs, it may take them a while to make a new device that matches this feature set.
Going Back To Other Setups
The team at Denon DJ have really outdone themselves here – using these players is really fun and creatively inspiring. After a few hours of testing these, I tried going back to my CDJ setup after using these – and it felt slightly boring in comparison. That's a big reason why so many Traktor and Serato users have resisted moving to standalone gear like CDJs.
Want your own SC5000 pair (or any gear)? Chat with our crew of expert DJS