Cycling '74 is announcing the acquisition of the San Francisco-based software company known for Max and Max for Live by Berlin-based DAW giant, Ableton. Both companies have worked together for over three decades and today marks the expansion of their relationship. Peter Kirn from CDM recently sat down with the founders and CEOs of the two companies, Ableton's Gerhard Behles and David Zicarelli of Cycling '74, to discuss the acquisition.
Ableton + Cycling '74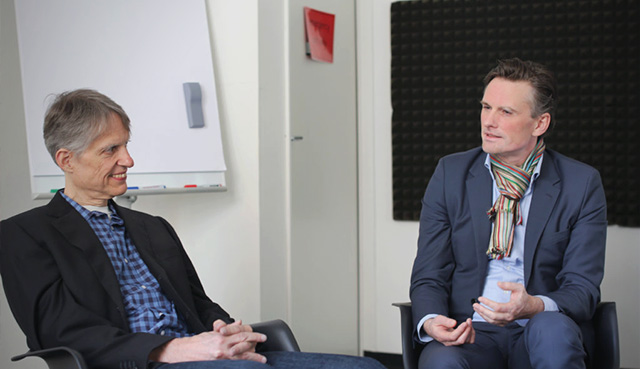 This acquisition is a major step for both companies whose relationship goes beyond Max for Live. Max was first sold by Opcode Systems in 1990 and would later be owned exclusively by Cycling '74 in 1999. It was during this decade that Ableton co-founders Gerhard and Robert Henke chose Max as their tool of choice in their duo, Monolake. The early patches in Max are what would inspire the original design of Ableton 1.0 in 2001.
"I literally grew up on this. We were making music and making Max patches to make the music. And some of the Max patches were indicative of what Live would be at a point. Somehow to us, it's part of our upbringing." – Gerhard Behles, Ableton Co-Founder
Since the turn of the millenium, both companies continue to express an overwhelming sense of mutual affection. Ableton and Cycling '74 are both working to solve problems and innovate current products to better serve their customer base. The acquisition is formalizing the fact that both companies are on the same team with the desire to reach the common goal of improving how artists can work with technology.
A Glimpse into the Future
Above all, the primary goal with this new partnership is continuity, which is probably not what you typically think when you hear about acquisitions. – David Zicarelli, Cycling '74 Founder
As of now, there are no plans to move offices and both companies will continue to operate independently. Cycling '74 already has a small office with Ableton's Berlin HQ. Also, many Cycling '74 employees actually work from home all around the world. For now, the only change is that the company will now be owned by a US-based Ableton legal entity. Cycling '74 will continue to develop Max for the Max community.
For Ableton, this acquisition is a return to its roots. The founders of Ableton grew up making music with Max patches. Max is a source of inspiration for Ableton and Max for Live is responsible for a growing community of artists to create art using Ableton and Cycling '74 software. Ableton's mission is much more focused on musicians, versus Cycling's which caters to a wider audience of visual artists, architects, programmer, etc. Ableton can now work with the Cycling team even more closely to create tools for artists of different mediums. However, Gerhard is very adamant that the goals of both companies intersect and should operate separately from each other.
"We are completely clear that what we are doing together is an intersection of what each is doing… What each is doing is a separate concern."– Gerhard Behles, Ableton Co-Founder
Fans of Cycling '74 and fans of Ableton should expect things to be business as usual. Typical acquisitions mean rebranding and dissolving of teams. Here we see that both teams will continue to work in their respective offices. This agreement is a solidification of the work the two companies have done over the past three decades. Each will have access to each other's resources and the door to opportunity is expanding. The acquisition is complete and effective immediately.
Read the full CDM interview with Gerhard and David here.