While covering ways of getting cheaper music recently, we noticed that there's a gap in the market for music download price comparisons. And particularly so for covering specialist dance music stores and genres. In today's article, we look at one online tool that allows easy price comparison for DJ stores: Remix Rotation.
Comparing The Price Of DJ Tracks
The closest thing that we have are one-off comparisons either like DJTT has painstakingly made by hand, or this more automated Beatport/Amazon face-off that we mentioned last year.
The author behind that latter study, Sinisa Radovcic, emailed us to say that he's expanded this into a site — RemixRotation. It's specifically geared to DJs, designed to both speed up track selection for DJs and make it less expensive too.
Hands On With Remix Rotation
Using RemixRotation is relatively straightforward. Select a genre and you get a track playlist, derived mainly from the dance music store charts over the past month, with full previews of each track, not a snippet, and a price comparison between the specialist store and whichever of iTunes or Amazon is cheaper.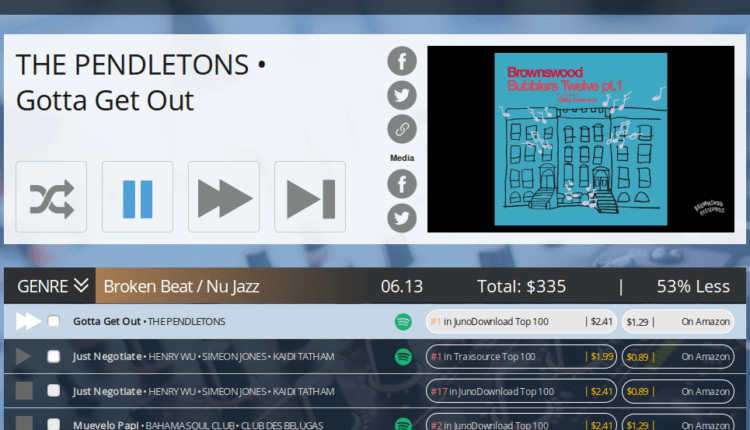 Sinisa told me that he finds checking out the full version of a track crucial. In the past, the short snippets that the stores offer have burned him. When he's paid out for tracks based on previews, they have, at times, left him cold.
By pulling in the specialist charts as a starting point for browsing, he argues, this gives a quick selection of tracks with some quality control without a DJ having to do much work: at least some other DJs or dance music fans must have bought the tracks.
And unlike tracks you may find on YouTube or Soundcloud, the tracks are actually available to buy now, instead of having to bookmark them and set a note in your diary to buy when they're released. Having a large track selection aggregated in one place makes this simpler than loading multiple sites and juggling numerous browser tabs.
What About Shopping Directly On Amazon + Other Stores?
With regard to price, as we highlighted in the Beatport/Amazon comparison, Amazon can be considerably cheaper at times. So why not just head directly there instead?
Sinisa explained, for browsing, Amazon isn't as great for DJs as the specialist stores: "I've been an Amazon customer since 1997 and it did not occur to me to buy music there, because their classification was awful."
Lots of Amazon's dance music selection are tagged generically. Scrolling through Amazon's charts isn't as useful as, say, Beatport or Traxsource's genre-based charts, where these are better labeled, making it easier for DJs to dig through.

Presumably Amazon receives the same metadata, including genre, that the specialist stores get. But Amazon sell to a broader music buying public who may not be following the latest microgenres, and the debates surrounding them, and throwing these into the mix may well confuse their buyers, instead of helping.
Instead RemixRotation aims to take advantage of the genre classification and the track selection that the specialist charts offer, with a quick way to compare the price and buy those tracks on the (often less expensive) Amazon or iTunes stores.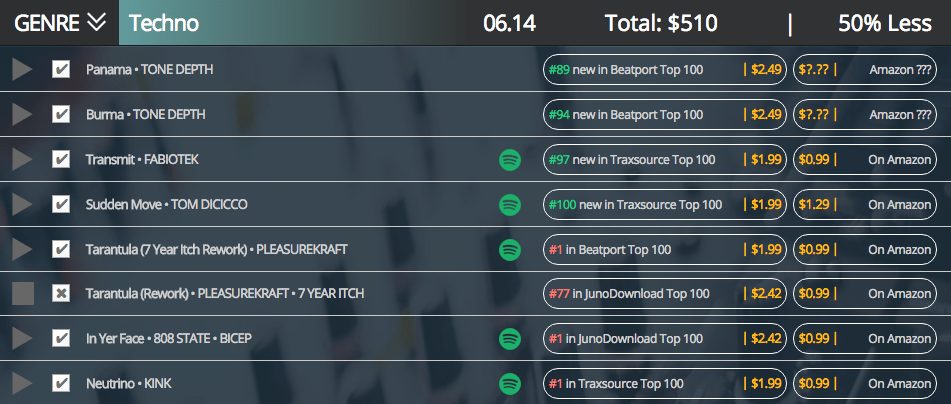 So what kind of saving might you expect? One example I found was stumbling upon Karizma's Work It Out, a house track that I'd missed earlier this year, listed as $2.41 on Juno Download, but only $0.99 on Amazon (Editor's note: this same track is currently $1.99 on Beatport)
This level of price disparity isn't uncommon. For the batch of specialist charted tracks listed on the site at the time of writing, Sinisa informed me that "overall, of the 5381 current tracks, 4462 are also on Amazon/iTunes. and if you were to buy one of each on Beatport/Juno/Traxsource vs. Amazon/iTunes it would be USD 9200 vs USD 4800." With shrewd buying, you could be looking at roughly doubling what you get for your budget.
In Rotation
There are two clear ways I can see using RemixRotation.
leave it playing in the background as a playlist while doing something else, and note the tracks that you particularly like.
to sit and deliberately click through, skipping through quickly to certain artists you're interested in, or maybe just browsing the lower priced tracks.
Right now, RemixRotation covers the US market only. If you're based outside of the US, like me, you could still use the pricing as a rough guide, although the real local price may well vary. The site only compares MP3s, which is perhaps good enough for lots of DJs, but if you're looking for lossless formats, then you're out of luck. (This is restricted by Amazon only selling MP3s; much of the savings often come from Amazon aggressively undercutting other stores.)
A search feature would be a nice addition to quickly check you're getting the cheapest price if you already have a track in mind to buy. This is on Sinisa's future plans, but he's keeping the site's infrastructure as simple as possible for now to keep running costs for his side project low. It also might be nice to see a less-busy design on the site instead of the current layout.
These issues aside, sites like RemixRotation that address the problems of narrowing down DJs' searches in music discovery and making buying less expensive are few and far between. Anytime a quality project like this shows up, it deserves support from the DJ community, as we all could use more tools like this!