The just-released Serato Sample plug-in borrows features from the Serato DJ software to reinvent the art of chopping and tweaking samples for use in original music. Using technology that Serato has perfected over 20 years, Sample could be the music production plug-in that DJs have been waiting for. We run it through Ableton Live and other popular DAWs to dissect the good from the bad with this audio-slicing workhorse.
Reviewed: Serato Sample AU/VST Plug-in
Price: $99 – free 30 day trial
Supported Audio formats: AAC, AIFF, FLAC, M4A, MP3, MP4, OGG, WAV
Officially Tested DAWs: Ableton Live, Image Line FL Studio, Apple Logic Pro, NI Maschine (You can also use other AU/VST host software.)
System Requirements: Mac OS 10.10 and higher; Windows 7 with SP1+ (64-bit only)
The Good: Fast, DJ-inspired workflow for locating, altering, and performing cue point samples from pre-recorded audio within music production software. Low-to-zero-latency performance and excellent stability. Great-sounding pitch shifting and time stretching.
The Bad: No preset saving or sample exporting. No undo function. The Find Samples button often chose the same repeating sound in a loop.
There's no faster or easier way to pinpoint [samples] and then use them in your music.
The Bottom Line: As digital DJs with thousands of tracks, you'll have thousands of mini sample packs as well using Serato Sample. There's no faster or easier way to pinpoint the samples you want from a song or other audio file and then use them in your music.
While Serato Sample feels like the first music production plug-in from New Zealand's giant of DJ software, it's actually a 20-year journey coming full circle for the company.
Back in 1998, when the idea of "elastic audio" was still a fantasy and not a standard feature in music software, Serato got its start with the Pitch 'n Time plug-in for Pro Tools. Pitch 'n Time's ability to change the tempo of audio without changing its pitch, and vice versa, blew everyone away—and it didn't even do it in real-time. Here's a more recent video demoing how it the modern incarnation works:
Serato Pitch 'n Time was the first, and it's arguably still the best. Its technology played a key role in Serato's digital DJing software, and it's at the heart of Serato Sample, the new plug-in that streamlines the old process of finding, manipulating, and making music with samples of pre-existing audio material.
The Bridge From Music Library to New Tracks
If there's one thing that's held back the development of sample-based music, it's copyright law. Technology has only made it ever easier. Serato Sample comes along at a time when Native Instruments' Maschine and Akai's MPC software/hardware systems have handled sample chopping quite well. The process is light years easier than it was during the golden age of hip-hop.
Serato Sample simply takes sample chopping from pre-existing audio to the next level of accessibility and speed, and it does so using certain features and work flows that digital DJs know, such as cue points, Slicer mode, Sync, key shift, etc.
Sample has reignited my interest in pulling samples [like how] Serato Scratch Live reignited my interest in DJing years ago.
For beginning music makers, the Sample plug-in can be the bridge between your music collection in your first produced tracks (although DAW software is required). Experienced producers should love its fast results, sample editing options and clean interface. Personally, Sample has reignited my interest in pulling samples from recorded music, similarly to how programs like Serato Scratch Live reignited my interest in DJing years ago.
Get to the (Sample) Choppa!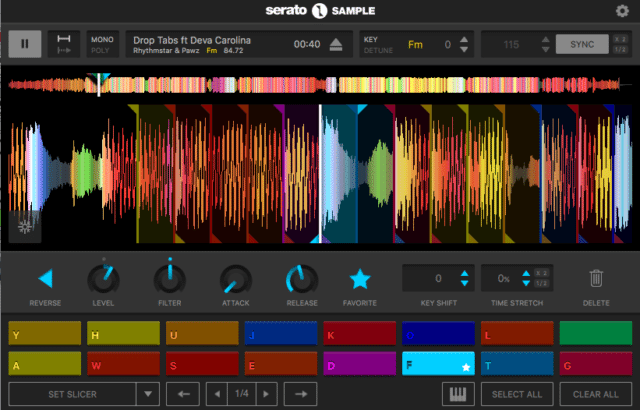 When you load Serato Sample into a DAW track, first drag an audio file into the plug-in from your desktop folders. It can be a full song or a loop. Some DAWs will let you drag files from their own browsers or tracks. It does not, however, record external audio or audio from your DAW to be sampled.
Sample then analyzes the audio and loads it with a small preview waveform on top, and a larger, zoomable waveform underneath. The waveforms are full color, as in Serato DJ, and Sample also shows the audio's name, artist, original key and original tempo on top. You can pitch the key up or down, as well as adjust the tempo or hit Sync to match it with the tempo of the host software. Shortcut buttons let you double or halve the tempo.
Automatically Finding Samples
Hit the Find Samples (Autoset) button, and Sample uses the audio's transients and an algorithm to try to find the best cue points for playing as samples. You can play its 16 cue point pads with a MIDI keyboard, pad/button controller, or with the QWERTY keyboard in Ableton Live. (You may need to adjust a pad controller's lowest MIDI note to C1.) The cue continues to play as long as you hold the trigger, or you can quickly set a range for the cue with arrow bars.
Favorite any samples you want to keep in your group of 16 and trash others. You can set your own cue points anywhere you want, or go back to one of the four Autoset options:
Find Samples (algorithmic)
Set Random (randomly selected transients)
Set Slicer
Key Shift Pad (takes selected cue point and pitch shifts it 8 keys both above and below the original for tone play)
The Set Slicer option works similarly to the Slicer in Serato DJ. It sets 16 cue points in a row at regular intervals, and you can move the set around the audio file, as well as lengthen or shorten the interval. It's a fun option for performance.
As soon as you have any cue points set in Sample, it works like a plug-in instrument in your software. You can record the cue point playback as a MIDI track, after which you can quantize, edit, add effects, etc.
All of Sample's cue point settings are saved with your DAW session for recall, but it doesn't currently have a way to save your settings as some kind of preset. You also can't export the cue points as discrete audio files. It also does not have separate outputs for the 16 cue points, nor does the track expand so that each cue point can be treated separately in the mixer, but it does have a variety options for manipulating and adjusting each cue.
Working with Cues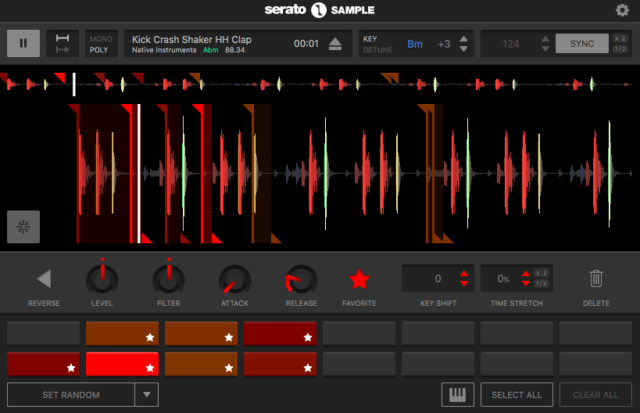 Besides the sample range mentioned above, for each Sample cue point, you can adjust:
Level
Filter (a juicy lowpass resonant filter)
Attack
Release
Key Shift (transpose ±24 steps)
Time Stretch (from a range of -75% to +300%.)
You can also set a cue to Reverse and both the Key Shift and Time Stretch sound quite good all the way through their available ranges. A Freeze button stops the display from moving around the waveform so you can focus on adjusting the selected cue point. Hitting "Select All" allows you to adjust parameters, such as the filter, for all the cue points at once.
With a cue point selected, the Keyboard button pitches a sample all the way across the MIDI range, with the base sample at C3. It's very convenient and sounds great while leaving the other cue points unchanged, unlike the Key Shift Pad mode.
The cue playback Hold mode and Trigger mode apply to all the cue points globally, as does the Mono/Poly Voice mode. In polyphonic mode, you can play up to 16 notes at once, whether it's a single cue point in Keyboard mode or multiple cue points. That's great for when you want to make a beat using multiple cues simultaneously. In monophonic mode, the next cue point played will cut off any previous one.
Performing Like a Pro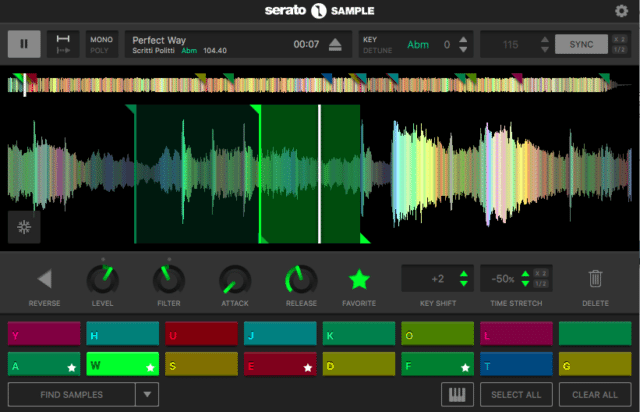 it played back polyphonic beats from a large Live session on a 6-year-old MacBook Pro without a hitch
Serato Sample is simple – but it's also brilliant. As a 1.0 release, there are many ways for it to grow and do new and better things, but stability and real-time response are already there from the start. With long songs loaded into it, it played back polyphonic beats from a large Live session on a 6-year-old MacBook Pro without a hitch. I could also make tracks using nothing but instances of Sample without needing to freeze tracks to save CPU power.
It also seemed to work equally well regardless of the host software. The only differences I experienced testing it in four DAWs were whether I could drag audio in from the software's own browser (which worked in Ableton and Bitwig Studio 2, but not Maschine or Reason 9.5) or from another track in the software (which only worked in Ableton Live).
I could see Sample going toward workstation territory, where it adds more sample manipulation features, effects, normalization, etc., but I think the most important feature to add would be a way to save your setup as a file that can be reopened in different sessions and/or to export cue point settings as individual audio samples.
Is It Worth The Pricetag?
As it is now, Serato Sample feels like a smash to me at $99, which is reasonable in the music production world. For people not already sourcing samples for their music from other productions, Sample makes it super easy to locate the best options from a track and prep them to be used the way you like, including powerful and high-quality control over tempo and pitch. You can play any cue point as if it's a keyboard instrument.
Essentially, Serato Sample unlocks creative potential from existing audio recordings that many DJs or producers may not have known they had. As a digital DJ with likely thousands of high-res tracks that you already love, you can turn those tracks into thousands of miniature sound packs with Serato Sample. That, along with its interface and workflow that should be familiar to Serato DJ users, makes Sample one of the most appropriate tools I can think of for helping DJs make music.
Learn more about Serato Sample and download the free trial
Markkus Rovito is a contributing writer for DJ Techtools – let him know in the comments what software or hardware he should investigate next!