After a bit of speculation around the web, some evidence indicates that Pioneer DJ might be due to update their all-in-one standalone gear. Will an XDJ-RX MK2 / XDJ-RX2 début next month, or is it just a fantasy? Keep reading to get the facts so far and make your own speculations.
Editor's Note: This article was written without any insider or confidential/advance knowledge. We haven't heard any official notice about an XDJ-RX2 / MK2 coming out. 
DJing in recent years has taken a turn back towards standalone DJ gear – with CDJs and turntables continuing to be viewed as "standards" in, at the very least, the club and festival circuits. So when a DJ without standard gear wants to practice for their big gigs in their home studio, the XDJ-RX has been a solid option for many. It's also a fantastic backup piece of gear for CDJ users, or ideal for rough environments (I've heard of a number of units going to Burning Man this year).
The XDJ-RX Pricedrop
At the beginning of August, all US retailers of Pioneer DJ gear got an updated set of prices of various gear. These price lists often include new products and discontinued products, and they also note when major prices change. Starting in August, the XDJ-RX dropped in street price from $1,499 to $1,399. These types of small but permanent price drops are a common practice when companies are trying burn off excess inventory of a soon-to-retire product.
The Rumors On Reddit
So, beyond what we've seen at DJTT, apparently other retailers might know more than they should – and could be sharing this information to consumers? A post on Reddit yesterday asserted that retailers have some knowledge:
The original poster's follow-up comment elaborated:
The Raw Numbers For XDJs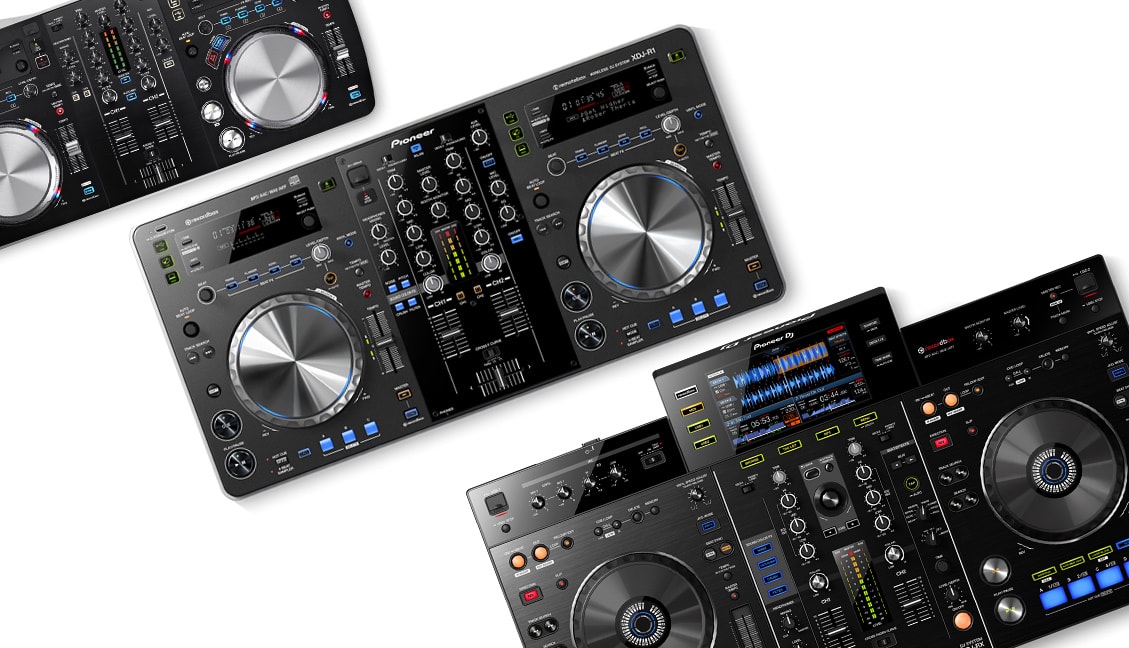 For a moment, let's go beyond speculation and look at the rate of product releases that Pioneer DJ has had in this product family. The XDJ standalone gear family started with the XDJ-AERO, announced August 2012, then the XDJ-R1 in 2013, and then the XDJ-RX in 2015. I made a quick calculation – at the averaged rate, we would have expected to see a new XDJ in mid-2016.

Making DJ products isn't an exact timeline science, but for a company that's clearly enjoying benefits from promoting a standalone DJ setup, you might think they'd try to build more products in that vein. Then again, CDJs have a higher margin, so keeping that premium experience a $2000+ investment might best help their bottom line?
What Would An XDJ-RX MK2 Even Do?
Full credit here to Joey at Digital DJ Tips for doing the above incredible mockup of his best guess of a second XDJ-RX model. In this design, the feature set builds on the original, with four channel control, eight performance pads on each deck, a touchscreen display like on new CDJs, nicer faders, Rekordbox DVS support, better ProLink that syncs with CDJs, and lossless file support. It would be a substantial and impressive update – and if all these features were included, we suspect Pioneer might connect it with a different label (XDJ-RZ or XDJ-RY, anyone?) as well as a higher price point.
Instead, the Reddit poster's comments align more with what we would expect – eight pads, two channels, and an updated touchscreen and a few minor other features.
Why Not Match Denon DJ?
One of the biggest things that could change on standalone Rekordbox (on CDJs, XDJs, and XDJs) would be incorporating some of the features that Denon DJ have surpassed with Engine:
Song analysis in-unit
Great beatjump/loop move functionality
More advanced browsing features
4 deck support by adding a second layer to each side
What would you want out of a new XDJ-RX? Let us know in the comments (keep scrolling down!)