In a brand new product announcement, Pioneer DJ is officially launching the final new version of Rekordbox 5.0, as well as a new accessory controller, the DDJ-XP1. With 32 pads, it's designed with key-shifted turntablism performances in mind. In the promo video for the new hardware, there's also a new product that not-so-subtly is shown – labeled the XDJ-RX2. Keep reading for more details.
Rekordbox 5
Software: Rekordbox 5
Release Date: Today
Price: Free (for library management, paid for DJ software side)
Rekordbox 5 was first introduced earlier this summer as a beta software launch in July. After a few months of testing, the redesign is going live. The new version is based on a brand new KORETECH engine, which Pioneer DJ boasts will increase stability, responsiveness, analysis time, audio and video processing ability, and more. They also mention that analysis is even more accurate/powerful than before – which hopefully will mean not having to correct beat grids manually anymore (we can dream, right?).
One of the best features in the beta that went unmentioned in the original press releases was the ability to plug in external USB/SD cards in a Rekordbox DJ setup and play from it. This was a major downer when using the software before, particularly since you could see all the USB drive's collection in the EXPORT side of the software, but it was not visible on the PERFORM side.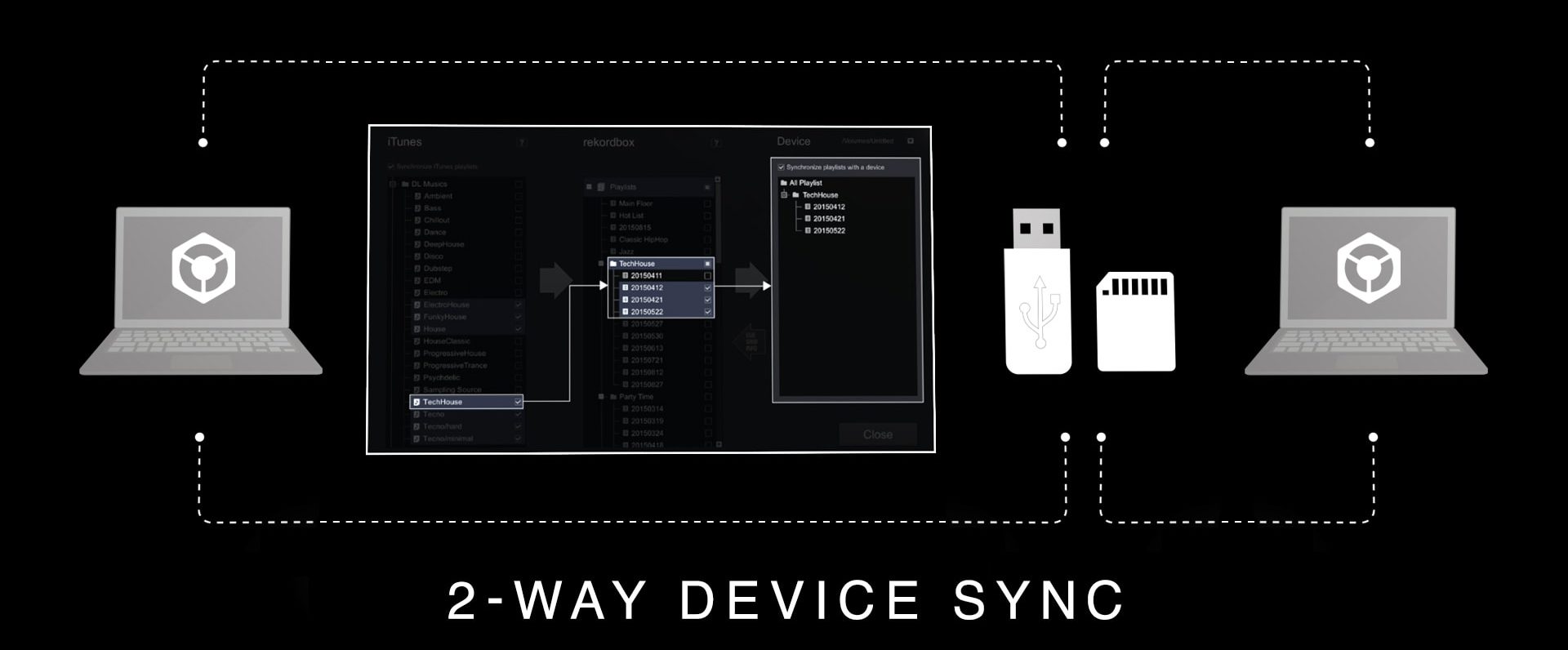 DJs can also now restore their library from a USB drive with two-way sync. If you lose your laptop, starting fresh is a huge pain – but now Rekordbox can import libraries from previously exported drives.
The GUI has also been updated – as we noted in the beta announcement, it's now much flatter design, and feels a bit cleaner in terms of fonts, player status, and deck meta data: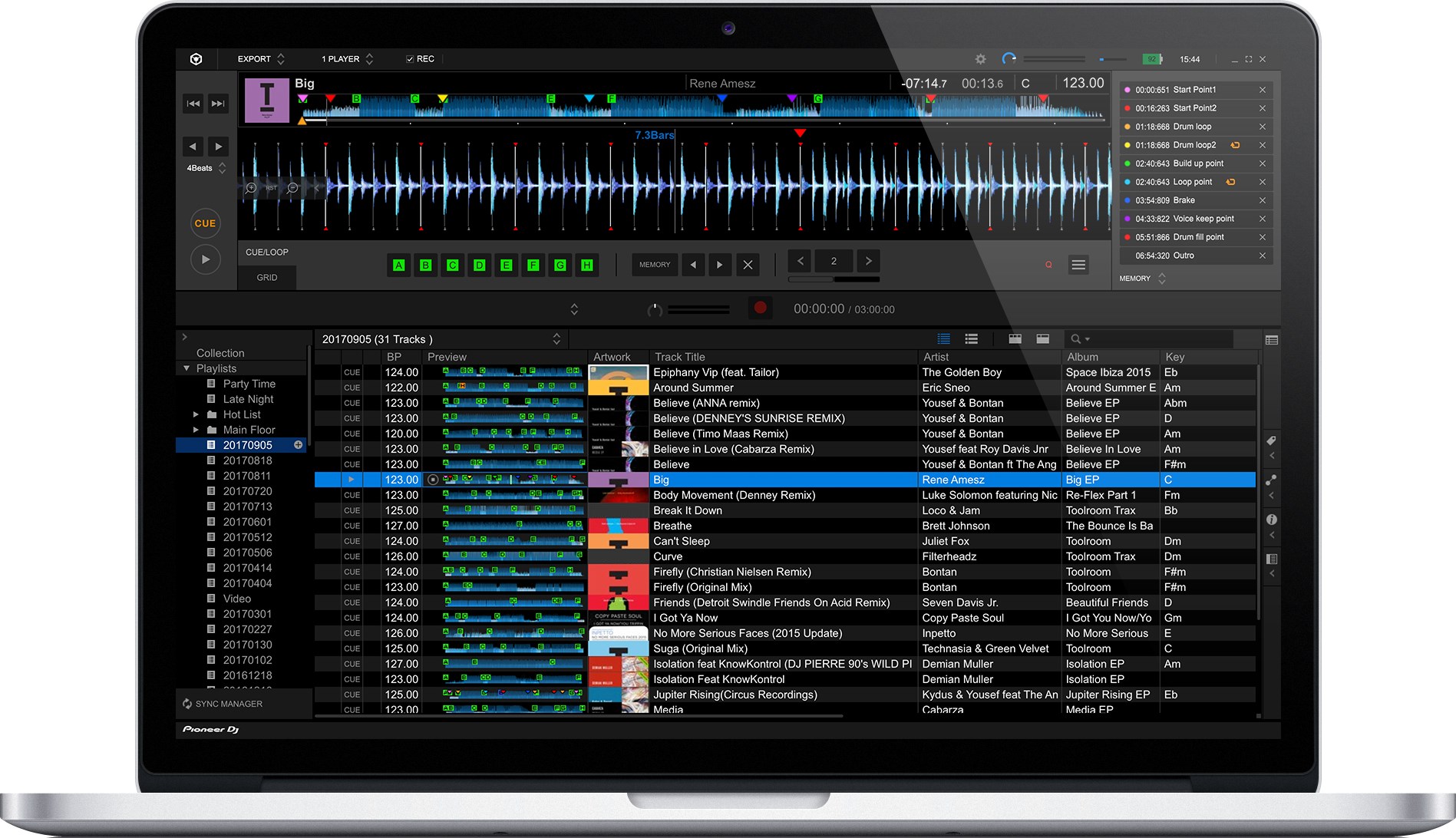 DDJ-XP1
Hardware: DDJ-XP1
Price: $249
Availability: Late September 2017 
With a strong video demo from cue key-shifting maestro Sixty-Nine Beats, the DDJ-XP1 is clearly a new accessory controller designed with cue point performances in mind. Think of it as a larger version of the DDJ-SP1, but without as many knobs for FX control.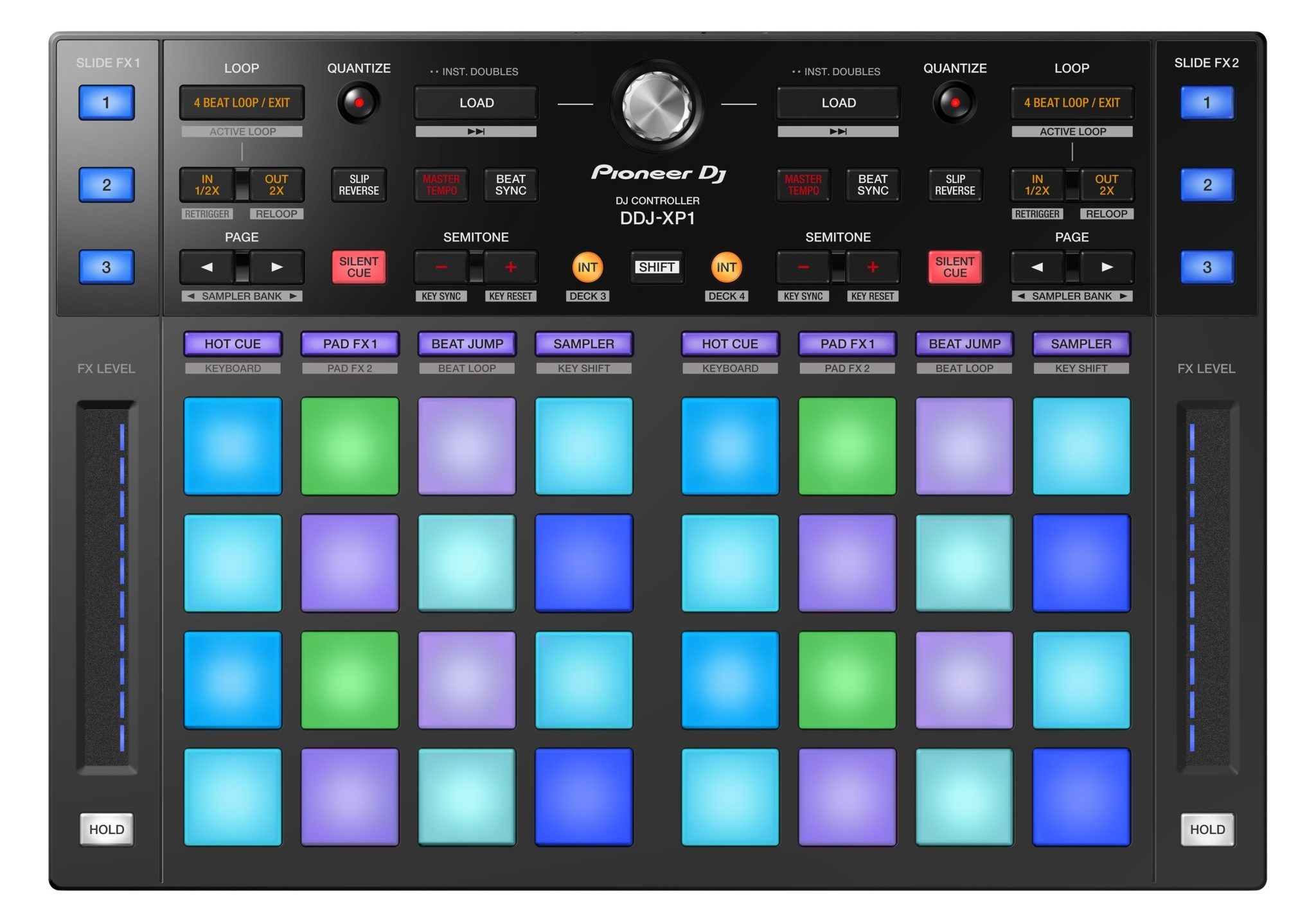 Here's the features that Pioneer DJ has outlined in their press release:
Use the DDJ-XP1 to intuitively control all the features in the rekordbox dj and rekordbox dvs Plus Packs, including:

• Key Shift: Mix any combination of tracks in perfect harmony by shifting their keys up or down. Key Sync
automatically changes the key of your next track to match the master deck. You can reset keys
at any time by pressing Key Reset.

• Keyboard: Select a Hot Cue or create a new one, then use the 15 other pads on that deck to trigger it in
different semitones. You can use this feature to improvise with sounds and create musical
phrases as if you were playing on the keyboard of a synthesizer or other instrument.

• Pad Editor: Customize the arrangement of the 32 Performance Pads by assigning not only your favorite pad
modes, but also features, to each pad. For example, you could assign the top eight DDJ-XP1
pads to each deck in rekordbox dj for Hot Cues, using the rest for the Sampler

• Silent Cue:  When using rekordbox dvs with turntables, switch on Silent Cue and the music will restart
instantly and at the correct BPM when you press play on a stopped deck. This avoids the sound
of the music speeding up as the turntable starts to revolve. You can choose a Hot Cue then hit
play on the deck and it will sound the same as hitting a Cue on a multi-player.
The XP1 requires just a USB cable – no power supply required – and will have its own stand and case as well to properly mount and protect the unit. It also comes bundled with licenses for Rekordbox DJ and the DVS plus pack – making it easier to jump into the Rekordbox DJ world.
XDJ-RX2
Despite a lot of hand-wringing over a recent leaked image of a highly anticipated new XDJ all-in-one, it looks like Pioneer DJ themselves have leaked a new image of the XDJ-RX2. In the DDJ-XP1 video above, skip to 1:18 in the video to see the new hardware. Here's a screenshot directly from the official video: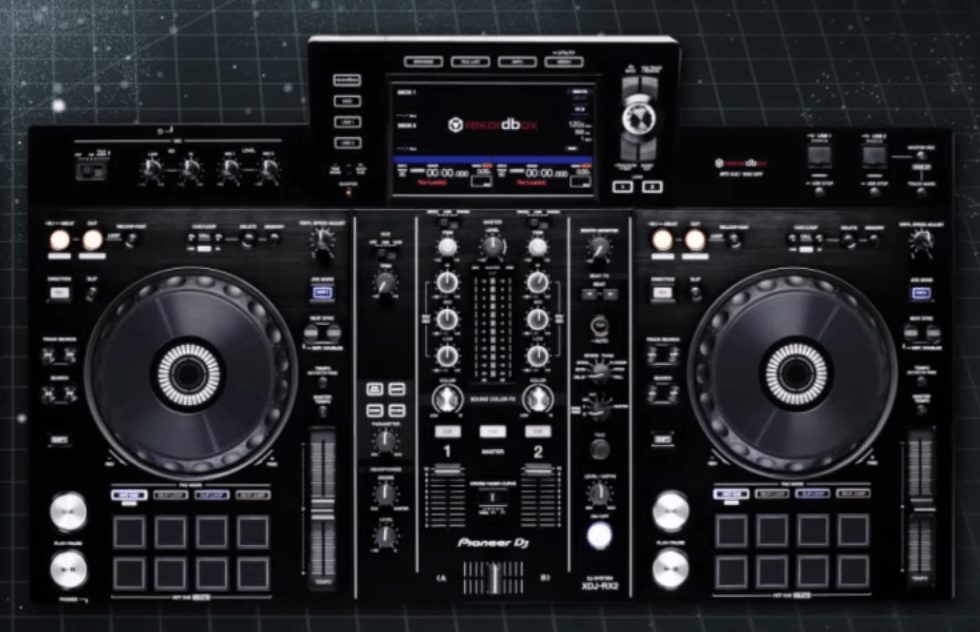 The new all-in-one unit has the following clear features:
8 performance pads per deck
Sound Color FX parameter control for resonance adjustment
A redesigned browsing experience (seemingly modeled on the CDJ-2000NXS2 layout)
We'll have to wait for a more official announcement from Pioneer DJ to learn more, but for now we can rest assured that yes, the XDJ-RX2 is real, and it's coming very soon.