With iOS 11, there are a few features that developers might use to build more powerful music applications. DJ and production apps are becoming robust enough to be more than a novelty. Mixvibes is one of the first in our industry to flex some of this new functionality with an update of Remixlive for iOS. Read on to see what makes iOS 11 unique and what it could mean for the future of DJ/music making apps.
Remixlive for iOS: Introducing Files
Sexy New …. File Management?
The new update of Remixlive brings an enhanced user experience thanks to iOS 11's optimizations and additions. One of the latest additions is a file management called, simply enough, Files.
This might seem basic – for Android users, on-device file management has always been more accessible. But now Apple is giving users more control over their files and giving top-level access to third-party apps. For Remixlive, this means a person could have samples on their computer (Mac-only) and transfer those files directly from the cloud into Remixlive. You can also move files between apps on the same device.
Why pay for packs when you can transfer your own samples into the app?
This also makes exporting recordings is even easier. Recordings can now be brought into the File app and become instantly accessible to other iCloud devices. Maybe drop that fresh recording into Ableton for a mastering session?
Remixlive for iOS is one of the first DJ/Producer apps on the App Store to take advantage of this update. On top of that, there is a very responsive Finger Drumming Mode that allows users to drum and record patterns easily. There are also numerous controls for FX, tempo, sample edits, mixing, as well as over 50 sample packs to create tracks.
Who Cares About Files? (You Should!)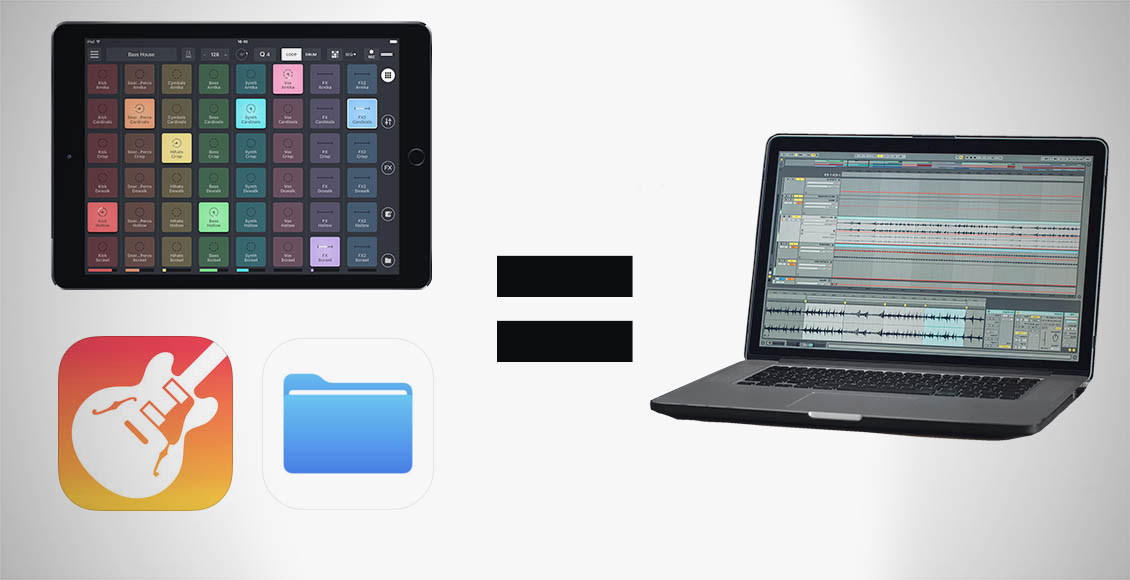 The Files eco-system gives users and apps a lot more control over files previously were cloistered within separate apps. This line of communication is turning the iPhone and iPad into powerful units for DJing and Music Production. Let's consider the following scenario:
DJ iOS is playing around in Garageband. Using the synths, he creates a lead melody, chord progression, and arp track. Now, he wants to play these samples with some drums to create a demo.
Before iOS 11, DJ iOS would have to transfer those recordings to iTunes first before putting them into Remixlive. Now, he can simply save the samples from GarageBand into files, and opens Remixlive to build the track by sequencing loops, adding FX, and mixing the sounds together.
After the recording is done, DJ iOS can drag and drop that file back into Garageband for some light mastering. Hit export and he has a demo that can be uploaded directly to Soundcloud or shared to another device.
iOS 11 will continue to close the gap on how seriously our industry takes production/performance apps. While their standalone capabilities have been getting better and better, it's hard to incorporate a phone or iPad into a laptop-dependent workflow. Adding easy file transfer makes it far easier to imagine.
Just off the cuff, here's some ideas of what could be done with Files:
Create in Remixlive, Cross DJ, Traktor DJ, etc; Master the result in Garageband.
Download soundpacks directly to the phone for production, modification, or use in live performance apps
Release tracks with only an iOS device, like Steve Lacy from The Internet.
If Traktor DJ ever gets an update, create tracks in Garageband, import as Stems into Traktor DJ to play.
Maybe Traktor DJ could also use Files to re-enable collection syncing?
Build custom soundpacks with loops from Garageband, share between other sequencing apps.
Build an Ableton Live companion app to manage samples
Splice Sounds iOS app to build tracks into GarageBand
Do you think Files and iOS 11 can finally make DJing and production make sense for mobile devices?