Throwing DJ Parties: Advice From Seven Successful Party Promoters
image via Redd Angelo on Unsplash
"Let's throw a DJ night at a club!" is a common idea among DJ friends. This is exactly how many successful staples of nightlife have gotten started. DJTT contributor Elizabeth de Moya has rounded up advice from seven west coast party promoters who have had long-running events. Read on for their advice on throwing DJ parties so you can apply it to your own future events.
Let's Throw A DJ Night
Planning a successful event and then pulling it off on time and budget is not as simple as it seems. There are a lot of factors that go into coordinating the venue, booking performers (even if it's just locals and friends), and making sure that a crowd of people actually show up to the gathering.
To learn from expert promoters we tracked down a variety of successful party planners on the West Coast, and asked them or their advice about throwing a DJ club night / dance party.
Lights Down Low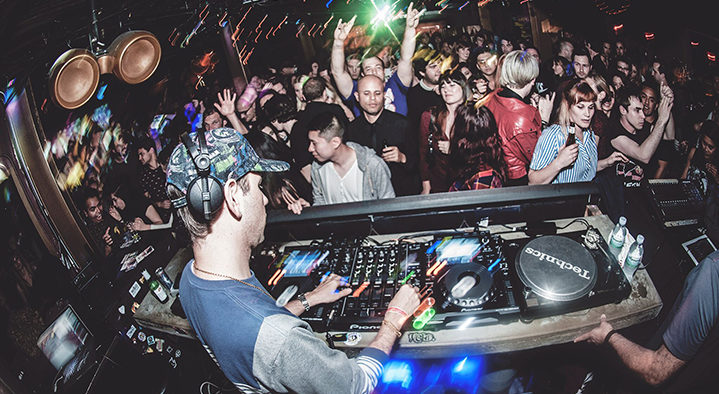 Event Promoters: Richie Panic and Corey Sizemore
Genre: California Jack Music
Location: Los Angeles & San Francisco
Years Running: 2006 to present
Lights Down Low is an event and promoter brand that has been active for ten years, bringing in unique and rising DJ talent to the LA and SF area. The founders, Richie and Corey, shared specific advice on how to avoid burnout – by being an actual fan of the music that you promote:
You have to be a fan of the music and the artists that you bring. It will give you longevity over time and keep your enthusiasm up for what you are doing. There are going to be times where there were a lot of headaches, crazy phone calls and 1,000 emails but when the lights hit, the sound is good, and that artist you have been waiting to bring to the masses for 2 or more years finally takes to the decks you can know it was all worth it.

Though out the years we are offered a lot of stuff that would probably do well financially or be an "easy sell" but if we are not playing that artist's music ourselves as DJs, or listening to them, or interested in what they have to offer to us as FANS then we will pass. Even a smaller artist [..] will have an easier time getting booked because we are excited by what they do and want to hear them, hang with them and build a relationship.

Having this kind of mindset has helped us weather all kinds of ups and downs and kept us doing all this weird shit for over ten years now.
Daybreaker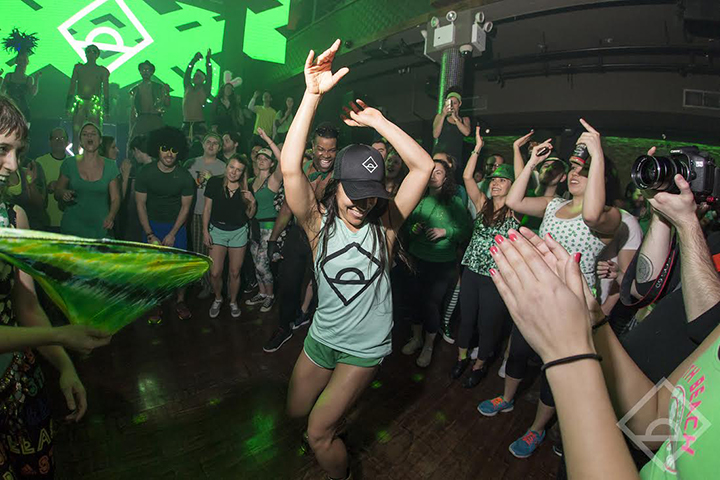 Event Promoter: Radha Agrawal
Genre: Straight Edge Early Bird
Locations: 20+ cities around the world
Years Running: 2013 to present
Daybreaker is a daytime / morning rave that you've probably heard about. Effectively, the concept is a morning-time club experience instead of a late night one. It's been a big success – and the founder had some pretty simple advice for aspiring promoters:
[when] promoting events: Find epic humans to share about it! Hustle.
The founders had some specific advice for DJs as well:
Best tip for DJs: really learn all genres of music, not just one. Learn classical, hip hop, electronic, jazz. Become an encyclopedia of knowledge on music. DJing is about curation and connecting with the community you're playing for. Also, don't hide behind your computer. Connect with the community who's there to dance. You're the conductor of the experience.
Dub Mission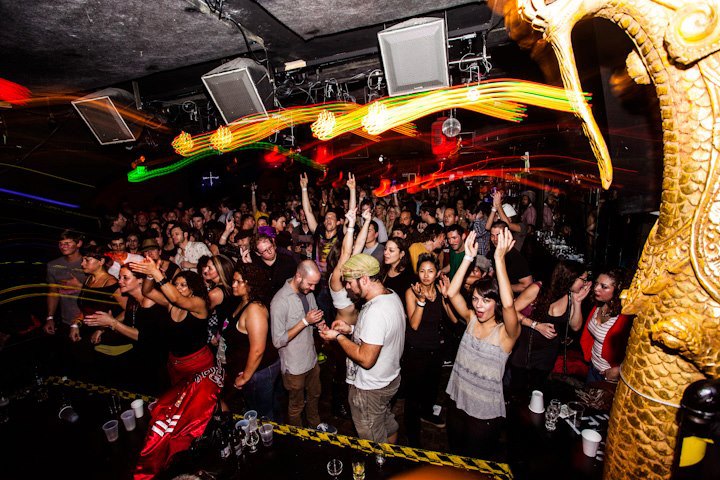 Event Promoter: Sep Ghadishah (aka DJ SEP)
Frequency + Location: Monthly @The Elbo Room in San Francisco, CA
Genre: Dub, Roots and Dancehall
Years Running: 1996 to September 2017
Dub Mission has been a San Francisco reggae night staple for two decades, and has held down a monthly residency at Elbo Room for that entire time. The residency is over, but Sep continues to promote events under the Dub Mission banner. She, unsurprisingly, had some good venue-based advice:
The best advice I have is that as a promoter, you have to think win/win. Partner with a venue that acts professionally and has its own promotional system in place.

In return, strive to be a good partner. Think in terms of making a success of your event, both for your own sake and for the sake of the venue hosting you.

Talk extensively with the venue to understand their expectations and communicate your own, and have a written agreement so everyone is on the same page. Make sure you are given adequate time in your contract to have a chance at making a success of your event (three months to six months minimum).
Bootie Mashup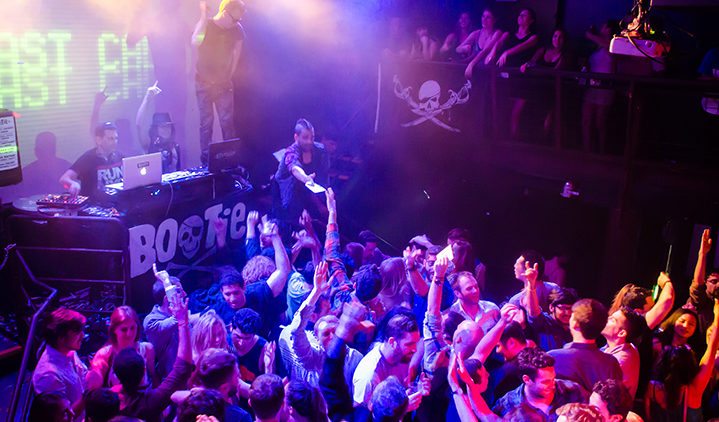 Event Promoters: A Plus D (aka Adrian Roberts & Deidre Roberts)
Frequency + Location: 4+ events/month in Black Rock City, Boston, Los Angeles, New York City, San Francisco, Seattle
Genre: Mashups
Years Running: 2003 to present
Bootie Mashup is a long-running event that has a very unique music pitch: it's all mashups. The brand has expanded all over the United States with regular parties in multiple cities. Adrian and Deidre shared their tips for starting a new night:
If you're going to do a club night, do something that hasn't been done before — or at the very least, hasn't been done in a while. Find your U.S.P. — Unique Selling Point. What makes your party different? Definitely don't be afraid to DJ the party yourself, since nobody is going to understand the vibe you're going for better than you.
Beyond a unique idea, they also noted that the community around the event is just as important:
Find like-minded people — perhaps people who came to the party and were excited that somebody else was doing this "thing" you're doing — and rope them in. Be inclusive. Build your OWN scene, rather than jumping on someone else's bandwagon.

Always be building it, and don't be afraid to grow it slowly. Better to pack a small venue for several months than to move to a much bigger venue and have it be half-empty
DEEP LA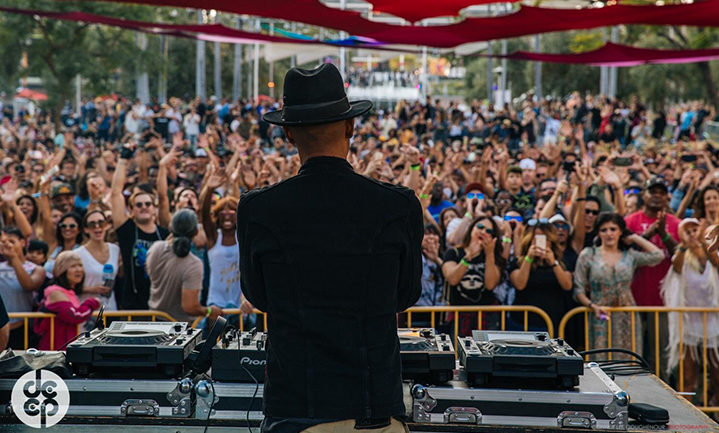 Event Promoter: Marques Wyatt
Frequency + Location: Los Angeles, CA
Genre: "All things DEEP"
Years Running: 1998 to present
DEEP LA is one of the longest-running events and house music promotional brands on the west coast, approaching their 20th year. Founder Marques Wyatt shared some inspirational words with us about creativity:
Stay true to what's in your creative heart. DO NOT be afraid to take risks. As T.S Eliot once said, "If you aren't in over your head, how do you know how tall you are?" This is the only way you can ever place your own unique stamp on what it is you do. This will add value and will eventually allow you to position yourself to ask for what you want. By doing this, in your heart of hearts you'll know it's deserved, as what you offer is not something cookie cutter.

The creative path is not an easy one and I don't believe it was ever meant to be. The challenges you face will build the character and resilience needed to prepare you for what's to come. Allow faith and trust to push you through your moments of self-doubt.
It's no surprise that a focus on being genuine was also on Marques' mind, considering how disposable some events in large US cities can feel:
Surround yourself with good people that lift you up and that are honest with you. Most of all be authentic and make sure the music you play or promote is that which you truly believe in. If not, your audience will know and ultimately their respect will be lost. The respect and support of your community and peers are key components in lasting success.
Sudamericana
Event Promoter: Paula Lucero
Frequency + Location: 2x/month @ The Continental Club in Los Angeles, CA
Years Running: 2012 to present
Called LA's "most free wheeling Latin dance party", Sudamericana focuses firmly on a specific regional genre of music. Promoter Paula Lucero shared her key thoughts:
The most important factor to throwing a good party is having a DJ that creates a unique experience while telling a story through his or her music. I believe that a DJ's number one job is to take the crowd on a journey.

At Sudamericana, we like to take Latinos back to their childhood and adolescence- whether it's with tunes they grew up listening to in their hometown in Latin America or in the US with their families and friends. Our DJs take the crowd on a hot ride from the 80's to today, highlighting all the fun & magical moments in music that bring people together. Being a storyteller DJ – to us, is the key to having a connection with your crowd and a very successful night.
House Of Bass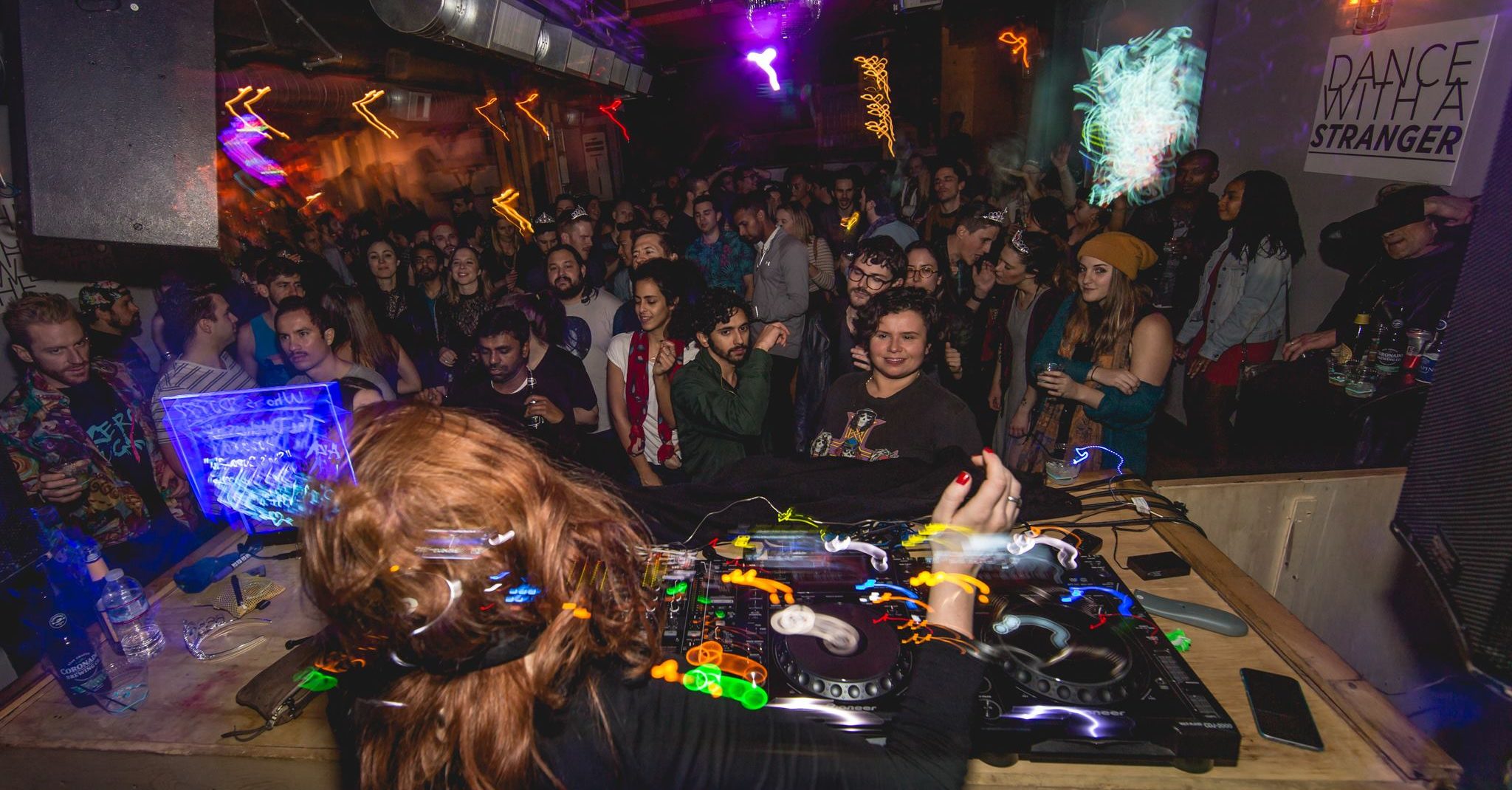 Event Promoter: Dan White (DJTT's Managing Editor)
Frequency + Location: Monthly @ Public Works in San Francisco, CA
Genre: House, Techno
Years Running: 2013 to present
While House Of Bass might be one of the younger events featured here, one of the main promoters of the event is DJTT's own Dan White. It made sense to get a few more insights from a promoter in our own backyard. Dan's advice starts with a focus on purpose:
Set a clear purpose and vibe. Intention-setting is a powerful tool. For my crew, ZF, we focus on putting on an event that we would, and do, enjoy going to.  We love to have fun – and that's our guiding star for decision-making. This translates into the event itself, where I encourage guest DJs to enjoy themselves, smile and joke with the crowd, dance, and not be afraid to be a little silly on the decks.

We often fill the the DJ booth with friends and family, dancing and enjoying themselves. Because we're in a small capacity venue, this vibe often becomes infectious and multiplies out onto the dance floor.
He also shared the most powerful two promotional tools in his arsenal:
You can spend a lot of time and money on different promotional techniques. Since House Of Bass is oriented mostly around local DJs, we've found that re-engaging previous attendees is the best way to market. Two tools that work really well:

1. Event Photos: Photographers and photo booths are content machines. They document that people were having fun at your event, and then you can use those photos to promote your next event. Tagging people in photos on Facebook often means their friends will see it, and might think, "hey, this looks fun, maybe I should go to the next one?" Give them a link to sign up for the next party then and there. 


2. Email List: We give away a lot of free tickets in exchange for people's email addresses. Despite recent media claims of email being dead, I still find it is the single most effective form of mass-outreach in promoting an event. Just be respectful, don't spam people, and respect the unsubscribe.
Throw your own regular DJ night? Share your tips on success in the comments below.