The Pioneer DJ DJS-1000 was a bit of an odd product launch. In many ways, it's a new piece of DJ gear designed to rest alongside a full CDJ setup. But it's also very similar to the Toraiz SP-16, sharing many of the same features. Today, guest reviewer DJ Ravine shares his thoughts on the DJS-1000
Hey DJ Techtools, DJ Ravine here! I was lucky enough to visit Pioneer DJ and get my hands on one of these brand new bundles of joy. The DJS-1000 is basically the Pioneer DJs Toraiz SP-16 reimagined and made DJ friendly in a CDJ body. The SP-16 has been out for about 2 years and using it has been some of the most fun I've ever had with a sampler but it was often tossed to the wayside as it's form factor never sat well with my setup. Keep reading for my full review.

Product: DJS-1000
Manufacturer: Pioneer DJ
Availability: Right now (limited stock in the DJTT store)
Price: $1,199
Best Features: Sync, pitch and form factor allow the DJS-1000 to sit perfectly in an existing Nexus setup. More approachable than the SP-16.
Still Needs Work: Still has a 32 second limit per sample (however an increase to 64 seconds is coming soon). Lacking outputs.
Bottom Line: Cheaper and more refined version of the SP-16
The DJS-1000 Layout
Most of you have probably seen the SP-16, or perhaps even have owned / used one. I have one at home, and to be honest, it really doesn't get as much of a workout as I'd like. Since the launch of the DJS-1000, just the simple fact of it being shaped like a CDJ has reinvigorated my interest in the product line. Anyone familiar with the CDJ-2000NXS2 can instantly recognise the basic features of the unit (like the start/stop, pitch, and menu selector placement) so let's skip over those. Instead, here's quick overview of the more unique layout elements.
The unit has 16 RGB pads which control the samples that you load up through the Nexus2-style touchscreen. The pads also have different modes to control samples. Slice breaks a sample up into individual slices across the pads while Scale mode allows a sample to be pitched across the pads. Pioneer has a pretty good demo of each mode here:
Below the pads sits the 16 beat step sequencer and it's associated scene buttons which allow you to cycle through different pad layouts and sequences. To the left is a touch strip, which gives you live performance control of the samples.
Above the strip is a new FX section. The FX are now controlled by an on/off button and depth knob, much like you'd find a DJM-style mixer. To top it off, they've also added a new button which takes you straight to the effects list. You can also change the effect parameters easily with the 6 parameter knobs below the screen. The function of these knobs will change depending on what screen you're currently on, such as when you're editing samples, they can be used to change the attack, delay and release and so on. They've also added two little nudge buttons underneath the pitch slider which sits happily with our good friend, the sync button.
How It All Works
The DJS-1000 has 16 pads, which on the default screen each control an individual sample. It's just like you'd find on any MPC-style device – tap the pads and trigger sounds, such as drum hits, synth shots, vocals, and so on. For each sample, you can dive into it and adjust it like you might in a DAW – controlling the sample's ADSR, start/stop points, amplitude, etc.
You can use the DJS-1000 by itself and simply adding one shots to your DJ mixes, but where it really shines is when linked and synced together with a full DJ setup. Sync locks the tempo of the DJS's sequencer with your CDJ/XDJ players, allowing you to transform your set by layering custom audio sequences into the mix.
The unit comes with a few premade projects and samples to get yourself familiarised. Once you've exhausted the built-in sounds, load up samples by dragging and dropping onto a USB thumb drive. The DJS-1000 has a USB slot on top, just like a CDJ – but it is worth noting that there is no SD card slot.
Preparing a project file does take a bit of time. It's similar to building an original song on a DAW, spending time to sequence drums, synths, and effects. Once you've gotten used to the workflow, it's quick and gratifying. To sequence each sample, there's two options: punch it into the step sequencer, or play the part "live" on the pads and record it in (quantization is available. You can edit each individual step with options for volume, key, and even offsetting it slightly for a bit of swing.
Toraiz SP-16 vs DJS-1000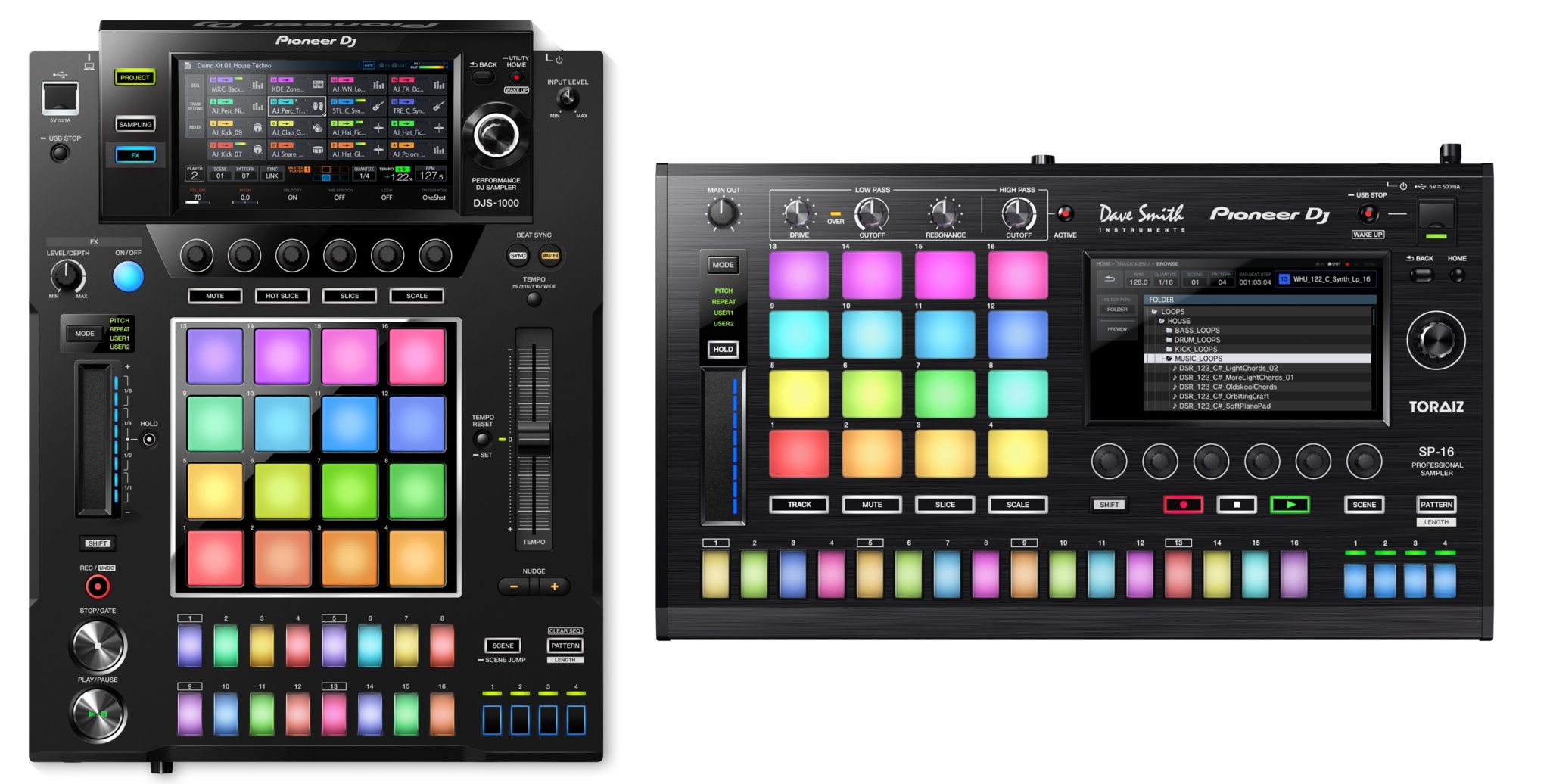 Missing Filter? Not Quite
Aside from overall form factor, the most noticeable difference between these two units is the missing Dave Smith filter, not present on the DJS-1000. Instead, it's replaced by a DJM-style FX control area. I think this is preferable, because there's now an active master effect (which can also be assigned to individual pads) instead of just filter on the SP-16. The FX on the DJS-1000 can also be assigned to a filter – but it admittedly doesn't sound anywhere near as beastly as the Dave Smith one.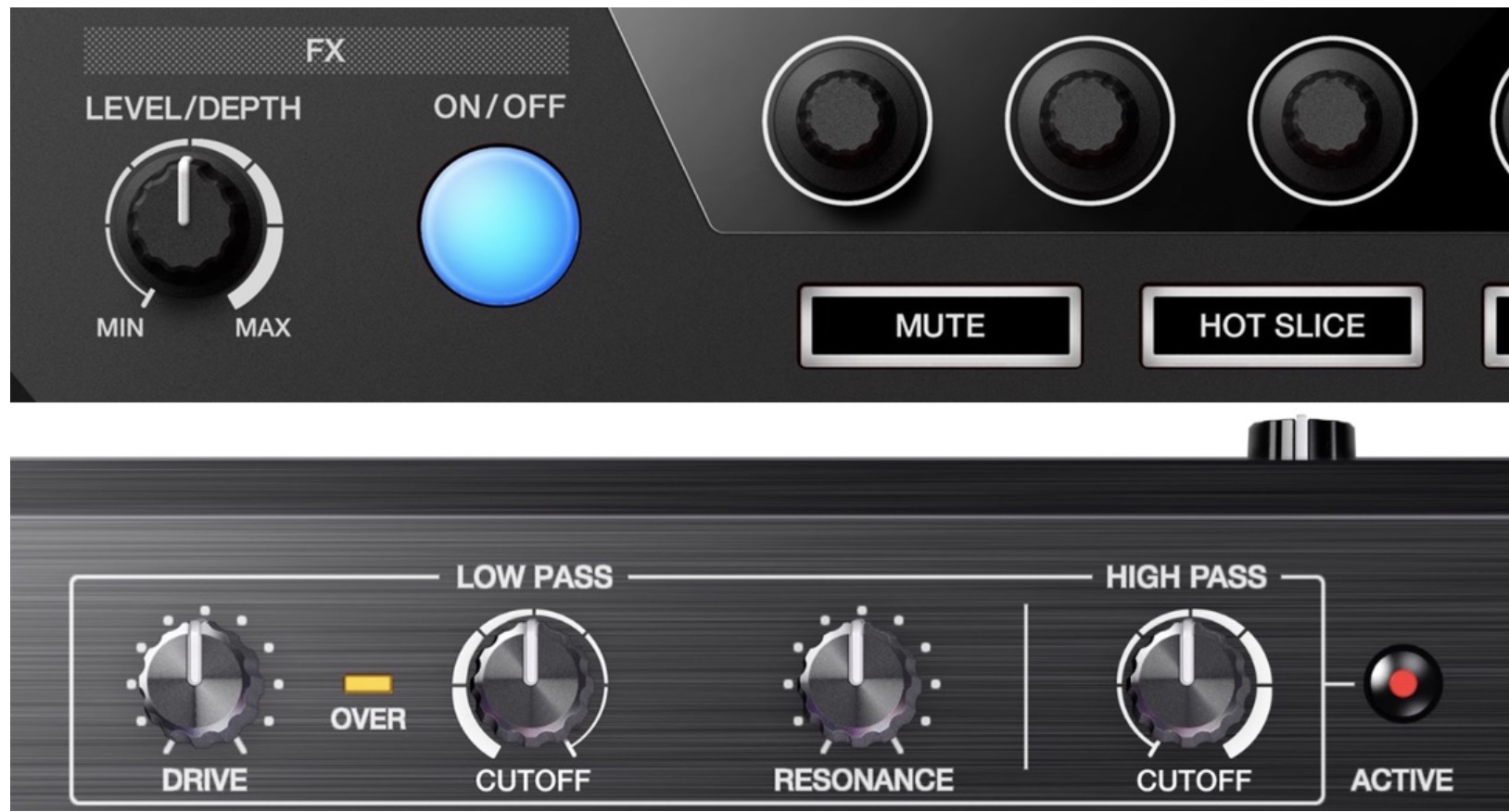 CDJ-style Syncing
Another feature the DJS inherited from the CDJ line is the pitch slider and sync/master buttons. Yes, the SP-16 also has these features – but they're hidden under a quagmire of menus. The DJS has made it much more intuitive to adjust pitch and activate sync, yet again reinforcing who this unit is for (if you forget, it's right in the name: DJs.)
Sync is what makes this unit really shine as you can play, beatmatch, and mix your own projects as if you were playing them off a CDJ. It's also great fun to change parts of your song on the fly with the sequencer and still have everything in time. If it (or the other tracks) fall slightly out of time, Pioneer DJ handily added nudge buttons to let you fine-adjust the tempo manually.
Where's The Outputs?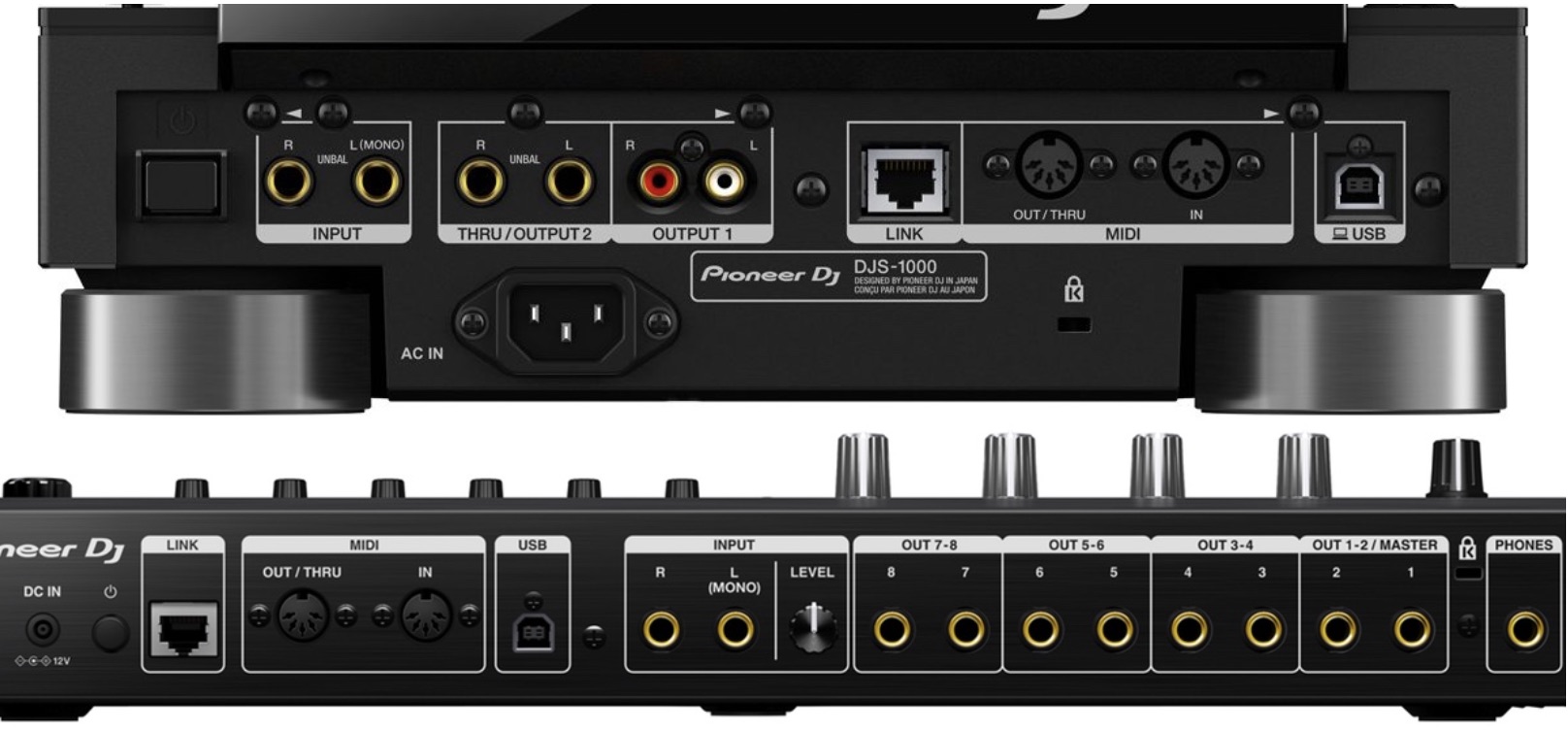 Unfortunately, it's not all good for the DJS-1000. The SP-16 came with a whopping four dual 1/4" TRS outputs. The DJS-1000 has been relegated to just a single dual 1/4" TRS output along with a single dual RCA output. This again seems like a reflection of the change in intended use case from production desk to DJ booth.
The SP-16's outputs were great, allowing creative users to route drums to one output and top line elements to another, while still having two outputs left over. The DJS now limits that to splitting it just two ways and on top of that, with two different connectors. The good news is for users with other outboard gear, the DJS, retains the SP-16's MIDI I/O ports and functionality. This is especially good news for DJs with a CDJ setup but who don't have a DJM mixer with MIDI I/O: it's a way to have synced outboard gear using your own mixer.
Very Similar Overall
Everything else has pretty much remained the same from the SP-16 onto the DJS-1000. They both share almost exactly the same backend and software, aside from some small tweaks related to the layout change. Both units read the same files, and projects are interchangeable between units meaning you could do the same performance on either one you choose.
Who Is The DJS-1000 Good For?
What perplexed me the most about the original Toraiz SP-16 was a lack of intention. It was hard to answer "who is this gear made for?" In the end, I found that most of the people who used it tended to be house or techno DJs. These genres are more receptive to layering and the SP-16 was the perfect tool for adding that extra bit of flavour to a set.
Essentially, I saw the original SP-16 only as something you'd use on top of an already-playing song. The more I use the DJS-1000, the more I realize it's potential to play your original productions broken down into stems and remixed on the fly, especially now that it works much like a CDJ.
It is also great for beatmakers. Those who use Maschine, Push, or MPC-style systems will be instantly familiar with this kind of workflow. Unlike offerings from NI and Ableton, you don't need to connect it to a computer for it to function. Instead, quickly plot out the ideas in your head or even make a fully-fledged original song. You can even use one or two of these standalone to perform a full set if you're so inclined, but that'll mean spending many hours making different projects and songs on the device. You can't just load up full songs and trigger them with the pads – because there's a 32 second sample limit.
In Conclusion
At first appearances, I was really not that excited by the DJS-1000. To me, it was just the SP-16 in sheeps' clothing. Finally getting to use one helped me realize that that's exactly why's it's special: Pioneer DJ have made the same live production gear much less intimidating to use. They've implemented a lot of quality of life adjustments so that you can get your ideas out quickly and easily.
But be warned: Just because it's easier to use doesn't mean you can just buy one and immediately start rocking a dance floor with it. The DJS is a device that rewards those who put in the hours to make projects as without them, this unit is just an overpriced drum pad. Get one, spend some time with it, and it could seriously  bring your sets to the next level.
Get your DJS-1000 from the DJTT Shop
Watch A Review With Cotts and Ravine!
Still want more? Check out the full video review we made: