Instead of just one Rekordbox DJ announcement today, Pioneer DJ has two. Rekordbox 5.1 is out later today, while Rekordbox 5.2 is set to launch in mid-February. In 5.1, users will have access to a new (paid) Plus pack, Lyric, that generates lyric-based videos for Rekordbox video. The 5.2 release is more dramatic – it adds new phrase analysis-based DMX lighting control to Rekordbox DJ. Keep reading for all the details that Pioneer DJ is sharing on both new updates to Rekordbox.
Rekordbox 5.1 Lyric
Video DJs, listen up. This new release is a bit of a big deal for anyone who plays with screens or projectors nearby. It adds generative animated lyric video to Rekordbox DJ. For $6.90 a month (or as part of the $14.90/month premium "all Plus packs" plan), DJs can get customized visualized lyrics as video output. Here's the features that Pioneer DJ highlights in their press release:
1. Lyric visualization in sync with tracks: Thanks to COTODAMA's Lyric Sync Technology, the lyrics of the tracks you play are sent via your laptop's video output (HDMI, etc.) to a connected screen or projector. Just play music that's been pre-analysed by rekordbox and smooth, dynamic motion graphics based on the track's mood and structure will appear when rekordbox lyric is enabled. You can perform with your tracks normally (for example, adding FX) and the visualized lyrics will appear automatically.

2. Customizable visualized lyrics: You can change the tone and type of motion graphics generated by rekordbox lyric. And, with the flexibility to customize font colour and transparency of the background individually, you can create visuals on the fly to match the crowd's vibe.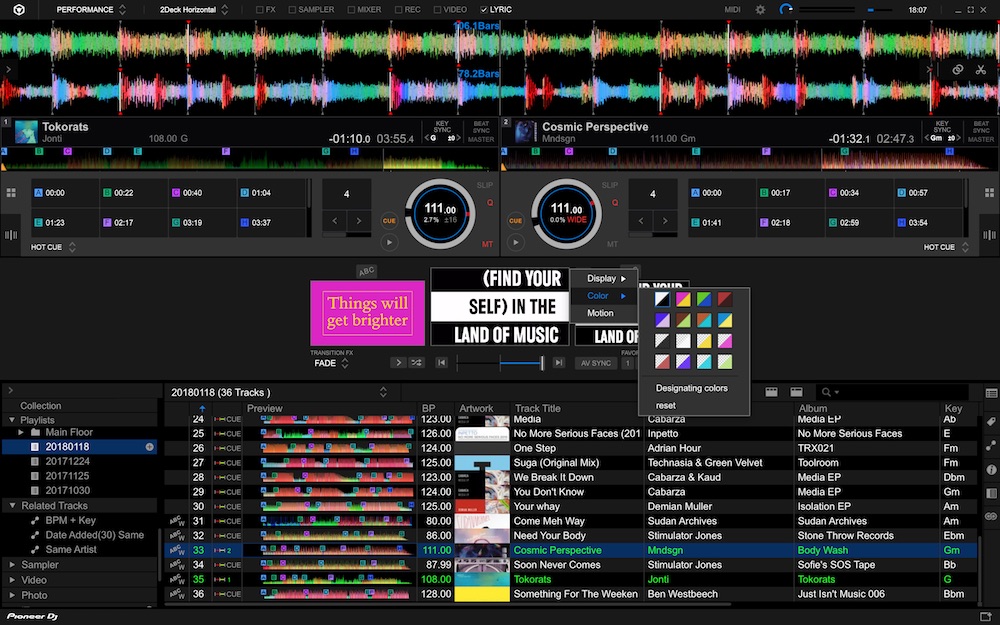 3. Compatible with rekordbox video: Use rekordbox video with rekordbox lyric to apply its Transition FX to visualized lyrics and to layer lyrics over videos and images. By combining various elements using both Plus Packs, you can create unique visual performances to accompany your DJ sets.

About Lyric Sync Technology: rekordbox lyric utilizes Lyric Sync Technology that automatically visualizes lyrics beautifully. Lyric data is acquired from the database of over 2.59 million songs provided by Sync Power Corporation. The music analysis technology of the National Institute of Advanced Industrial Science and Technology (AIST) automatically analyses the lyric data to determine the atmosphere and composition of the music, and its Expression Engine generates motion graphics for each song using the Morisawa font.
We're interested to test how well this technology works with rarer remixes and deep cuts – not just the most popular "might find in a karaoke booth" tracks. It would make the difference between being useful only to Top 40 and mobile DJs and useful to all DJs from different genres.
Pioneer DJ developed this new Plus pack in partnership with a Japanese company, COTODAMA – who launched a speaker with very similar lyric-based technology recently:
Rekordbox DJ 5.1 is expected later today. Lyric isn't the only item in the changelog – there's also a few other things as noted in the DDJ-1000 announcement:
Automix for smooth and natural automatic mixing
Drop tracks into an Automix playlist and rekordbox dj will mix them accurately and smoothly. Phrases in a track are now detected by the newly developed phrase analysis algorithm in the track analysis section of rekordbox's KORETECH engine. In addition to the phrase information, Automix uses track information such as beat position, BPM and key to make mixes sound natural. You can scratch, apply FX and change the order of tracks during Automix.

Advanced Related Tracks feature brings more detailed search criteria
The popular Related Tracks feature – which displays tracks that are well matched with the one you're currently playing – has been significantly upgraded. You can easily find even more relevant tracks using increased search criteria such as artists, comments and file formats, and you can save your custom criteria and call it up at any time. This feature is highly useful for creating unique sets from tracks you might not have otherwise thought to mix together.
Rekordbox 5.2 DMX
This is big – Pioneer DJ is adding a "Lighting" mode to Rekordbox DJ. Make no mistake, this is a direct response and competition to Serato DJ's own Soundswitch technology which allows synchronized lighting in time with tracks. The basis of this new lighting mode is a new phrase analysis algorithm, which helps determine when to change lighting sequences and to automatically generate new ones for your tracks.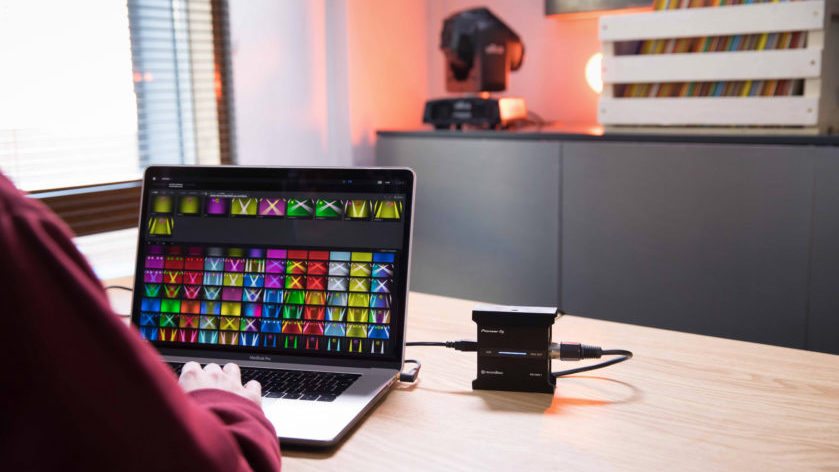 Alongside this new 5.2 version of the software comes a new piece of hardware – the RB-DMX1 – to connect your DMX universes to Rekordbox. To send the sequences that Rekordbox's new lighting mode generates, they're selling this $349 USB-to-DMX box (which comes with an included Rekordbox DJ license).
What's unclear is if Rekordbox will also support third-party USB-to-DMX interfaces (many of which are far cheaper). We've reached out to Pioneer DJ to find out.
Screenshots and Features of Rekordbox 5.2
Here's the outline of what Pioneer DJ is highlighting about Rekordbox 5.2 + Lighting mode:
Automatic creation of lighting patterns in sync with your music: The newly developed phrase analysis algorithm in rekordbox detects characteristics of each phrase in a track. Effective lighting patterns are then automatically created in perfect sync with the phrase information, minimizing the time you need to prepare for a DJ and lighting performance.

Macro Mapping feature for easily customizing lighting patterns: Easily customise lighting patterns by simply selecting your favourite sequences from a wealth of pre-sets. Select patterns intuitively from thumbnail images that visualize the lighting fixture movement as well as the colours and tones of lighting patterns. You can quickly edit your lighting performance to match the atmosphere of the party and track requests.

Macro Editor feature for intuitively editing lighting sequences:  Fine-tune lighting patterns by checking track analysis information such as waveforms and beatgrid. While listening to the music, you can edit patterns manually using the intuitive GUI.

Fixture Library for flexible lighting fixture configuration: Using the lighting fixture library from AtlaBase Ltd, Lighting mode supports DMX fixtures from a wide variety of manufacturers. Create and save multiple lighting fixture configurations using fixtures you've assigned in the rekordbox Fixture Library. Lighting patterns are automatically recreated for each fixture configuration, so you can easily change the configuration you want to use according to the size and purpose of the event and venue. The AtlaBase fixture library comprises more than 13,000 unique fixtures. In the unlikely event that you can't find your fixture, simply post a request in Pioneer DJ forum and the fixture will be added within a few working days.
Rekordbox 5.2 is due to be released in mid-February as a free update – no indication of a separate pricing or Plus pack for Lighting mode was mentioned in their press release.