We've seen a resurgence in turntablism-oriented gear in the last few years, so today's announcement from Reloop seems like a natural progression. The Reloop KUT is a two channel mixer, with built-in FX and an InnoFader crossfader. To top it off, there's a look and feel behind the battle-style design that harkens back to classic Vestax PMC mixers. Keep reading for more details.
Reloop KUT Mixer
Product: Reloop KUT mixer
Manufacturer: Reloop
Price: 499 € / $499 / £ 400
Availability: Now?
What makes the KUT unique is that it takes a classic design and modernizes it. As I noted above, the two-tone faceplate battle design is one that DJs recognized for years as a Vestax standard. It was popularized by the Japanese company's PMC line of mixers. Here's a PMC-05 next to a Reloop KUT – they're not the same mixer by any means, but it's a striking visual callback: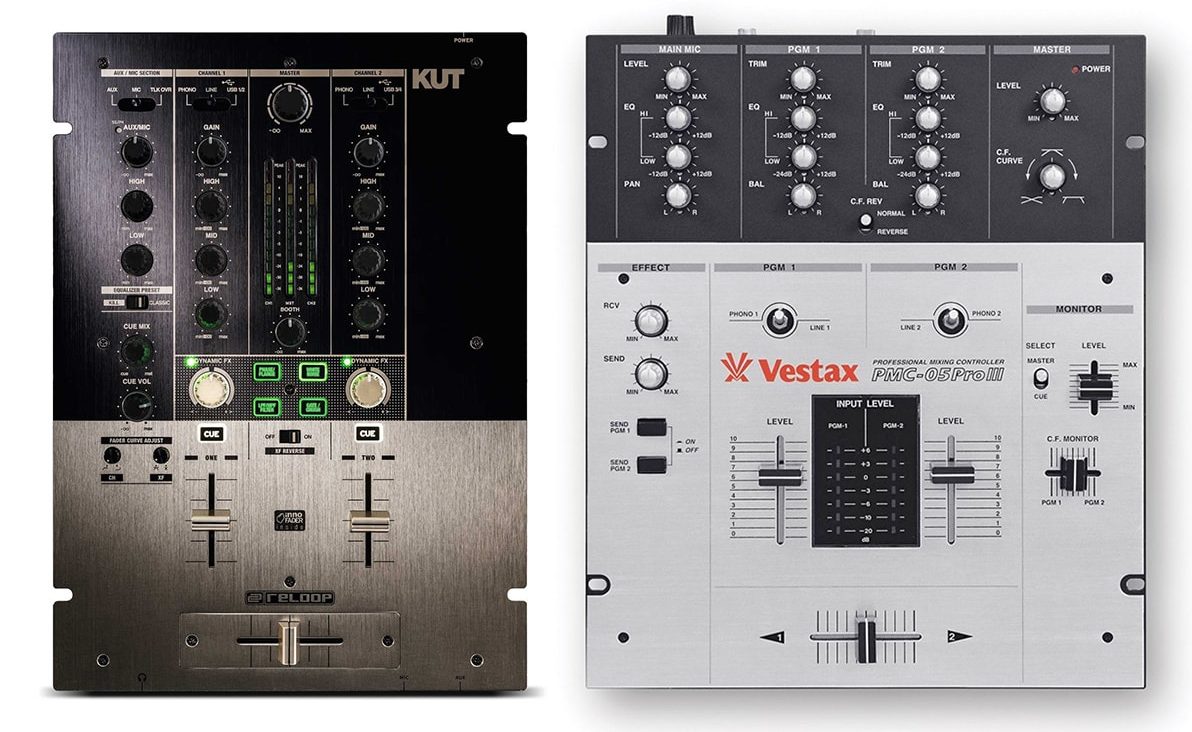 Reloop KUT Features
The basic rundown is that this mixer is a digital two channel battle mixer. It's packed with a USB sound card (24-bit/96khZ) built-in, meaning you can run DVS through the mixer as well (pending DVS certification with a software, if required). There's also "Dynamic FX" on both channels, in dual-pole configurations similar to the Color FX on Pioneer DJM mixers.
For precision cutting, Reloop has put in a replaceable crossfader – and included an innoFader as the default option.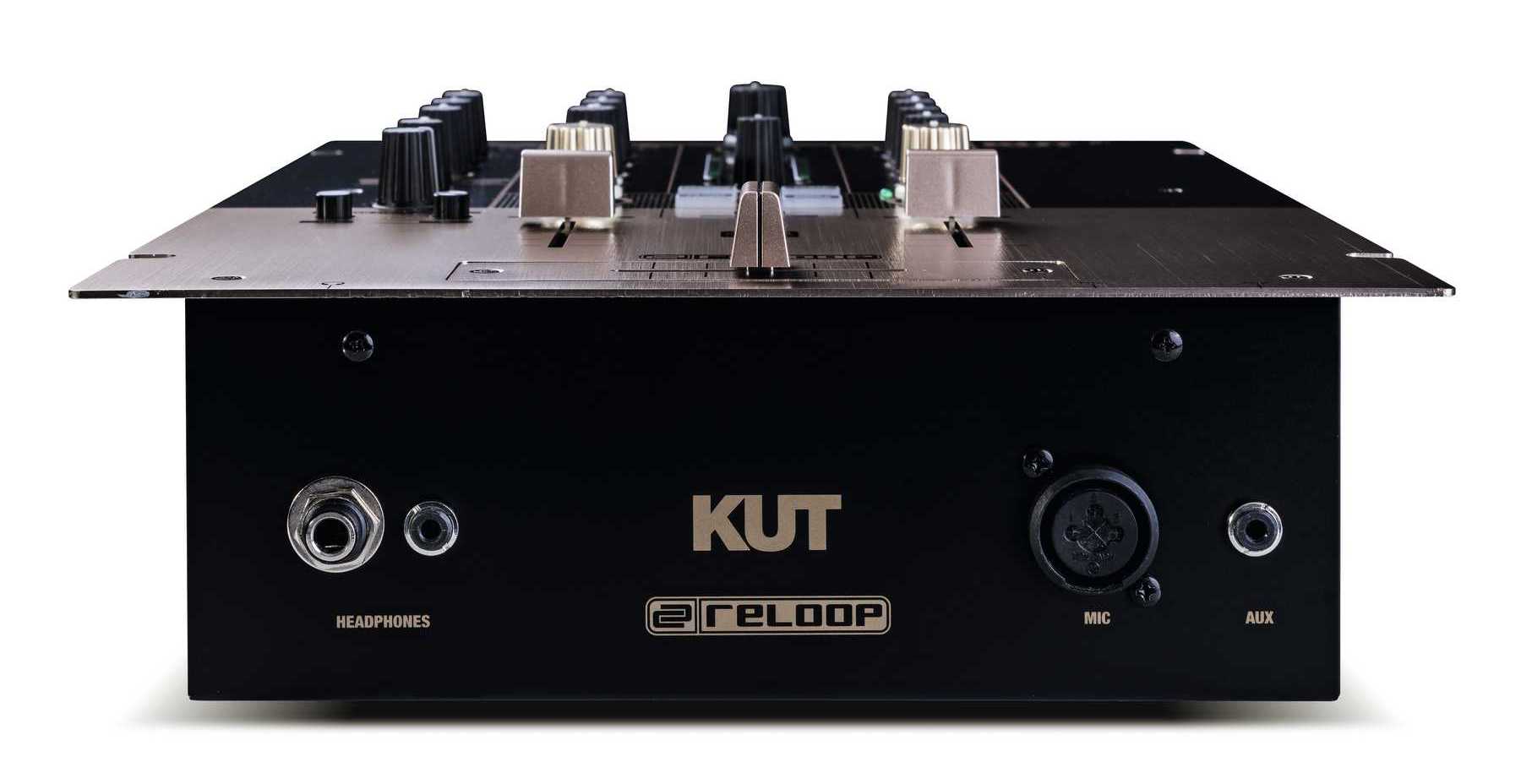 Many DJs have been clamoring for more competition and options at the two-channel mixer level – and we suspect Reloop's offering will fill a need.
Here's the full feature list from the official press release:
Digital 2-channel battle mixer with classic design, including a dynamic effect unit
innoFader with non-contact technology for precise cutting
Very smooth and high-quality battle linefaders
Customisable curves for crossfader and linefaders
Crossfader reverse function (hamster switch)
Dynamic FX section with 7 combined effects: Phase/flange, white noise, LPF/HPF filter,
gate/crush
Creative toggling of effects via the on/off function
Green status LEDs give direct visual feedback of the dynamic FX section
High-speed 8 in/6 out USB audio interface with excellent sound quality in 24-bit/96 kHz
Recording of incoming signals (phono/line/master) via USB to PC/Mac
Selection of USB-recording source via switch on the back
DVS-enabled for software with freely configurable audio interface support
3-band EQ with switchable modes (classic/isolator)
Additional Aux/Mic channel with combined XLR/jack socket
Two headphones outputs via 3.5/6.3 mm jack socket
MIDI-compatible control elements
High-retention USB 2.0-port, particularly resistant
Visually separated panel layout, clear separation of fader section
Brushed black aluminium and metallic gold finish
Fader-start via 3.5 mm control cable
Kensington Lock to secure the device
Incl. three-month BPM Supreme Premium membership with a value of $60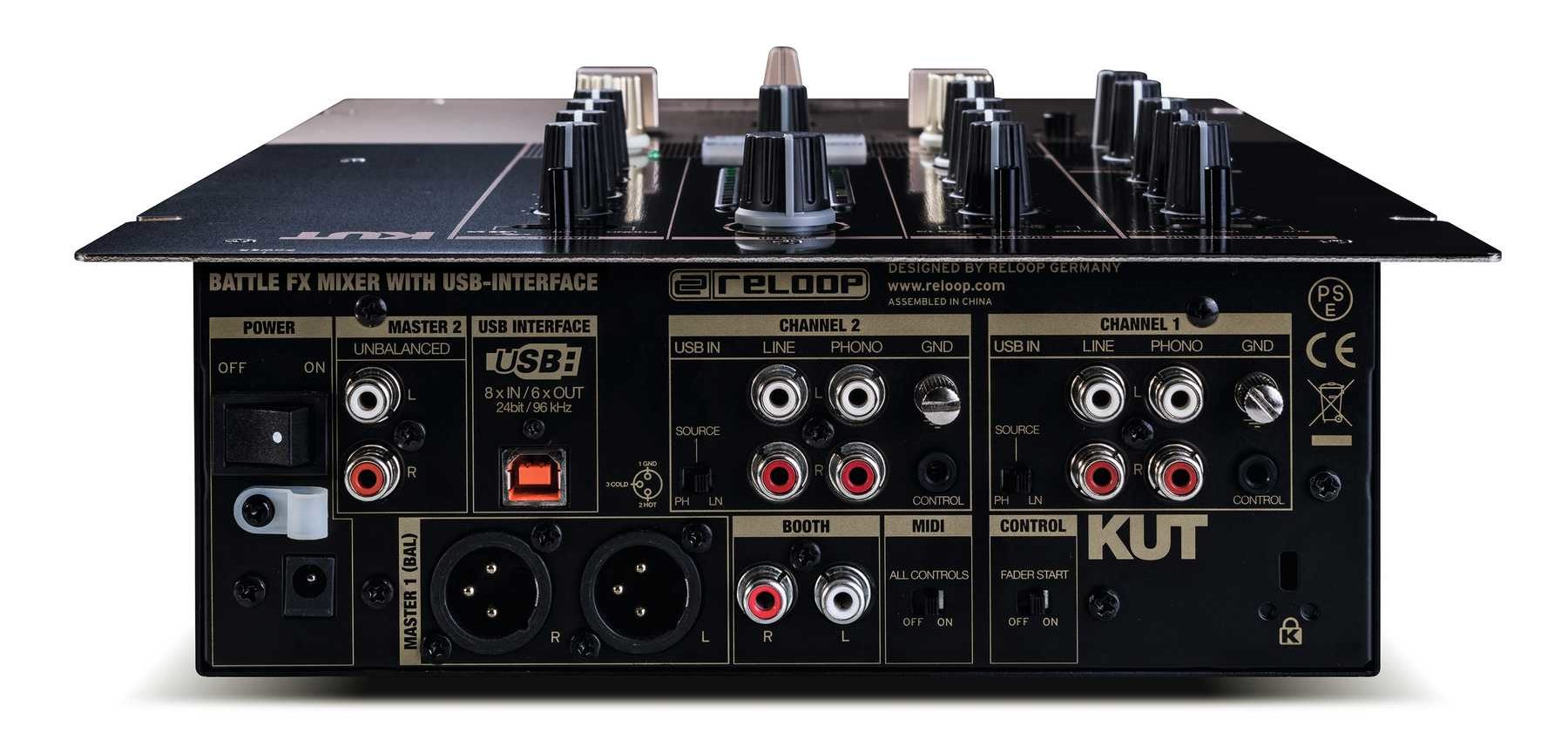 Technical Details
Frequency response: 20 Hz – 20 kHz
Inputs: 4x phono RCA, 4x line RCA, USB IN
Outputs: Master XLR (balanced), master RCA (unbalanced), booth RCA (unbalanced),
headphones 3.5/6.3 mm jack
EQ range at 70 Hz, 1 kHz, 13 kHz: -25 dB/+12 dB
EQ range MIC at 100 Hz, 10 kHz: -12 dB/+12 dB
Dimensions: 355 x 254 x 104 mm
Weight: 4 kg