Native Instruments recently launched their new subscription-based sample library service, Sounds.com, into public beta. At an introductory price of $9.99USD/month, the service is targeted at producers who are looking for a steady stream of fresh samples to incorporate into their productions. DJs looking to add more live elements into their sets via performance tools like Traktor Remix Decks or the new Pioneer DJS-1000 will find the service beneficial as well. With more cloud-based sample library services like these starting to pop up, we've heard from many producers and DJs who are wondering which to use.
While competition should ensure that both platforms gain the most useful features over time, the answer today will mainly depend on your budget, need for a variety of sounds, workflow, and geographic location. It's important to point out that the recently launched Sounds.com is still in beta, and as such we expect things to change and improve over time as they collect community feedback. Nevertheless, read on to see how the two services stack up today.
Similarities
In may ways, both platforms are quite similar. Both offer huge libraries of royalty-free sounds, both provide ways to quickly find what you're looking for, and both are aiming to integrate as closely as possible into producers' workflows.
Browser filtering

With libraries totaling in the hundreds of thousands (or millions, in the case of Splice), powerful filtering tools are a must. Thankfully, both services offer some great options for honing in on the sound you're looking for. With both services, you can filter by loop vs. one-shot, BPM, musical key, genre, and instrument type.
Apparently Sounds.com's search itself is actually based on more complex system. They write that the search "is based on [our] proprietary Music Information Retrieval (MIR) technology. Not only do we analyze loops and samples by BPM, key, genre and instrument type, the algorithms are really powerful and can even detect if a hi-hat is open or closed."
Licensing
While not typically touted in marketing materials or the most exciting feature by itself, it's worth mentioning that both platforms provide a royalty-free license to all of the samples downloaded from their services. Rest assured, you won't need to worry about clearing a sample or other legal issues later on.
Curated Soundpacks
Both platforms make great use of curation to combine samples from across different packs to create certain styles or themes. While Sounds.com's Collections are currently curated in-house, Splice's Repacks are created both in-house and by the community, with featured Repacks being prominently placed in the Browse homepage.
Loading Speed
Using a web client to access these huge libraries of samples on both services may leave some producers skeptical of responsiveness compared to the traditional performance of digging through samples on a hard drive. Luckily, we are happy to report that both Splice and Sounds.com's services load samples for preview playback extremely quickly, even when flicking through at high speed. In some early testing of Sounds.com just a few days after launch, there did seem to be a slight lag compared to Splice, but it appears those performance issues were since ironed out — a testament to NI's pace of development during the beta.
Key Differences
Price

Splice Sounds: Each month, credits are added to your account, where 1 credit is worth 1 sample download. The amount of credits added each month varies depending on which tier you choose (100 for $8, 300 for $14, 600 for $22, or 1000 for $30). This pricing scheme drives a powerful economic engine – they've paid over $5M to artists since launch in 2015.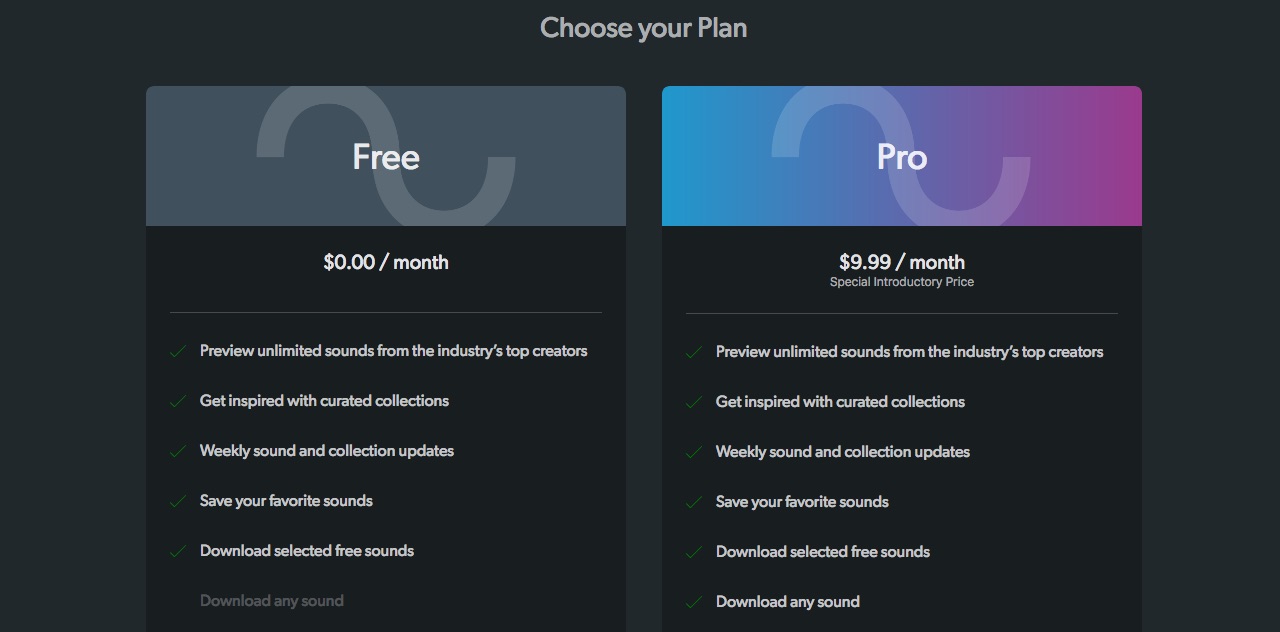 Sounds.com: NI has opted for a simpler flat-rate unlimited model, providing unlimited downloads for a flat $10/month. This price is currently being advertised as introductory, so it may change once the service leaves beta.
Library Selection
Splice Sounds: With over 2 million loops, samples, *and presets* for Serum, Sylenth, Spire, and NI's own Massive (four of the most popular soft-synths in the production world) Splice clearly wins on library size. They also feature many exclusive artist packs from the likes of KSHMR, deadmau5, Louis Futon, and others. Also worth mentioning is Splice's innovative rent-to-own program for tools such as XFER's Serum, FutureAudioWorkshop's Circle2, and iZotope's Ozone 8 + Neutron 2, though the rental costs here come in addition to a sample subscription price.
Sounds.com: Though still early in its life, NI's offering launched with more than 500,000 loops and samples from over 200 suppliers, 40% of which are exclusive to the Sounds.com platform (it's grown to 600k and 250 suppliers since the beta launched three weeks ago). Look out for more exclusives, artist packs, and presets to show up here over time as the platform grows.
Ecosystem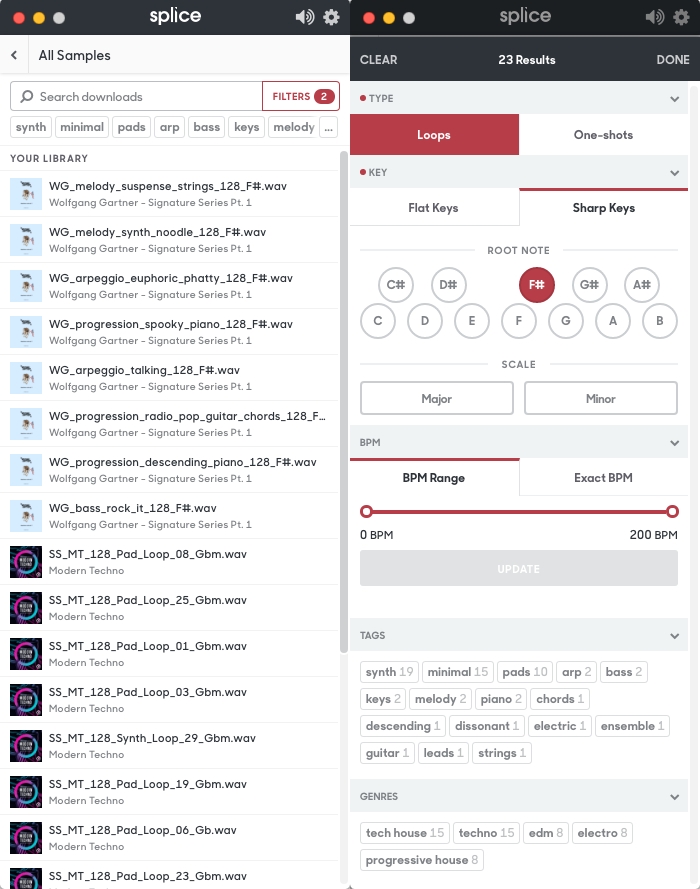 Both Native Instruments and Splice are working to create a differentiated ecosystem for producers that choose their platform.
Splice famously has Splice Studio — a free cloud-based collaboration and version control tool for saving and storing your projects. They also have a companion desktop app (image above) that allows for quick browsing, filtering, and previewing of the samples you've downloaded to help you find what you're looking for fast and drop it straight into your project.
Sounds.com, as backed by Native Instruments, has their own suite of production software under the Komplete and Maschine monikers and has announced plans to integrate the Sounds.com library into its products in the future. They have also stated that they intend to open up the Sounds.com library for integration into third party software and hardware via standard SDKs and APIs. Clearly their goal is to make the Sounds.com library as widely accessible as possible, but if you already own any Komplete or Maschine hardware, you can expect the eventual first-party integration to run deep.
Geographic Availability
One major difference and potential deal-breaker for many producers is that Splice is available worldwide, while NI's Sounds.com is currently limited to US customers only. If you're outside of the US and looking to try a cloud-based platform, Splice (or Loopmasters' Loopcloud) may be the default choice. That said, we expect the list of Sounds.com's available regions to expand as the beta continues.
Flaws (but not deal-breakers)
Splice's credit policy
One of the more frustrating thing we've experienced is that you can only browse and download samples from Splice Sounds if you have an active subscription. Thus, if you have some credits saved up and opt to pause your subscription, you'll need to reactivate if you want to spend the rest of your credits. This is one part of the service we'd like to see change.
Sounds.com's one-click download restrictions
Currently Sounds.com only allows users to download all the samples in a pack in a single click for their smaller curated collections—presumably because of their unlimited download model. This creates tedious situations where if you want all the samples in a given pack, you have to click each sample individually. At the very least, the ability to shift+select or cmd/ctrl+select multiple sounds to save multiple at once would be nice. We asked NI about this – and they shared some roadmap-based perspective:
"Our mission with 

Sounds.com

 is to give our users access to all the sounds that they need, but make sure that they can find the right sound they are looking for at that specific point in time in their creative flow. Once Sounds.com is integrated in production environments, this will of course only become even more useful, and apparent."
A bug we also discovered occurs when adding a large number of samples to your Saved library and attempting to download them all at once — the download button simply doesn't work. If you come across this bug, you'll have to individually download samples until your saved library is small enough in size again.
Sounds.com's download folder structure

Many producers will tell you to organize your samples by sound type. Yet still, some of us prefer to organize them in folders by the name of the library from which the sample came. This, combined with DAWs like Ableton Live releasing the Collections tagging feature in version 10, grouping sounds across libraries by favorite or sound type is becoming easier than ever.
Thus when downloading multiple samples from the same pack, it would be great for them to unzip into a main folder with the name of the library, and then organized by sound type in sub-folders within. Splice already does this, so Sounds could do to take note.
Our Wishlist
With multiple contenders now in this space, we hope to see continued improvements over time. Below we've compiled a list of features we'd love to see come to each (or both) platforms:
NOT filters (both platforms): Categorization is one of the key selling points of both services, but with such large libraries, filtering out certain sounds can be just as important as filtering for certain sounds. In the case when you're looking for a vocal, it would be great to be able to narrow down your search to something like Human, Female, but not Vocoded.
Audio Preview Player: a persistent audio preview bar (a la Soundcloud or Beatport) with a few key features:

Preview seeking (Sounds.com): If you're digging for a 10-second long riser for a buildup, there's currently no way to jump ahead to the part of the sample where the main part of the sound comes in, making this a time consuming and tedious process.
History queue (both platforms): As you listen to / preview sounds, it would be great to have a running history queue so you can listen back through recently previewed sounds as you browse across the site.
Global volume control (Sounds.com): Simple and straightforward
The Bottom Line
It's really an exciting time to be a producer. Gone are the days of purchasing sample CDs and needing to rip the audio files to your hard drive. We now live in an era where there are literally millions of samples from sound designers all over the world available at one's fingertips, and both Splice and Sounds.com are sure to continue to innovate in this space.
Your choice in the two platforms today will depend on your budget, geography, and preference in sound variety, but either platform is sure to be a major boost to any producer's workflow. While neither service is perfect, we're excited to see where they head in the years to come.
What are some features you'd like to see released for either platform? The devs are watching, so leave a comment below.