Despite predictions against a continued Pioneer DJ and Serato DJ partnership, the two companies are rolling out a third edition of the most popular controller they've ever made: the DDJ-SB3. The new update to this entry-level controller line brings a layout redesign, and a few new features including a Pad Scratch mode designed in collaboration with Jazzy Jeff. Keep reading for more on the DDJ-SB3.
Pioneer DJ DDJ-SB3
What's New vs the DDJ-SB2?
New Layout
If you don't own a DDJ-SB2, you might be scratching your head a bit about what's changed on this controller. There's one very glaring difference between this new model and the old – take a look at the below images (SB3 on top, SB2 below) and you'll see what I mean: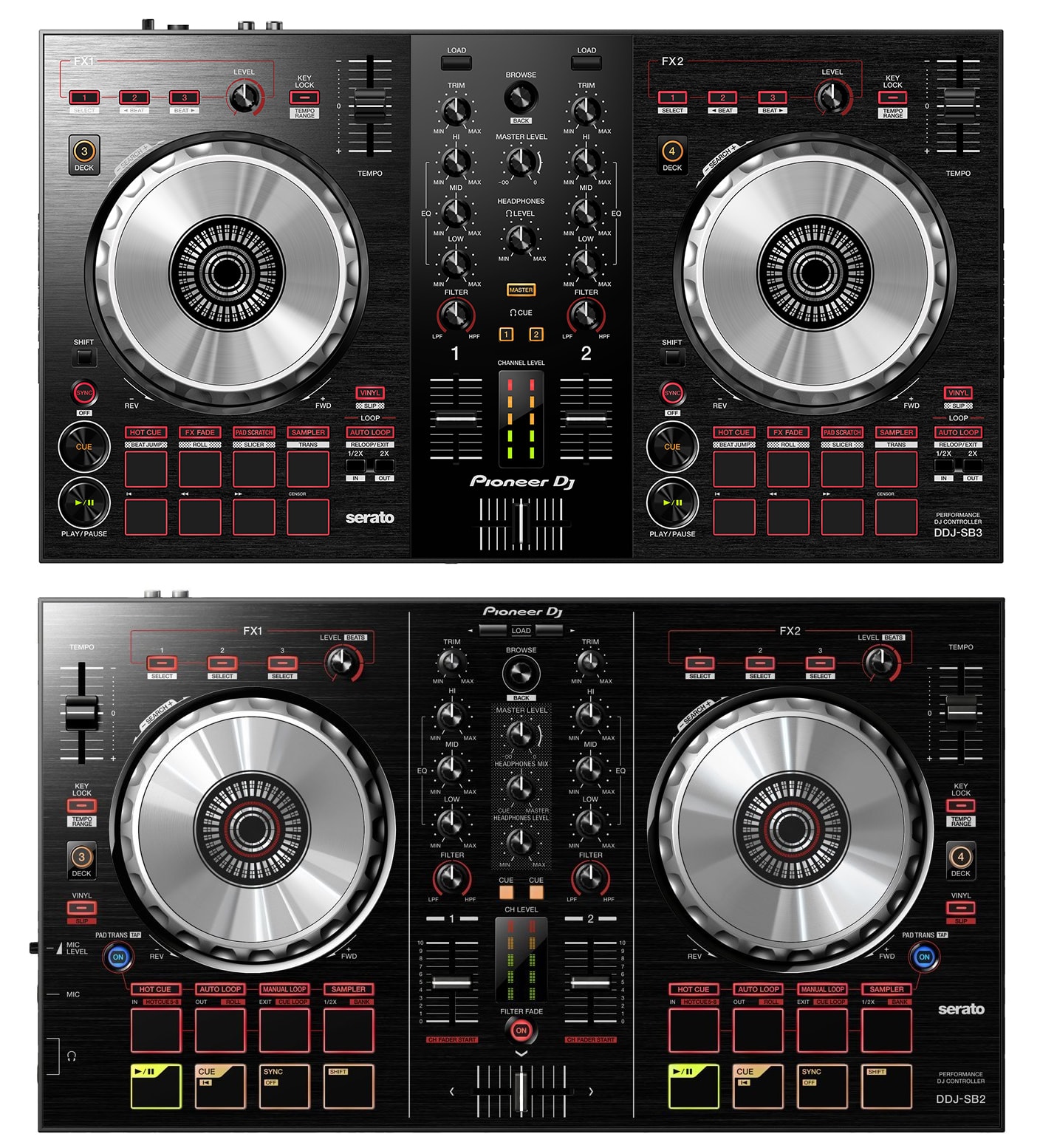 The layout has been switched up to reflect the other DDJ models – adding a much-needed dedicated play/pause and cue buttons. There's also now a dedicated loop control section- something that was sorely lacking on these models.
Pad Scratch With Jazzy Jeff
A fascinating new addition is Pad Scratch – it's a new performance pad mode on the DDJ-SB3 that allows DJs to quickly "imitate eight different scratch techniques recorded by DJ Jazzy Jeff." We can already hear the complaints coming from the diehard turntablism community – but Jeff pitches it very carefully in the promo video above. It's a learning tool – you can press a performance pad, hear the scratch, and then try to emulate it yourself on the other deck.
Any track that you're playing or have cued up will be scratched, and the scratch speed automatically matches the track's BPM. So even if you have no experience, you can create professional scratch performances without breaking rhythm. Use the feature in isolation or combine it with your own scratching on the other deck for limitless creative possibilities.
FX Fade
The other big feature – FX fade – is another performance pad mode. It reduces the volume AND applies an effect at the same time. This might seem familiar – because the DDJ-1000 has a "low pass echo" effect that does something somewhat similar. Here's what Pioneer says about this feature:
[FX fade] enables you to smoothly transition to your incoming track, even if you're playing with different genres of music. There are eight FX patterns to choose from, with two of each of the following types: high pass filter, low pass filter, loop playback and back spin.

Besides these new features, this is still the same record-breaking controller that so many have bought since the first DDJ-SB was launched in late 2013. Seeing Pioneer DJ and Serato next to each other on a controller in 2018 seemed like a fantasy – but as usual, the money wins out – who wouldn't make a new version of a chart-topping DJ controller?