Spotify Now Auto-Mixing Tracks In Playlists, Gets Phrasing Right (Usually)
Robot DJ by indstrlmnky on Deviant Art
We've all heard automated end-of-song crossfading in iTunes and Spotfiy – and many casual music listeners expect this behavior when playing tunes at home. But in a new development, Spotify is now trying dynamic auto-mixing technology in playlists. Keep reading to learn more about this new auto-DJ feature and why DJs should be excited – and nervous.
Have Spotify? Listen For Yourself
Here's how to test the new functionality – which enjoyably is being demoed on a rolling liquid drum and bass playlist (you're more likely to notice shoddy mixing, auto or not, at high BPMs). If you're a fan of Keno, Sub Focus, High Contrast, S.P.Y., and others, you're going to enjoy this test.
Open Spotify on desktop – no functionality on mobile or web yet
Open Spotify's preferences, and under advanced settings, make sure that "Crossfade songs" is turned off:

Open this playlist – Drum and Bass Fix – and let the songs play out to hear the mixing
How Good Of A DJ Is It?
Look, don't expect the most epic double drops you've ever heard – but Spotify's new dnb selector is pretty capable in the mix. It takes careful mixes – usually relying on phrases to do the mixing. The most common mix we've heard is:
bringing in the new track during an drum-less intro about 16 beats before the beat kicks in
pulling down the volume on the outgoing track just as the beat comes in
Here's a few other things we've noticed about the auto-mixing abilities in Spotify:
The new song being mixed in will often choose a drop or major phrase change as the mix point
It seems to always do the same transition between two specific songs (likely what it thinks is "best")
Similar to real DJs, if there's not a good mix in point, it's not afraid to use a basic echo-out on the old song
We think there's some looping of songs going on as the outgoing track will often stay playing well into the mix
The transitions are not preprogrammed – if you turn on shuffle, the auto DJ still works on the fly
What Does This Mean For DJs?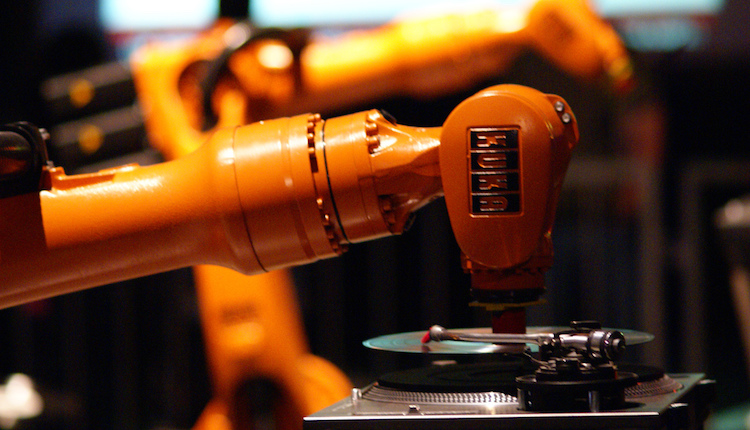 There's no doubt that a music listening platform heavyweight like Spotify will set standards and expectations around the world. While there are many fans of electronic music who listen to DJ sets and go support artists live, there are far more who just listen to playlists and radio-style shows where one song ends and the next starts, totally unmixed.
If a whole new set of people are used to hearing seamless well-mixed transitions between tracks, that could only be a good thing, right? It raises the bar higher and could demand for DJing in all music-filled environments.
That said, what's to stop Spotify's robot DJ from taking a guest mix slot on the next Hospital Records podcast? At this stage, it could almost pass for a real live mixing DJ to most listeners.
What do you think about this new development – should DJs be worried, or excited about everyone getting used to hearing well-mixed sets of music? Chime in down in the comments.