Remember KUVO, the service from Pioneer DJ that has tried to bring real-time reporting of tracks played in DJ sets to clubs around the world? This week, Pioneer DJ is relaunching the service in a new 3.0 update. The goal is to go beyond DJ sets and be a social network designed for everyone in club culture: DJs, clubbers, venues, and more. Keep reading to learn what's new in this update.
KUVO 3.0
Pioneer DJ seems to have split the Kuvo app into a few key use cases:
For clubbers: find new DJs near you (or around the world) and listen to their mixes
Also for clubbers: find venues and events near you
For DJs: share your mixes and real time track information (if a club happens to have a KUVO NXS-GW hooked in)
For clubs/venues: post events and show what type of music is played at your club to a global audience
It's a totally free service – and available both on the web and as a dedicated app on the iOS app store.
Sharing Your Sets As A DJ
KUVO isn't a platform for mixes – it's just a network to tell people about mixes you've uploaded as a DJ. Right now, it supports mixes uploaded to Mixcloud or YouTube. To start, you'll need to register an account and set your user name and local area in the profile section.
Once you've done the basic setup, click "Post DJ Mix", and you can choose to log in with Mixcloud or YouTube. From there, choose a recent upload to post on KUVO – and fill in any additional metadata: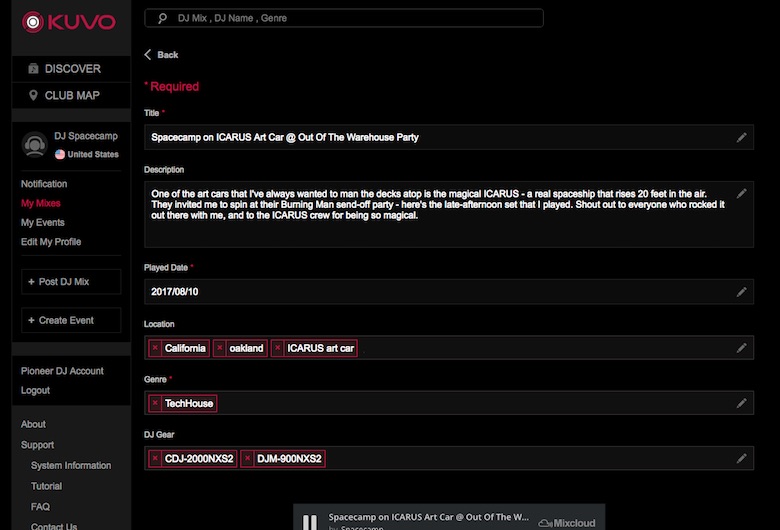 There's also a playlist functionality, designed to work with KUVO gateways or Rekordbox DJ sessions – both called "Live Playlists" because the tracks are being time stamped in real-time as they are played. But if you've already done all of your work to timestamp tracks on Mixcloud, it doesn't seem like this information is imported into KUVO.
Theoretically, this playlist information is all designed to help support electronic music artists by reporting track plays to performing rights organizations. It's a little unclear exactly how this will work in practice – if everyone is posting Rekordbox DJ sets (including home sessions) – will PROs count that as a play? Or will plays only be reported from "real venues"?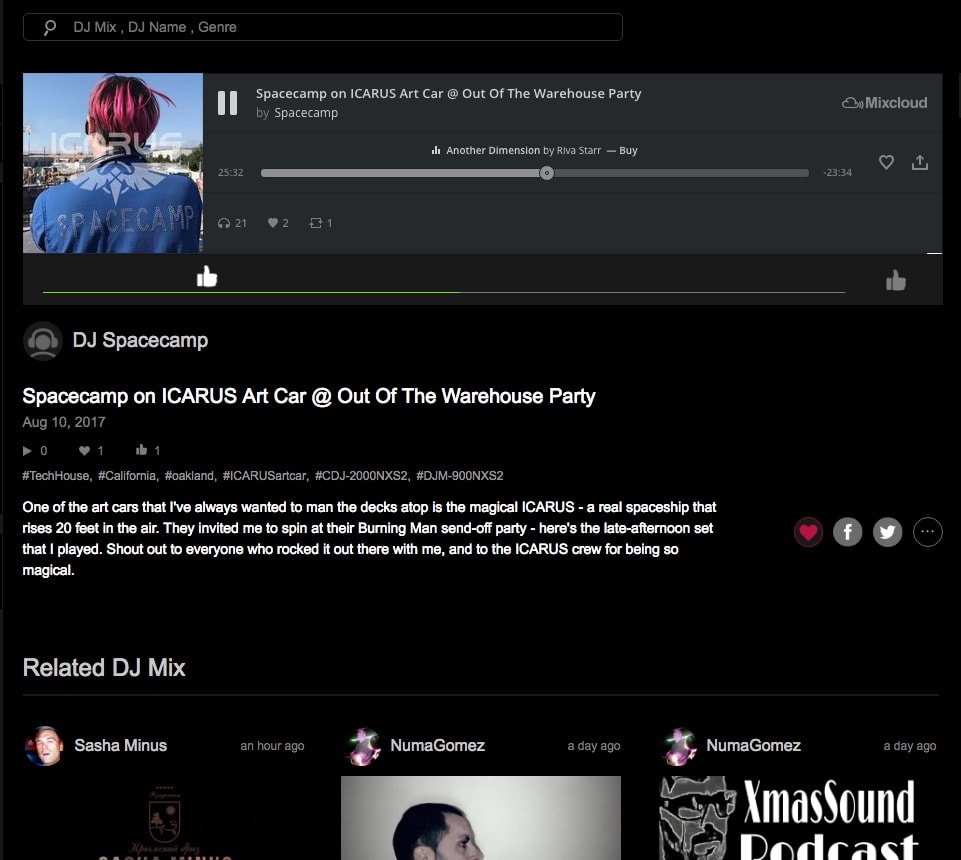 Once posted, the set is simply an embedded player of the mix with the meta description below it. There's the ability for users to leave time-stamped thumbs-up likes on the mix, but no way to leave comments.
A cool part about the posted mixes – they show up on a local dashboard based on what location you have set in your profile. So every time a user logs in, they see mixes that have been posted nearby: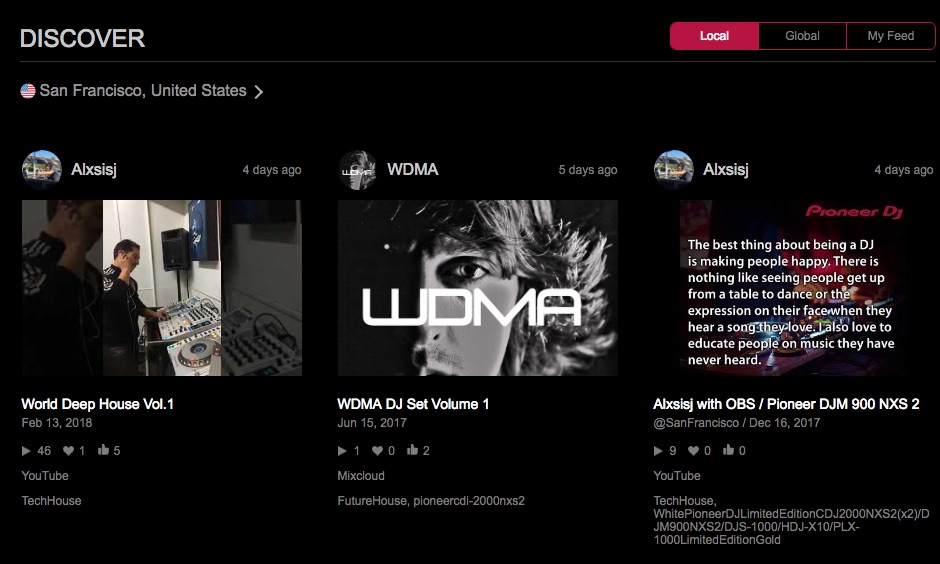 Where Are The Venues?

One thing I found myself asking while using the app: there are many, many venues not listed. It seems based on where Pioneer DJ has decided to focus their marketing efforts. There's one club in Las Vegas (XS), zero in San Francisco (we have plenty), and …55 in Miami? If Pioneer DJ wants DJs around the world to take this app seriously, they should really diversify their efforts beyond just where they have direct connections.
Europe seems to have a much more well-distributed amount of venues – until you look to Berlin, easily one of the top cities in the world for electronic music – and they have just three venues listed.
Posting Events As A Promoter
Since my crew is having their monthly party next week, I decided to try posting our event on the service to see what it was like. Promoters are always looking for the next platform to post events, but generally, Facebook and Resident Advisor seem to dominate the clubbing world as the two de facto outlets.
I first had to create a new listing for the venue – which wasn't hard – and then basic information like time, date, title, and ticket links had to be filled out. None of the DJs playing are on KUVO, so I wasn't able to add any of them. You also can't manually add mixes to the "Related DJ Mix" section – only mixes posted on KUVO by DJs who are on the site can be added. It feels pretty shortsighted – not every DJ is going to set up KUVO, so why limit mixes just to those that have been posted there?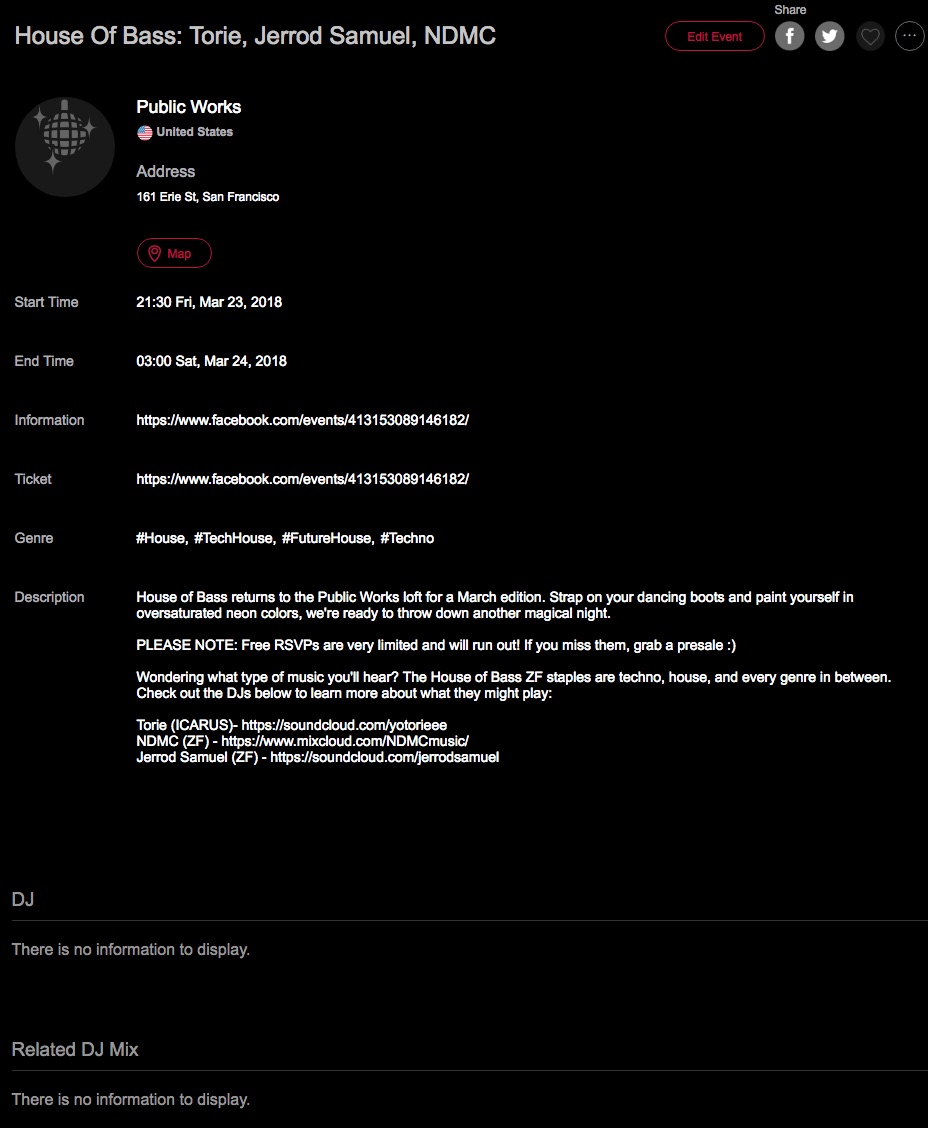 The event platform right now is really, really barebones. It needs more features to become viable – a few other major things that are missing:
any way to invite followers to events
ability to post images or fliers to the event
a way for potential attendees to indicate that they are planning to attend
ticket integration
Keep It Up, KUVO
As a DJ, promoter, and clubber I really agree with Pioneer's basic problem they're trying to solve: creating a direct connection between DJs, venues, and fans. Dance music needs a great community platform that anyone can plug into and use easily.
But adoption of this type of service will only happen if it has fundamental features that already exist on other platforms – and if there is clear value in the app. It seems like the best path forward is for Pioneer DJ to truly invest in local dance music communities around the world and listening to what they need in a platform like this. This new launch is a decent foundation – but to make something great, the designers should do research and testing with real potential users.
Have you tried the new KUVO platform? Let us know what you like and dislike about it in the comments – Pioneer DJ is likely watching 🙂