Beatport Adds A New Genre; Shouldn't Music All Be Crowd-Tagged?
This week, online music store Beatport put out a jubilant announcement via press release. The big news? They're adding a new genre to the store, Melodic House & Techno. But what feels like it should be a futuristic online store still feels like shopping in a CD superstore. In this piece, we talk about how genres should really be tags – and why DJs could benefit from music classification becoming crowd-driven. What do you think?
Beatport's New Genre
At the core of it, adding new genres (and subgenres) is great. We think that since their genre revitalization in 2016, ditching all the secondary products and focusing on what the platform does best (offering great music to DJs for sale) has been a huge success.

Beatport's new genre, Melodic House & Techno (take a peek at it here) falls in line with other similar genres launched on the site recently, most similarly Leftfield House & Techno. There's a move to identify clear subsets of musical movements in the dance music scene and to classify music under them. This makes the job of a crate hunting DJ even easier, so kudos.
The music store company acknowledges the difficulty that comes in finding specific sounds within larger genres – like the individual House and Techno categories:
"While Beatport's main House and Techno categories represent the biggest floor-filling tracks across the genres, Melodic House & Techno brings together a thriving sound that has not been easy to categorise as the lines blur between sounds and styles.

Combining genres in this way under a new specialised category follows the successful launch of Leftfield House & Techno on the store in 2017, which caters for the underground DJ while recognising that blurring of genre lines" – Beatport Label & Artist Relations Director, Jack Bridges
Many other trending genres on Beatport are getting similar attention – with the site having launched Afro-House, Trap/Future Bass, Garage/Bassline/Grime, and Leftfield Bass in 2017. But is this type of top-down genre classification really appropriate in the modern era? We think there's room to do better – keep reading.
Why Static Genres Instead of Tags?
"How we draw lines can have dramatic effects on who has power and who does not. […] Reality is multifaceted. There are lots of ways to slice it. How we choose to slice it up depends on why we're slicing it up."
– from David Weinberger's "Everything Is Miscellaneous"
Classifying music into groupings has power. Beatport knows this – that's why they send out emails almost every month with "secret weapons" of every genre: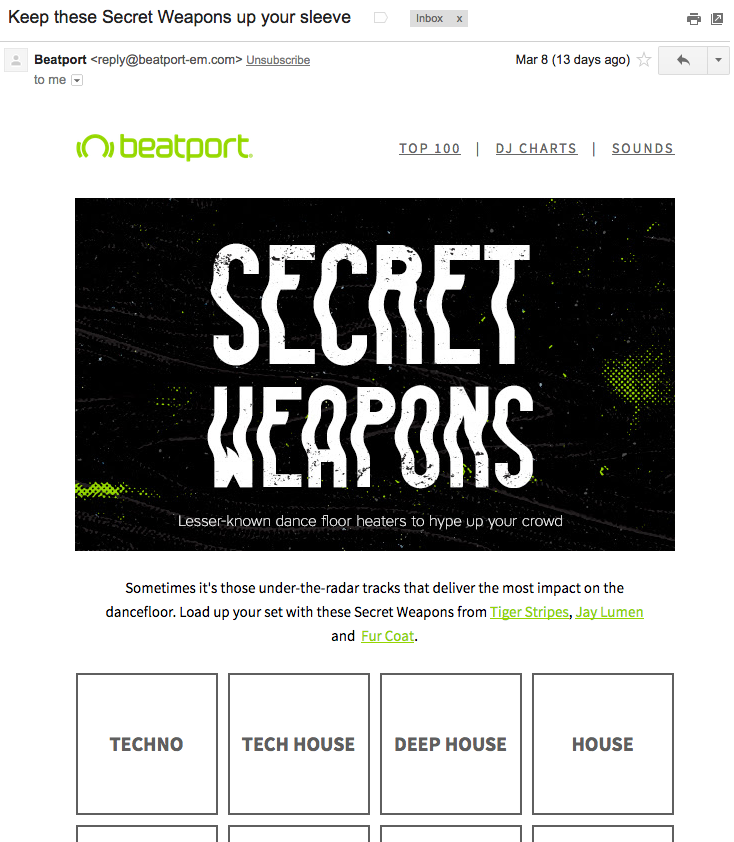 This type of grouping might drive sales of curator-selected tracks, but it doesn't make it easier to find any type of new music that hasn't been hand-picked. Beatport's user charts are similar – DJs select their favorite tracks and put them in a collection, but that doesn't assign a way to find them unless you're already looking for that chart. Ultimately, no album falls into one single genre. More importantly, often one track can have strong elements of different genres and sub-genres.
Should we really be limiting music discovery by classifying all dance music with one genre? Beatport seems to think just adding new genres solves the problem, noting in their press release that "Beatport's comprehensive process of genre refinement [..] has moved over 1.5 million tracks to their correct categories"
Ultimately, no album falls into one single genre. More importantly, often one track can have strong elements of different genres and sub-genres.
We think that a dynamic solution needs to be added to the platform – one that's already been implemented on famous music piracy websites: user-driven artist, album, and track tagging. We don't condone music piracy in any form, but historically, pirates have been innovators. What.CD's Gazelle tracker platform, launched in 2008, did this beautifully, allowing any user to add tags to releases and up/downvote other user's tag suggestions:

We think it's time for this to start coming into the buying interface of the online Beatport store. The desktop Beatport Pro app has tags – but only under mood, set time, and venue. Plus, if you agree or disagree, too bad: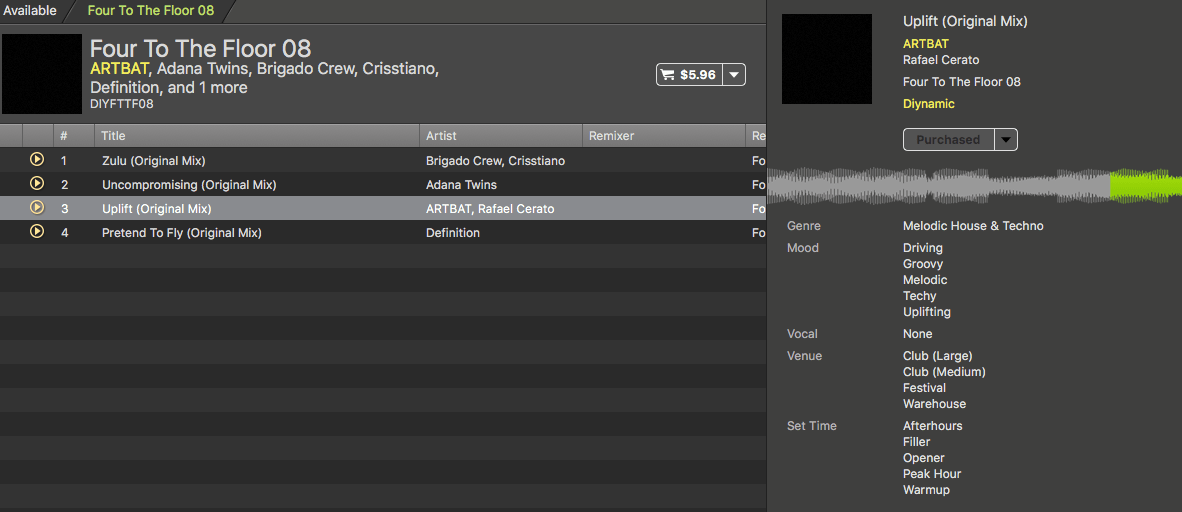 Here's the million dollar idea: what if Beatport's tags were written from DJ software? As it turns out, one of the most popular platforms for preparing DJ collections already has a robust tagging system built right into it. Pioneer DJ's Rekordbox would seemingly be a perfect fit for a Beatport partnership – and it would encourage DJs to use the tagging function to help out others thinking of buying the same tracks:

How do you think dance music should be organized in online DJ music stores? Let us know in the comments below.