Is there really such a thing as free DJ software? Yup, Mixxx is an amazing open-source cross-platform project that brings DJ software to the masses. No price limited feature set, no paid expansion packs: this is a true community project. Keep reading to learn what's new and why you should give the app a spin.
---
In the face of big companies with massive marketing budgets, endless engineers, salespeople, and product reps, it can be easy for grassroots software projects to be forgotten. In this news article we're spotlighting a new update to Mixxx, a truly free, open-source, community-built DJ software. The app just got a major update, adding new high-resolution skins, resizable waveforms, tempo-sync'd effects, post fader effects, many new controller mappings, and much more.
If you're an aspiring DJ on a budget or an experienced DJ looking to contribute to a rad project, take two minutes and download the new Mixx update and give it a spin. The software is also one of the most accessible in terms of operating systems – you can download Windows, macOS, and Linux versions.
What's New In Mixxx 2.1
The 2.0 release for Mixxx came out in 2015. One of the things about making free, open-source niche software is that major releases are often few and far between. Beyond bug fixes, here's are major features and changes that the team highlighted in this 2.1 release:
Graphical interface scales for high resolution screens (putting them one up on Traktor Pro 2….)
Overhauled Deere and LateNight skins; New Tango skin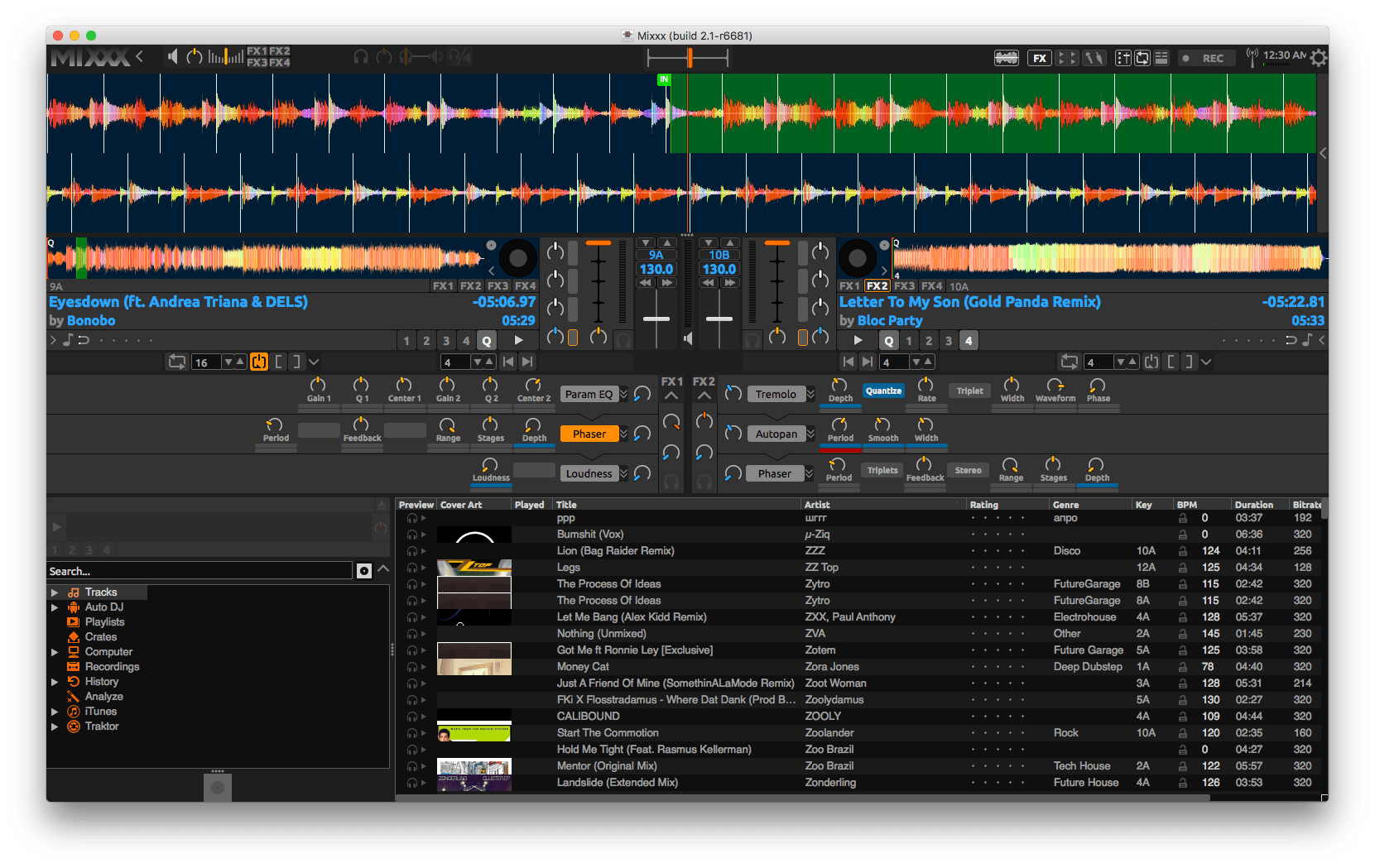 Resizable waveforms
Effects are synchronized to the tempo
Effects are processed post-fader and post-crossfader and can be previewed in headphones
One metaknob per effect with customizable parameter control for intuitive use of effect chains
Nine new effects: Autopan, Biquad Equalizer, Biquad Full Kill Equalizer, Loudness Contour, Metronome, Parametric Equalizer, Phaser, Stereo Balance, Tremolo

Loaded effects and their parameters are saved and restored when Mixxx restarts
More transparent sounding equalizers (Biquad Equalizer and Biquad Full Kill Equalizer)
Improved scratching sounds with jog wheels, vinyl control, and dragging waveforms with the mouse
Simplified looping and beatjump controls
Configurable rows of 8 samplers with up to 8 rows available for a total of 64 samplers
Files loaded to samplers are reloaded when Mixxx restarts
Improved volume normalization algorithm (EBU-R 128)
Filter library table by crates
Sort musical keys in library table by circle of fifths
Write metadata tags back to audio files
New JavaScript library for controller mapping
Configure multiple Internet broadcasting stations and use multiple stations at the same time
Broadcast and record microphones with direct monitoring and latency compensation
Broadcast and record from an external mixer
Booth output with independent gain knob for using sound cards with 6 output channels without an external mixer
Prevent screensaver from starting while Mixxx is running
CUP (Cue And Play) cue button mode
Time remaining and time elapsed now take into account the tempo fader
Clicking cover art now shows it full size in a separate window
Many More Default MIDI Mappings
Traditionally, one of the hardest parts about switching to or trying out a new DJ software is hoping that your control surface works with it by default. Otherwise, you're left to make your own MIDI mapping or hunt on Maps to see if someone else has made one. Since the 2.0 release, a ton of new mappings have been made for Mixx, including some very common controllers like the Kontrol S4, Reloop Terminal Mix 2/4, DDJ-SX/SB2, Numark Mixtrack 3 / Pro 3, and a ton of others all listed in the official change log.
There's also XML and JavaScript-based MIDI controller scripting support in Mixxx. There's full documentation and anyone can dig into how to make their own controller mappings – check it out here if you're one of our many MIDI mapping wizards.
For budget-minded beginner DJs, take note: many of the controllers supported by Mixxx can be picked up secondhand / used for not a lot of money. This is a great way to get started learning how to DJ even if you don't have a license for Serato/Traktor/Rekordbox/etc.
Up Next In 2.2 + How You Can Help Mixxx
For Mixxx 2.2, the team has set their sights on improving the library GUI – adding the ability to "save and restore search queries" as well as adding "nested crates". They need your help – yes, even non-programmers – to help their project. Here's the call to action straight from the Mixxx team:
Want to help make Mixxx even more awesome? The biggest thing we need is more people. You do not need to be a programmer to help out. Giving feedback on the design of new features as they are being made is very valuable. Refer to the Testing page on the wiki for more information on how to get involved with that. Reporting bugs and telling us your ideas on the Launchpad bug tracker is a big help too! We cannot fix problems we do not know about, so please let us know if you find any issues with Mixxx. If you would like to help translate Mixxx into another language, refer to the Internationalization wiki page. Of course, more programmers could always help. Read the Developer Documentation on the wiki for tips on getting started contributing code to Mixxx.