We first saw confirmation of Pioneer and Native Instruments working together on new compatibility when the Traktor Pro 2.11.3 Public Beta went live about one month ago. Today, Pioneer DJ is officially adding a bunch of DJM mixers to their Certification Program for Traktor support. They've also improved the HID support for the CDJ-TOUR1 – matching what recently released CDJ-2000NXS2 firmware brought for Traktor users.
DVS Support For DJM Mixers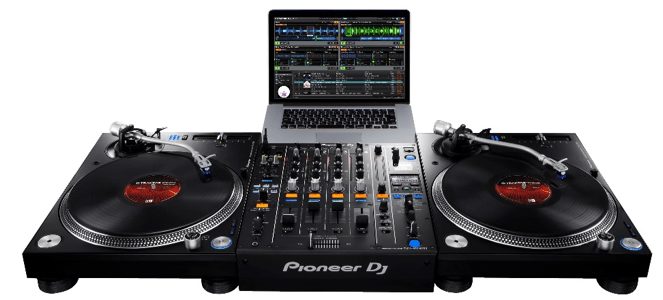 Adding DVS support to bunch of recent models of DJM mixers suddenly opens up a bunch of hardware options for Traktor users, and we're excited. In today's announcement, the following mixers have had Traktor Scratch Pro 2 DVS support added – with firmware updates to match (all available on Pioneer DJs support page):
What this means is that you can use these DJ mixers as audio input/output devices in Traktor DVS control setups. Plug in your mixer with a single USB cable and you can use the mixer's inputs to send control vinyl signal to Traktor Scratch Pro 2, and outputs to send audio back out to channels on the mixer.
Enhanced CDJ Support
We already wrote about this when Traktor 2.11.3 went beta, but the CDJ-2000NXS2 and CDJ-TOUR1 support got another highlight in the press release that Pioneer has put out today. In short, new firmware updates to both models add HID mode features, including:
full performance controls (loops, tempo adjustment, play/cue, jog/scratch control)
Beat Jump / Beat Countdown / Phase Meter readouts added to the display
Track information on the CDJ screens (album artwork, zoomable waveform display, beatgrid, loops, cues)
audio output via the CDJ's audio card – no need for another audio device
NI Is (Probably) Spending Money To Make This Happen
This support was all added under the Pioneer DJ Certification Program – which "evaluates products from other companies and certifies them as compatible with our DJ gear so you know you can use them together with confidence."
Most hardware companies that add this type of official hardware support also charge a fee to the developer who wants to have their gear certified – something that Native Instruments hasn't been doing too much of until really recently, when Traktor Pro was confirmed as being a still-actively-developed DJ software.