Producers, live performers, and finger drummers are all often looking for great sound sources, right? Today, mastering and distribution service LANDR branched out into the sample distribution world. Samples, which launched today, is a platform that offers free sample packs from established artists. The packs are royalty-free and cross-genre, so there's something for everyone. Keep reading for details.
LANDR Samples
We've download a few of the sample packs and so far, the selection, quality, and variety are great. It's not a free for all – these are curated soundpacks from specifically chosen artists. Some of the artists included at launch include Pan-Pot (watch a tutorial they did for us on recording kalimbas), Marc Houle (watch his How I Play interview here), Dirty Projectors, Jimmy Edgar, Blue Hawaii, and more.
Every sounds on LANDR Samples is cleared with the artist for distribution, royalty-free, so you don't have to go through any legal clearing process before you put out tracks – that's the case with most online sample services.
LANDR noted to us that for now the packs are from artists they're working with, but in the future, users might be able to contribute as well:
In addition to the regular release of new packs, LANDR is set to accept sample submissions from its user community in the future. In addition to partnering with additional professional talent, new sample content will be curated from top talent in the LANDR community, helping emerging producers establish new channels of visibility.
Where's The Business in Free Samples?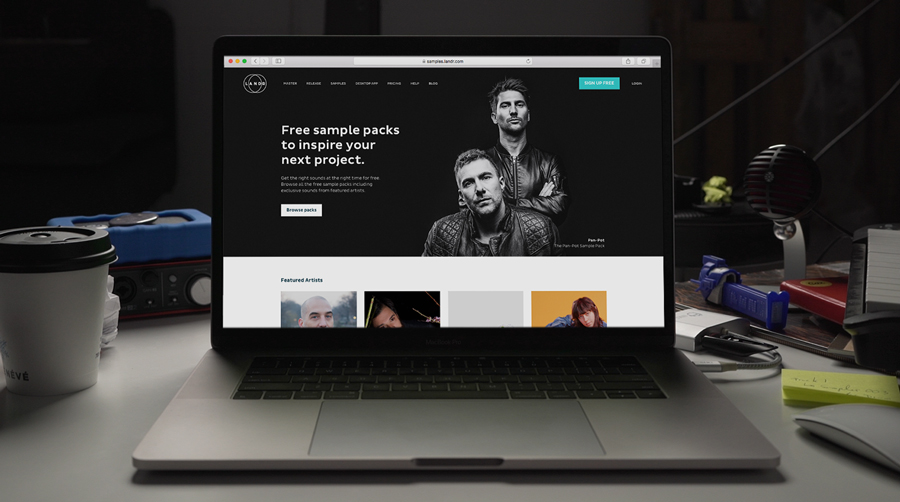 The site's launch comes at an interesting time in the sampling world, where platforms like Splice Sounds and NI's Sounds.com are heavily competing to become the go-to platforms for audio samples for every type of producer. Read our comparison of those two services here.
LANDR's Samples isn't selling samples, so for now, they're not looking to compete with those two platforms. Instead, LANDR seems to be focused on user acquisition for their other products. It stands reason that producers looking for samples might at some point want to finish their tracks – which means mastering and distribution – two things that LANDR is already in the business of.