Beatport's Roadmap: Breaking Up "Top 10" With Hype Charts; Adding Subscription + Streaming Models
Wondering what the largest online DJ-focused music store is working on? Today Beatport announced their new product roadmap for the next year at the IMS conference in Ibiza – keep reading for the details.
In a quick summary- the key points that Beatport presented as part of the 2018 IMS Business Report included:
Increased revenue growth and track sales growth
Genre "Hype Charts" launching in Q3 2018
Beatport DJ discount subscription service launching Q4 2018
Beatport full catalogue streaming into DJ software in Q1 2019
Revenue Growth and Increased Track Sales
Remember how just few years ago, we were wildly speculating about the financial future of Beatport due to their parent company's demise. But the company noted that their sales have grown dramatically, with track sales almost doubling for the full year of 2017. Recent quarters have looked promising in terms of revenue as well (see the graph to the right).
From an outsider's perspective, the strategy has been clear: the music store has definitely ramped up their tiered discount coupon program. You might know it as "LEVEL10 / 20 / 50" – but the program clearly has encouraged DJs to buy tracks more often to unlock higher discounts.
Hype Charts: Helping Smaller Labels
How many times have you heard complaints about DJs just "phoning it in" by playing the Beatport Top 10? Beatport commands a lot of respect in the electronic music scene, but among many DJs, their Top 10 charts have become synonymous with tracks that are overplayed, "mainstream", or not underground enough.
To actively address this, Beatport is set to roll out a new campaign on their site – Hype Charts – designed to highlight and promote smaller labels:
Hype Charts will be prominently featured on Beatport's 10 biggest genre pages and will highlight and promote smaller labels. Adding these charts also further refines the Beatport experience for DJs, making it easier to identify unique, up-and-coming releases from all over the world. Independent music comprises 96-percent of Beatport sales, with approximately 25,000 new releases added each week.

With such a high volume of quality music on the platform, smaller labels have traditionally competed with big-name counterparts who have been established for years. The Hype Charts will now give thousands of labels greater visibility and recognition of their music. Each genre page will also prominently feature the latest 'Hype Picks' in that genre, selected weekly by Beatport's curation team. Additionally, one banner and two new release tiles in each genre will be reserved for labels from the Hype Charts.
Hype Charts will start a full launch in early June 2018.
Subscription + Streaming
With their recent acquisition of the former DJ streaming service Pulselocker, a lot of DJs have speculated about when Beatport is planning on integrating the technology into their own product. The information in the IMS report is pretty direct about timelines and functionality: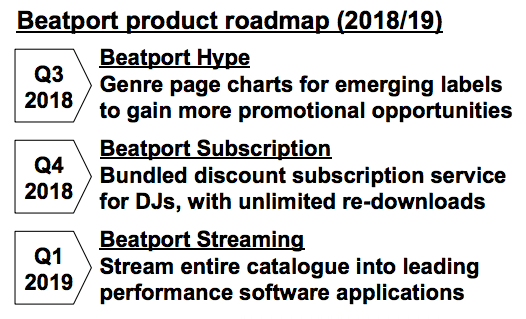 Beatport notes that starting with a discount subscription service for DJs is their first plan – but details are still sparse on what that will mean in practice. We suspect it might be similar to digital music pools, with a monthly fee and then steep discounts (and the occasional free track) offered on downloads.
The streaming catalogue item makes more sense – and it is exciting to hear that the goal is for Beatport to put their entire catalogue inside of DJ performance softwares. It feels like the rebirth that Pulselocker deserves, with a dramatically upgraded library.