Well, Pioneer DJ's collaboration with Serato continues: they've just announced a brand new controller, the DDJ-SX3. It's incredibly similar to the DDJ-SX2, one of the most popular DJ controllers ever built. The big changes: the SX3 adds more input/output options, improves the jog wheel latency, and has a second onboard USB soundcard for dual DJ use and handoffs. Keep reading for details.
Pioneer DJ DDJ-SX3 for Serato DJ
Interestingly, Pioneer DJ's introduction video for the DDJ-SX3 starts out all about the inputs – setting three of the four channels to Mic inputs and letting Mr Woodnote perform:
Controller: DDJ-SX3
Price: $999
Availability: Early June 2018 – preorder in DJTT store now
Includes: Serato DJ Pro; Serato Flip and Pitch 'n Time DJ Expansion Pack vouchers

 
What happened to Pioneer DJ only making hardware for their own DJ software? At the end of the day, Pioneer DJ's owners (KKR, a large investment firm) care primarily about continuing to add to the bottom line. So since the DDJ-SX and SX2 have held their own on the top of industry sales lists for DJ controllers for the last 6+ years, how could Pioneer DJ ever consider not making new versions of that industry-dominating hardware?
A Very, Very Similar Controller
If you're looking for dramatic new features in Pioneer DJ's new offering, you'll be disappointed. The DDJ-SX3 next to the DDJ-SX2 look very similar: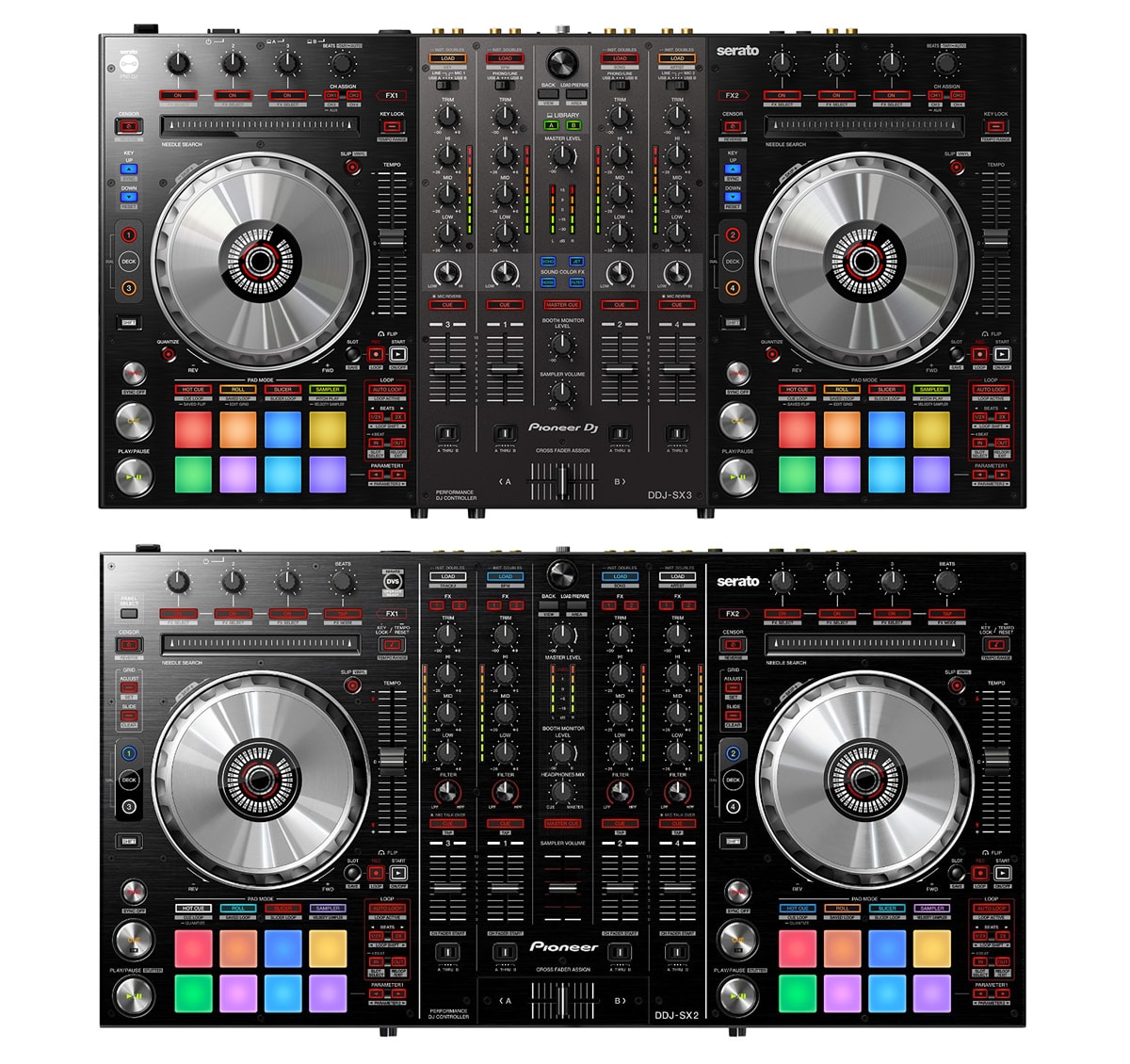 What's Different?
Since so much of the controller is unchanged visually, it can be hard to pick out the differences. There's a bit of a visual design update, with the mixer and player sections divided up into different materials. Beyond that, there are a few small important feature upgrades:
Color FX
Pioneer DJ has added Color FX to the (standalone) DJ mixer section of the controller. The effects (Filter, Jet, Echo, and Noise) will be familiar to any DJ who has used other Pioneer DJ mixers in the past. It's worth noting that there is no parameter/resonance control on this unit, so don't expect NXS2/RX2 level control.

Dual USB Soundcards
The controller is designed for seamless transitions between one Serato DJ and the next – with two USB soundcards built in. Each of the four channels can be switched between USB A and USB B, meaning it's easy to play B2B but still have the ability to mix on four decks at the drop of a hat.
Mic Inputs
There have been a few small changes made to the front and rear of the DDJ-SX3 versus the SX2: instead of a crossfader adjust knob, there's a switch. With the extra space, Pioneer has added a third balanced mic input on the front of the unit with its own level control. Pretty handy versus plugging into the back of the unit, and perhaps some mobile DJs will find a good use for three distinct microphone inputs.

Jog Latency Upgrades
This one is challenging: Pioneer DJ touts improved jog wheel latency on the SX3, but there's no quantative metric that they've offered alongside that claim.
"Jog wheels with reduced latency: Scratching feels natural on the jog wheels, which feature reduced latency compared to those on the DDJ-SX2."
This is common in the DJ controller industry, but it's silly. Manufactuers should really publish best-case scenario latency times for their controllers so that when they say "latency is lower!" or "lowest latency in this class of controller!" there's some kind of real number instead of just hand-waving. We've asked Pioneer DJ for a comment here, but at time of press, there's no response.
The DDJ-1000 Elephant
Editor's Update: There's one final thing that's worth mentioning: the DDJ elephant in the room – the DDJ-1000. It's a very comparable controller in terms of price ($1199), but it has far more features (larger jog wheels, Beat FX unit, on-jog displays). Pioneer's strategy for getting new hardware buyers to switch to Rekordbox is surprisingly simple: keep making the DDJ-S series, but make the DDJ-1000 Rekordbox-only.
The DDJ-SX3 is expected to be out in just a few weeks in early June, 2018, for just $999 – the exact same price as the SX2.
Preorder one in the DJTT webstore here.