If you're a DJ gear nerd, you probably recognize the name Andy Rigby-Jones. You might even know that he had a fundamental role in creating the Xone series of Allen & Heath DJ mixers. But lately, he's moved on to the boutique world – helping to co-design the PLAYDifferently Model 1 mixer and hand-building mixers for a UK-based company, MasterSounds.
MasterSounds has a few new announcements this week – including two new mixers, a FX unit, and updated Radius 2/4 mixer models with new circuitry.
Linear 4V and Radius 4V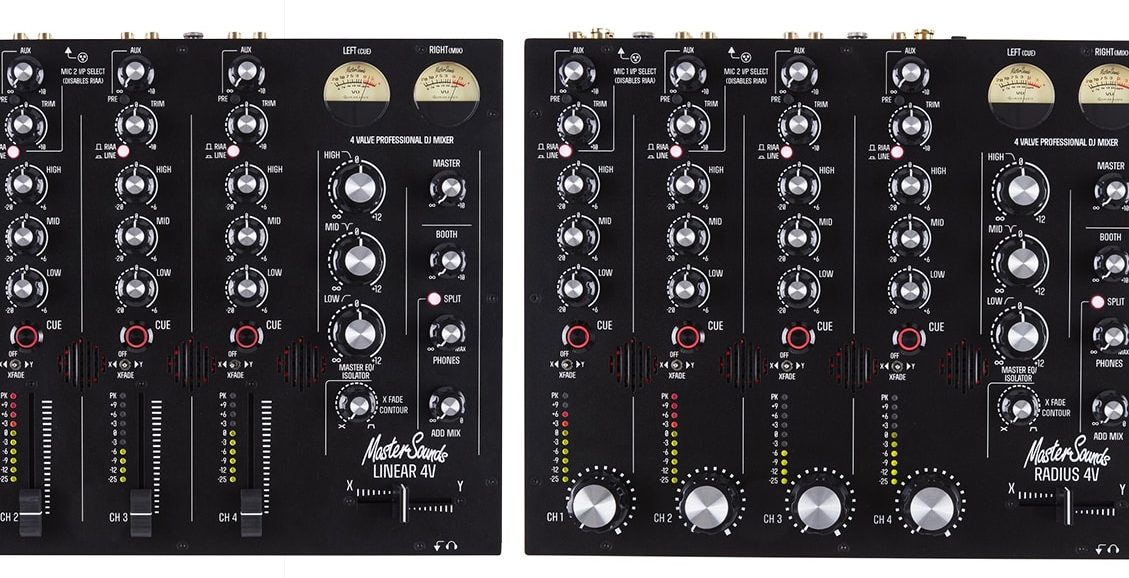 Manufacturer: Mastersounds
Price: £1,985.00 (ex VAT: £1,654.17, or roughly $2,160 USD)
This week, MasterSounds has announced two new mixers called Radius 4V and Linear 4V. They share the same design, with one major difference: the Radius 4V is a rotary mixer, while the Linear 4V has linear faders for each of the four channels on it.
These boutique mixers build off of MasterSounds' already much-praised Radius line. The big different is that the 4V versions have four fully built-out channel strips, instead of simple rotary controls with master isolators.
Here's a bit more about these two new mixers from MasterSounds' website:
There are 4 fully-featured channel strips with Aux send (switchable pre or post fader), input level trim, illuminated input select switch, a super smooth 3 band asymmetric equaliser, large illuminated Cue switch, high quality faders (TKD for the Linear 4V and Alps for the Radius 4V) and 10-point LED VU meter.

To the right of the channel strip features a 3-band Master EQ/Isolator, Master and Booth level controls, headphone monitor with split and Cue/add mix control.

Below the master section is a high-quality Penny & Giles crossfader, with contour control to adjust the curve from smooth mix to fast cut.
Two 36mm illuminated analogue VU meters provide accurate signal level monitoring of the mix buss, these automatically switch to monitoring the Cue level when a channel Cue is activated. If the signal level is excessive, the VU meter illumination will change from warm white to bright red.

At the heart of the 4V are four matched dual triode valves (tubes) which form part of the input buffer stage to the VCAs. The valve's high input impedance minimises loading on the preceding stages but provides low output impedance to drive the VCAs, whilst the valve's natural compression smooth and warm harsh transients. Careful circuit design around the valve minimises noise and distortion.

A new split composite/passive RIAA stage featuring Vishay 2% Polypropylene capacitors, close tolerance thin film resistors and JFET pre-amplifiers provide outstanding fidelity from the turntable inputs. All circuit coupling is through bypassed Panasonic electrolytics to preserve this fidelity throughout the entire signal chain.

The icing on the cake is a pair of Burson V6 Classic fully discrete operational amplifiers, providing world class summing for the fully balanced main mix buss.
Mastersounds FX Unit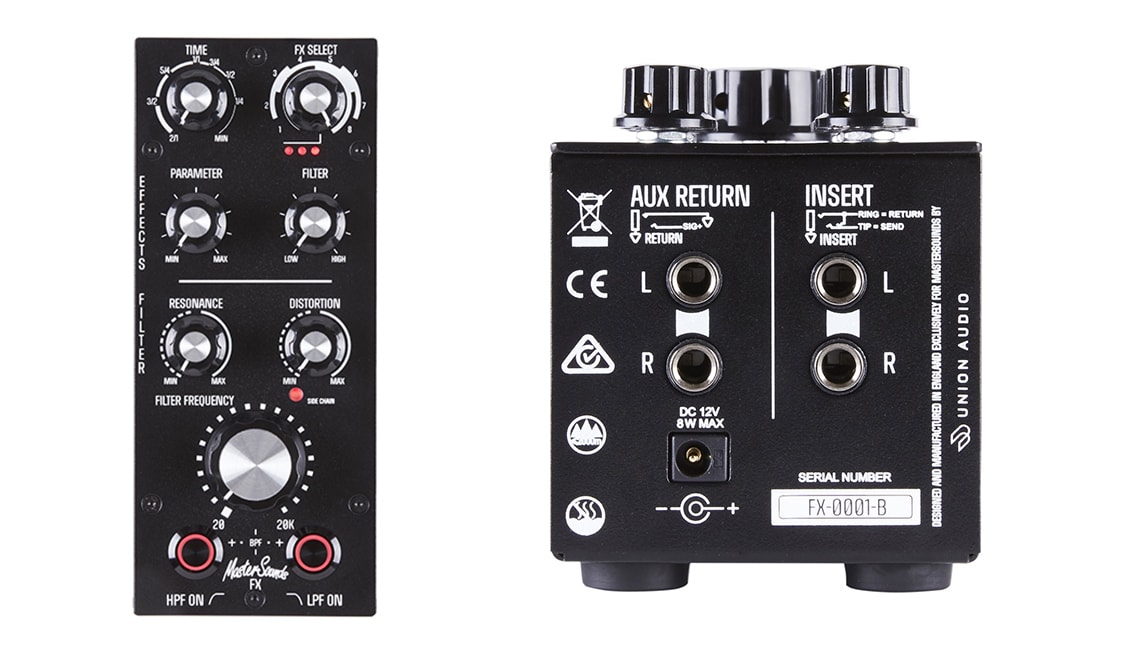 Gear: FX Black / FX Silver
Manufacturer: Mastersounds
Price: £495.00 (ex VAT: £412.50, or roughly $480 USD)
When was the last time you heard about a new outboard/external FX unit for DJ mixers? Considering how heavily reliant Xone-style mixers are on non-integrated FX, it seems like having more FX units on the market designed for DJs (beyond Pioneer DJ's RMX series) would really be a big win. Mastersounds clearly has taken notice, because they're showing off a new FX units, available in Black or Silver, designed to integrate perfectly with their mixers (using the Insert FX feature on them).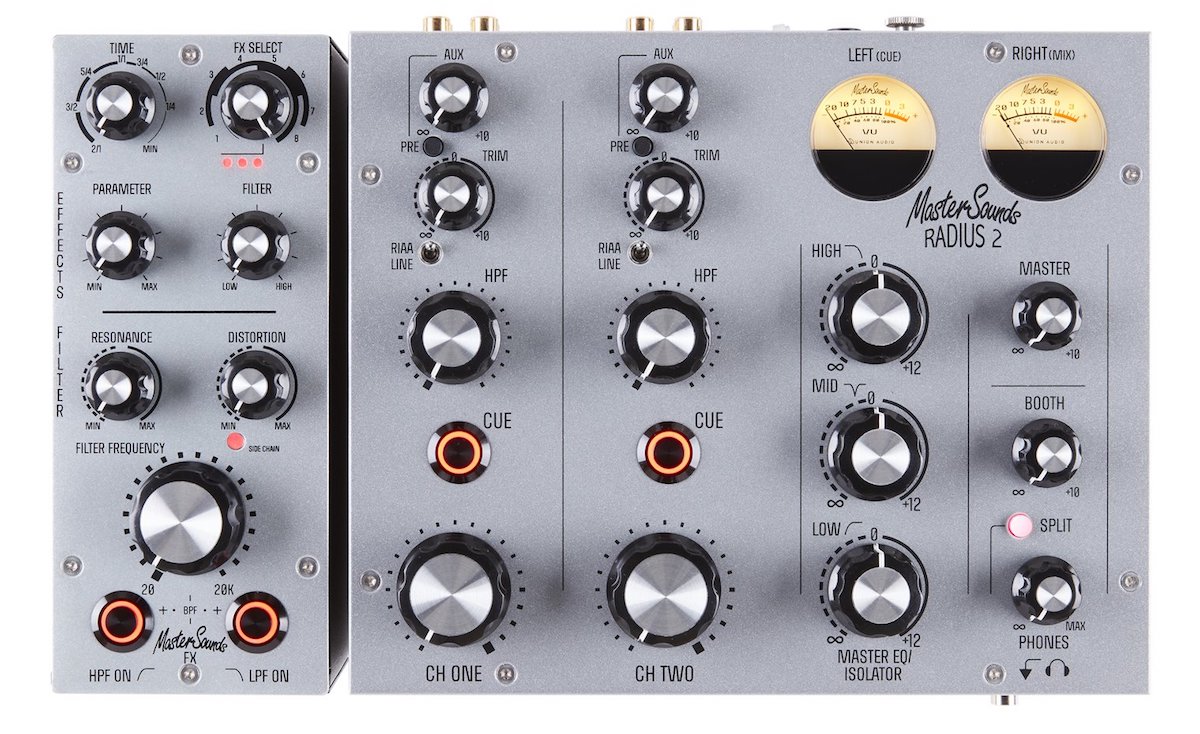 The FX unit has 8 onboard effects – which are unlabeled on the device itself – so you'll have to use this reference guide while you build a memory of what every effect is:
Here's what the site has to say about the Mastersounds FX:
FX offers three products in one box – an analogue emulating FX section with analogue output, an analogue filter unit, and an analogue distortion system.

Analogue emulation provides 8 high quality FX, 3 delays, 3 reverbs, a subtle noise effect, and a pitching delay.

The FX are designed to blend into the mix rather than dominate the music, though there is considerable scope for adjustment of various effect parameters (delay regen, filter frequency etc) using the additional controls provided. The interface is pure MasterSounds, with effect selection on a rotary control (though there is a 3-bit binary LED counter), giving the unit a classic feel.

Below the FX section is an analogue filter, offering 3 filter types (high-pass, low-pass and band-pass) along with controls to adjust the cut-off frequency and resonance.

As the Filter section uses the insert function found on MasterSounds mixers, the entire mix is routed through it, expanding the feature set of each mixer. When the Filters are switched off the output from the FX processor is still fed through the low-pass section, providing additional scope for effect manipulation. The high-pass and low-pass filters are each activated by pressing the large illuminated switches and selecting both switches the filter to band-pass. Zero crossing detection circuits help to minimise filter clicks during activation.

Finally, the stereo distortion circuit is a sophisticated DC controlled, analogue asymmetric signal clipper, operated by a single rotary control. Additional circuitry monitors the level of the pre and post clipped signal, automatically applying make-up gain when needed, indicated by the side-chain LED. The distortion control adjusts the level from off (fully CCW) to subtle warmth (mid way) to hard clip (fully CW), but because the clipping is asymmetric it retains some warmth and character.

Both Aux In and Insert connections are on ¼" TRS jacks, with the Aux In being fully balanced. Two pairs of high quality balanced Neutrik leads are supplied with the unit, as well as a universal power supply, enabling plug and play use anywhere in the world..
Updated Radius 2/4 Circuitry + Amps
At the same time as the new 4V models have appeared, MasterSounds has done one other cool thing: updated their older products, which aren't going anywhere. Here's the details on the changes:
[the] Radius 2 and Radius 4 rotary mixers have undergone circuit redesigns to take audio fidelity to a new level. The JFET preamplifiers are used in the RIAA stages and in other key audio stages, all signal electrolytics are now Panasonic, plus a host of additional component type and value changes have been implemented. Moreover, the most significant change is the inclusion of the fully discrete Burson V6 Classic operational amplifiers with fully balanced mix buss on all models.

Other subtler changes are the fine textured black paint finish, adoption of Torx screws, and the fitment of vibration mounts in place of the hard rubber feet.