Denon DJ seems to be speeding up their rate of development for Engine Prime, today launching a new 1.2.1 version of the software. The new update brings quality-of-life updates to the library management software. At the same time, new firmware for the MCX8000 allows Engine Prime USB drives to work, and the SC5000/5000M both get firmware updates too. Keep reading for details.
Engine Prime 1.2.1
Engine Prime is Denon DJ's music management software, and it's relatively young compared to the "competition", Rekordbox. What this can mean is that often, the younger software will put out updates that refine workflows and make it even better to use. Engine Prime 1.2.1 (available for download right here, right now) has a number of features that fall into that category, including faster library imports, rearrangable playlists, and more.
Personally, I'm really excited that I was able to simply drag and drop my iTunes playlist folders directly into Engine Prime as this is feedback we've been giving since the software launched!
MCX8000 Database Export support
Playlists now rearrangeable
Drag iTunes, Traktor and Serato parent crates/folders to Collection
Faster iTunes and Serato library import
Album/Song Artwork management faster and optimized
Enhanced Loop control for quicker navigation through tracks
They Remembered The MCX8000 Users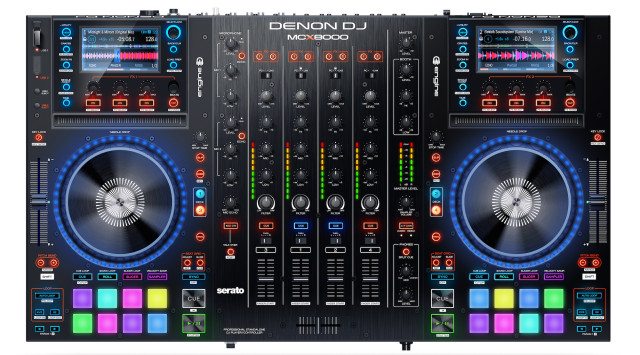 The all-in-one MCX8000 was Denon DJ's massive step into standalone all-in-one hardware when it launched over two years ago. It seemed like it would be the base of a new generation of products – and it was. Much of the innovation in the on-device system carried over to the SC5000 media players when those launched, but there was one big missing link: Engine Prime software support.
While the media players got more advances on the new preparation software, MCX8000 users were understandably a bit upset when they weren't able to take advantage of the same system. Today, that's changing – not only can the new version of Engine Prime export USB drives that can be read in MCX8000 units, but there's a v2.0 firmware update that adds support and functionality. Here's the specifics:
Support for Engine Prime prepared USB drives
Mic 1 & 2 Attenuation controls added
Fine tune of Mic 'talk-over' adjustments
Change USB recording level
Beat Grid support for Engine Prime prepared USB drives
Quantize feature and Beat Sync/Division options added
Song BPM sorting feature
MCX8000 v2.0 firmware can be downloaded here
SC5000/5000M Firmware, Too
Both of the media players (the classic SC5000 and the new spinning platter SC5000M) are getting new firmware as well, v1.2.1. They're a bit more general, but welcome. Plus, we look forward to never having to plug in the media players to update the firmware ever again….at least, after this time.
Increased scratch-able/playable empty space before track start
Update unit firmware via USB stick without direct computer use
Various upgrades and improvements
The new SC5000/M firmware can be downloaded here
Want the best of both worlds? Grab a MCX8000 from the DJTT Shop