If you're like many DJs, you carry a USB drive (or two) around with you wherever you go. If prepared correctly, it enables you to play a set at a moment's notice. But beyond just exporting out a collection of tracks or playlists, there are a few things every DJ with a USB drive should add to make sure gigs go smoothly. Keep reading to hear our ideas and suggest your own in the comments.
1. Add Folders With Music / Playlists (Not Just Exports)
There's no way to tell exactly what type of DJ setup you might have to step up to and play on next. Exporting out a Rekordbox library will cover a lot of common situations – but to be ready for anything, push a bunch of playlists as folders onto your USB drive.

This enables you to plug into almost any digital DJ setup and quickly find proper music from your drive just by opening the corresponding folder. Virtual DJ, Serato Pro, any CDJ with a USB slot, Traktor Pro, an XDJ-RX – it won't matter.
Want to make folders on your USB drive en masse from your iTunes playlists? We've written a quick tutorial for that here.
2. Collect New Firmware For Common DJ Setups
Just because a DJ setup looks familiar doesn't mean it will behave as you expect. A really clever thing to keep on your USB drive is a folder with recently updated firmware versions on it for DJ gear you might encounter in the wild. I recommend starting with firmware for Pioneer DJ gear – specifically the CDJ-2000NXS, CDJ-2000NXS2, XDJ-RX and XDJ-RX2 – all of which I regularly see out and about locally. You'll want to customize this for your own community depending on what gear is popular.
One example: the original XDJ-RX had a few early firmware versions where the beatgrids and sync functionalities could behave unpredictably. A quick firmware update could do the trick.
3. Include A Text File With Your Contact Information
Instead of explaining why this is useful (it's obvious, right?) here's a real world example:
I regularly have other DJs over to my house, and they often plug in their USBs to mix a few tracks in a social setting. It can be a lot of fun to have a bunch of DJs in the same room playing B2B2B2B. The day after a DJ house party, it's common to see this next to the DJ setup: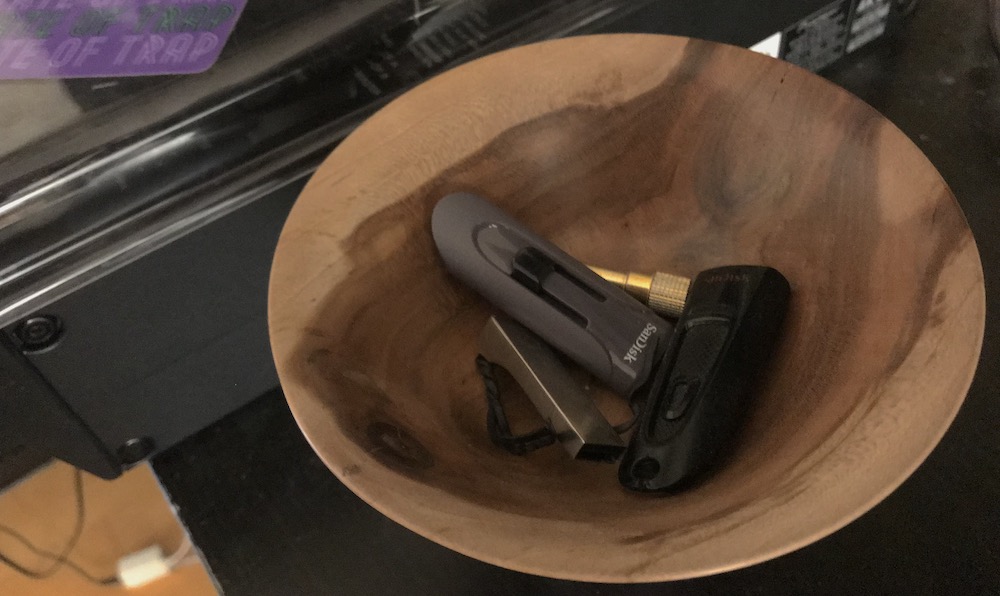 Usually, it's a guessing game of USBs and group texts. Consider adding a simple text file to the home directory of your USB. The next time someone plugs it into their computer, they'll find this pretty easily: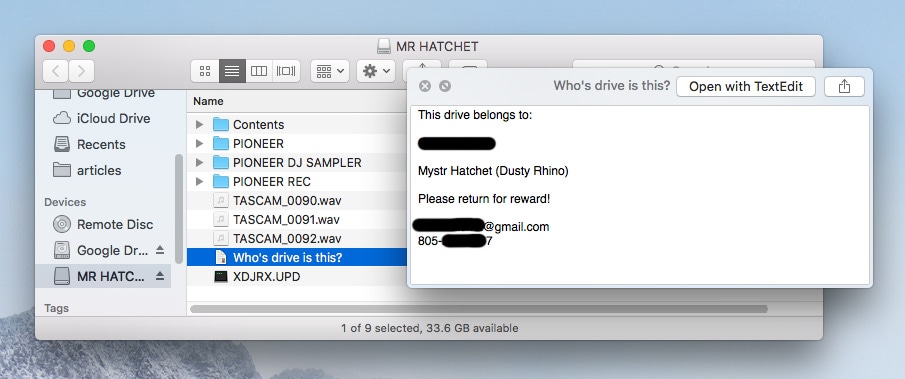 4. Decorate With Stickers / Flair To Avoid Confusion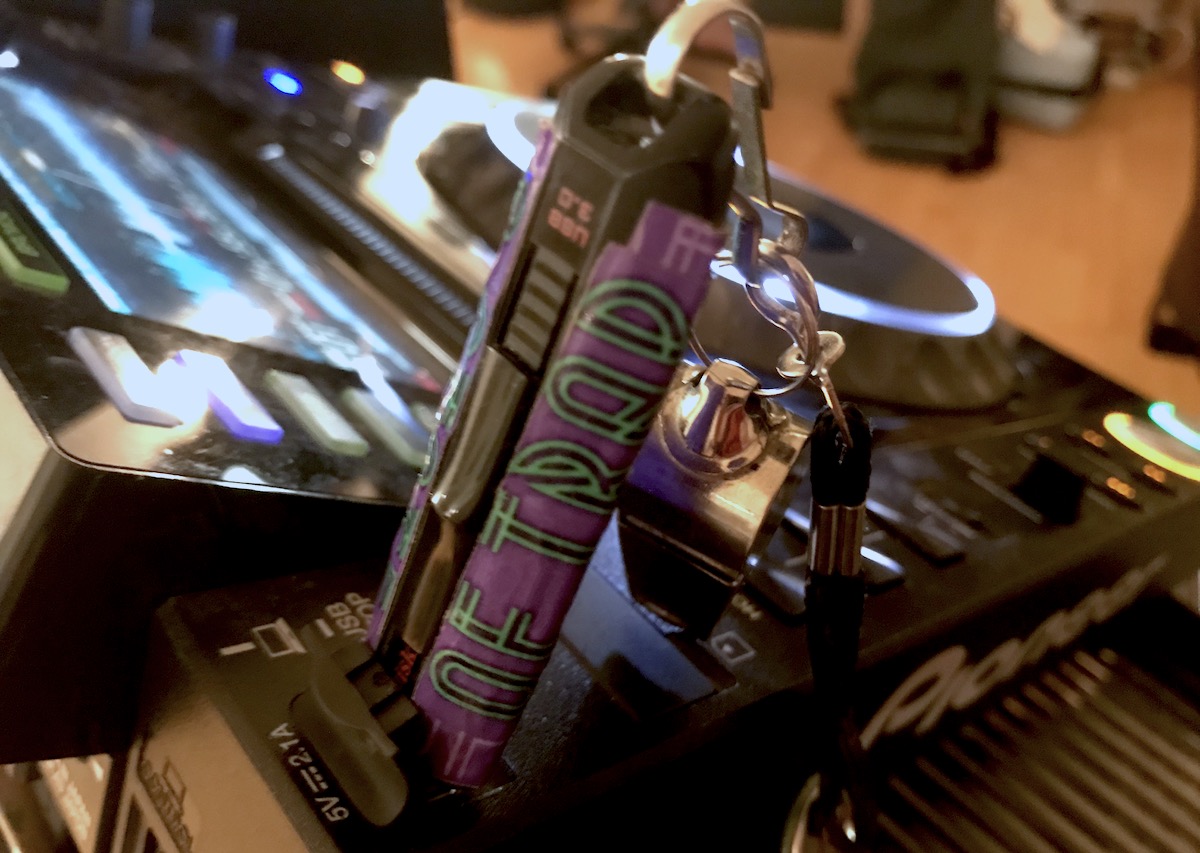 A common issue is remembering whose USB drive is plugged in which slot. If you've really screwed this up before, the words "EMERGENCY LOOP" probably elicit flashbacks. The easy fix is to get a bit creative and decorate your USB drives. You don't need to be a professional visual artist to do this right – just think about what might be easy to tell apart in a dark club.
For one of my USBs (pictured above), I've added my own stickers and a metal whistle – making it really easy to tell apart.
If there's a key chain loop on your USB drive, consider adding simple charms or key chains to distinguish your drive. A good DJ friend of mine has a bright pink fur ball connected to her DJ USB, like the one below (available on Amazon for $5):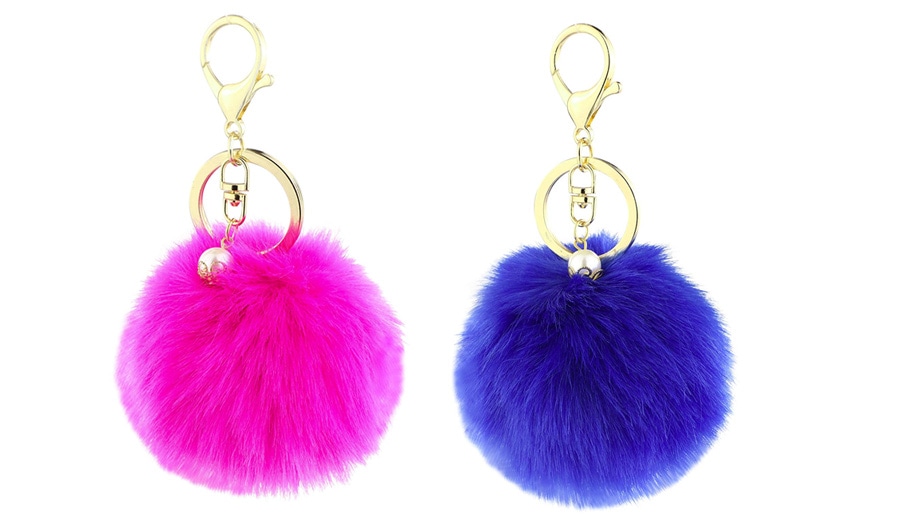 5. Export Your Own CDJ/XDJ Settings
Walking up and loading tracks into a CDJ/XDJ setup is great – but what happens when the gear you plug into behaves in a completely unfamiliar way? The best way to avoid this is to be absolutely sure that you've exported your settings out of Rekordbox (pay attention to master tempo, CDJ/Vinyl mode, and quantize settings) onto each of your USBs.
If you need help, follow this video guide from Pioneer DJ – it's with an older version of Rekordbox, but the info hasn't changed much:
6. Include Multiple Full-Length DJ Sets
Occasionally, there's very good reason you might want to throw on a DJ set for a moment – a few examples:
quick bathroom break if no one else is around
as a backup if you need to suddenly troubleshoot your main DJ rig
setup time before a party and you need something to work to
I recommend uploading a handful of complete DJ sets to your USB to be able to load at any time. Label them in a way where you'll be able to tell the vibe of the mix – you don't want to put a mix of electro bangers on while you're at a lounge gig!
7. Include A Copy Of Your DJ Software
If you're used to using digital DJ software like Traktor or Serato, a great idea is to upload an installer for that software to your drive. This will allow you to install your program of choice on any computer – so if yours is missing, broken, or stolen, you're still able to play.
It's a good idea to also include a folder with your serial numbers, mapping files, and any settings files that you might want instead of having to set it all up fresh.
What do you keep hidden on your USB drives? Share in the comments so that other DJs can learn from your brilliance.