Play Tracks From Soundcloud and TIDAL Directly In Serato, Traktor, Virtual DJ | ADE 2018
Remember how a ton of softwares built out streaming library support to accommodate Pulselocker integration? In a surprise announcement at Amsterdam Dance Event today, we've learned that Serato, Native Instruments, Virtual DJ, and other DJ softwares will soon have a new library source: Soundcloud. Serato users will get even more options, with TIDAL streaming built directly into the software. Keep reading for what we know so far.
Soundcloud Go+ Streaming In Traktor, Serato, and more
Until recently, digital workflows for DJs were limited to downloads and physical media, but streaming workflows are the future
Let's start with the news from Soundcloud. They made waves by announcing their own partnerships, clearly designed as a way for them to bolster their subscription model, Go+. Here's what they outlined:
We're partnering on integrations with six leading companies to bring streaming to DJ applications, so that for the first time ever, you can mix SoundCloud's massive catalog directly through your performance software.

To create a set using your SoundCloud collection, all you need is your Go+* premium content subscription (that now gives you access to high quality audio) and one of the below DJ applications:

Native Instruments
Serato
Virtual DJ
DEX3
Mixvibes
DJuced/Hercules

Integrations will begin rolling out over the next few months, so check back here for details. And in the meantime, keep growing your collection so you have plenty of tracks on deck for when you play your next set.
We also learned that even if you don't have the Go+ account, anyone can sign up for a free 30 day trial and it will work with the integrations.
Soundcloud's library is extensive, and covers all kinds of remixes and unofficial content (if they survived Soundcloud's many copyright purges). This makes the option to play these tracks in DJ software a big deal, with access to a massive catalog, all available currently to stream at AAC 256 kbps (depending on the file quality of the original upload).
TIDAL Streaming In Serato
Concurrent with Soundcloud's announcement, Serato launched their own press release that included the same information about Soundcloud, but also had a second service in their integration pocket: TIDAL. While the streaming service hasn't necessarily been the most popular, it has maintained a reputation as delivering incredibly high quality audio compared to the other services. Here's what Serato shared:
Serato also added TIDAL to its list of streaming partners. The company is unique as it delivers high fidelity audio files from a comprehensive catalogue of over 59 million songs. Serato DJ Pro and Lite users will need a TIDAL subscription to stream, and can choose from a premium or HiFi membership. TIDAL's HiFi tier features high fidelity and MQA sound quality. New customers are eligible for a free 30-day trial. More on TIDAL.com/Serato

In addition, Serato users will get access to exclusive playlists curated by Serato. Each playlist will be updated monthly, ranging from warm-up selections to dancefloor bangers.
Update: Details on Serato's Integrations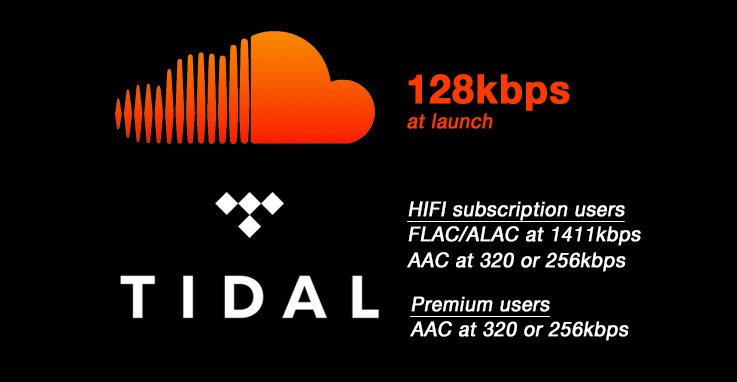 We had a chance to chat a bit with Serato at ADE to ask them a few questions about how TIDAL and Soundcloud integrations will work – here's what they shared:
What bitrates will be available from each streaming platform? 
Tidal Quality: HIFI subscription users have the option to choose between file formats FLAC and ALAC with a bitrate of 1411Kbps, and AAC streams in 320Kbps or 256Kbps. Premium users have access to AAC streams in 320Kbps or 256Kbps.
Soundcloud Quality: 128kbps is what we're launching with.
Aside from the subscriptions, will there be any additional cost associated with these integrations?
No additional cost to use with Serato, you just need a subscription with the streaming providers.
Will tracks be available offline at all? Are they loaded into memory for safety while playing?
The track will download into a temporary cache. Once loaded to deck and fully buffered the track can play through in the case of loss of internet connection for safety but once ejected it will be lost.
Can you save metadata (cues, loops, etc) with streamed tracks?
Cues, loops, flips overviews are saved, stored locally for when you load the track next time. (e.g you can make a DJ edit with Flip and recall that next time)
Are there restrictions about which songs are able to be loaded vs not?
Tidal has no restrictions for the most part (some regions might restrict some content but this is not Serato related).
[Serato is] still confirming with Soundcloud what restrictions will be in place. Major label content is fine but Soundcloud has a minor part of their catalogue that is restricted to DJ software and other applications – e.g. creators can choose to not have their music available to 3rd parties