This week Mixcloud – one of the stalwarts in online DJ mix hosting – is launching a brand new "fan-to-creator subscription layer". It's called Mixcloud Select, and it will allow listeners to subscribe to DJs they enjoy with a monthly fee. Keep reading for the first details on Mixcloud Select, which we're casually describing to be the equivalent of Patreon for the DJ community.
Mixcloud Select Brings Subscription Dollars to DJ Mixes
Mixcloud first posted about their new platform earlier this week on their blog, explaining the concept as a way to bring fans and artists closer together by creating a subscription layer. The thinking is that their music licensing model will not only allow the mix creators (DJs) to be paid with this subscription money, but also it will rightly trickle down to all the artists featured in mixes, podcasts, and radio shows. Here's an excerpt from their announcement:
"With Select, audio creators are able to build an inner circle of fans and offer their subscribers a more rewarding experience, whilst earning revenue from their audio content.

This is our pioneering move toward building a fair and sustainable ecosystem that works for audio creators, artists and listeners. We want to enable fans to get closer to the culture and communities they care about, while ensuring that everyone involved in the creative process is recognized and rewarded accordingly. Our unique licensing model, we're empowering long-form audio creators like DJs, podcast creators and radio show hosts to join the revenue mix for the first time."
What Does It Mean For "Audio Creators"?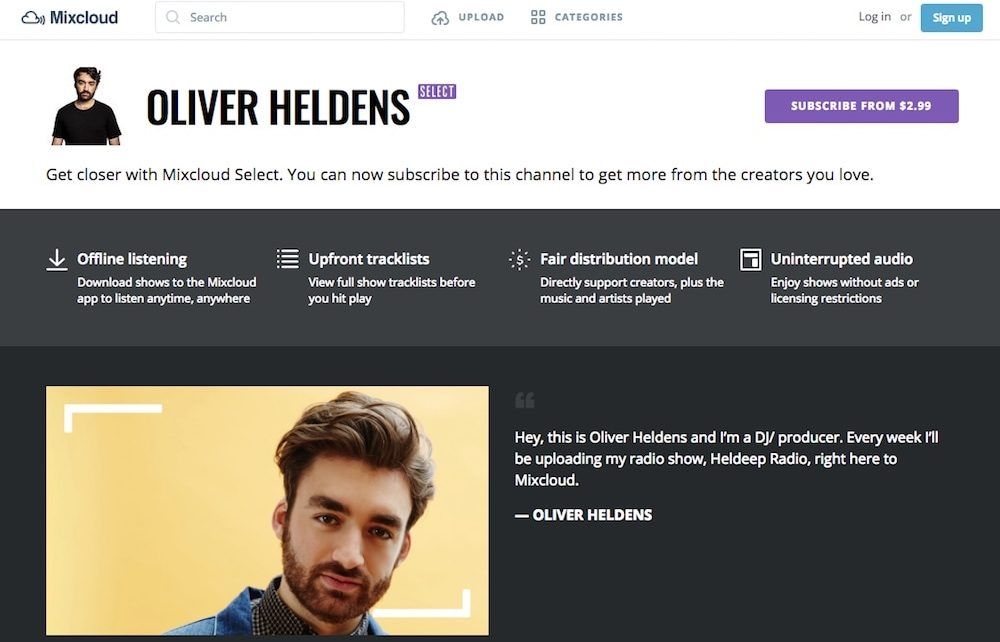 Effectively, DJs and other people who post audio content on Mixcloud will be able to set up a channel with paid access – and the money will flow to you and the artists that you feature.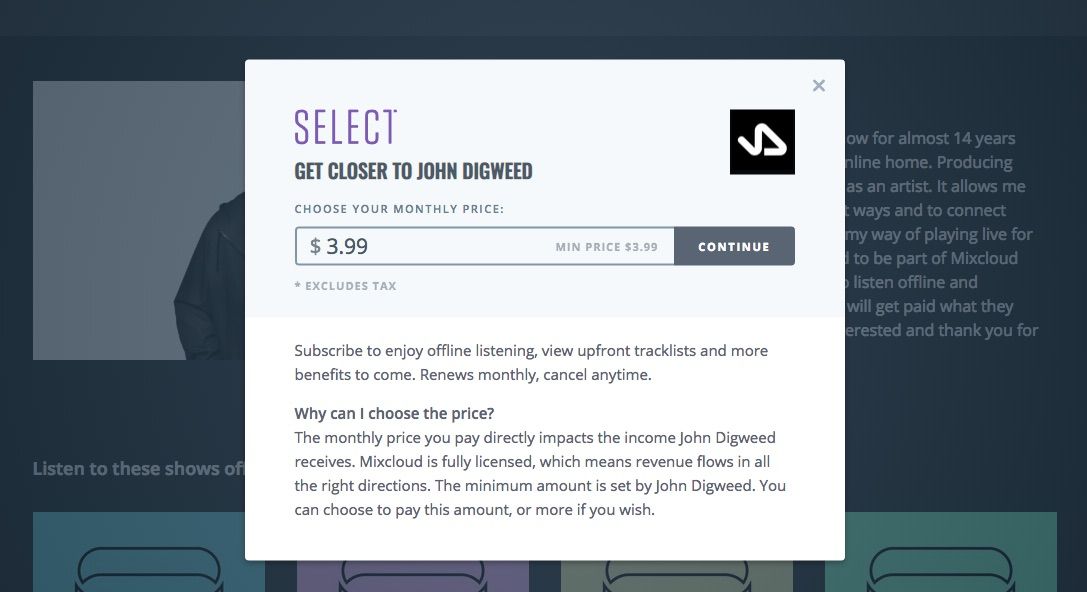 You get to decide how much your audience pays to subscribe (or set it to a "choose your own price" with a minimum, much like Bandcamp), and that money is automatically distributed according to the licensing scheme that Mixcloud already has in place.
"All artists, labels and publishers involved in creating the music that's played in shows receive their cut from royalty revenue. From there, The Select creator receives the majority share cut of the gross profit.

[..]The minimum subscription fee is set to £/€/$ 2.99 in local currencies. This is renewed monthly and can be cancelled at anytime."
Right now, Mixcloud Select is being limited to just 47 initial Select creators – big name creators like Red Light Radio, Defected Records, John Digweed, Soul Clap, etc. There's touring DJs, labels, and radio stations in this first mix of Selectors. If you're a creator, you can register on the official Select page to show interest  – but there's no timeline on when it will open up to more audio creators.
What Does It Mean For Listeners?
If you subscribe to an artist and pay their fee, there are a few rewards that are in place that make it worth justifying the small price (aside from helping out the DJs and artists featured). More reward features will likely be rolled out – but so far here's the list:
Offline Listening: you can download shows from the channel to listen to offline at any time. Yes, that means you can play it however you want (including going back in a mix, which for US-based Mixcloud listeners, is impossible in traditional Mixcloud mixes)
Upfront Tracklists: Select subscribers can see the full tracklist of a show before a show starts.
Uninterrupted Audio: "Enjoy shows without ads or licensing restrictions" – Mixcloud hasn't relied on in-audio ads very much in the past, but this feature description would seem to indicate it is on the horizon.
What Will Change On Mixcloud?
Will things be dramatically different on "normal", non-Select Mixcloud? Apparently not:
Will Select affect the free Mixcloud experience? Absolutely not. The free experience on Mixcloud will remain exactly the same. Select is an added layer that allows fans and creators to get closer. Subscribers receive additional features and benefits for the Select channels they have subscribed to.
Would you subscribe to a creator on Mixcloud Select? Let us know your thoughts in the comments below.