djay for iOS: Every Algoriddim App Merged Into One, Free, With Better Spotify Integration
What happens when the top-listed DJ app on the iOS App Store decides to double down on their market dominance? Algoriddim's djay has long ruled the charts on iOS, but with a new unified app release for all devices today, their position gets even stronger. The app is now free (with pro features as a $5/month subscription), includes some advanced Spotify streaming functionality. It's a powerful offering that every DJ should take a second look at even if they'll never use it as their primary DJ platform.
djay for iOS
Times have changed since DJ for iPad came out in 2010. People view the utility and power of iOS devices in a much different light, having seen dramatic improvements in hardware specs and software functionality. In 2018, DJs might be surprised to see a seasoned DJ use an iOS device as their default mixing platform of choice, but using one as a casual tool, learning platform, backup setup, or even for simple gigs is far less likely to be scoffed at.
With this new release of djay, it has become the single app that Algoriddim develops on iOS platforms. There's no longer any distinguishing between iPhone and iPad, or between normal, pro, or video mixing apps. Everything is baked in one – which makes it a lot easier to try the full feature set that each app offers. There's extensive free functionality baked into djay, but the company also offers a paid subscription which unlocks more advanced options.
Here's what is in each with this release:
Free Features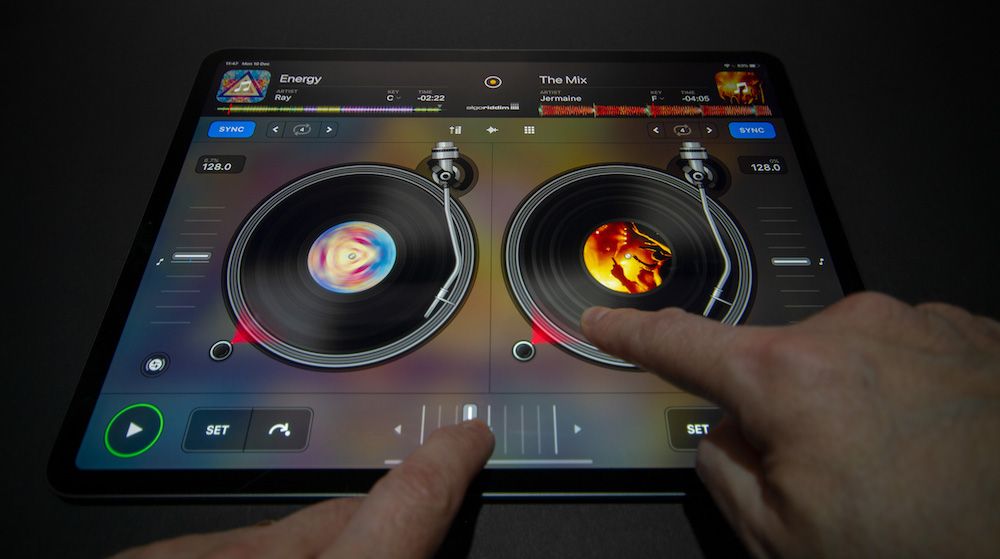 Classic turntable view – this is the two deck vinyl-esque mode that is most commonly associated with djay across all platforms.
Automix Mode – this is a coverflow-style view that automatically mixes tracks into each other one at a time. It does a not-horrible job of it, but this won't be what most DJs are looking for.
Advanced Spotify Integration – when we say "advanced", there are a few things at play. First, djay is the only DJ software that has an active deal with Spotify to allow Spotify Premium account users to stream into their DJ application (read about how Virtual DJ had to remove their Spotify integration here). Beyond that, in this new update, you can send info BACK to your Spotify collection and build out your playlists from within the djay app.
Hardware Integration for Official Controllers: If you own one of the officially supported djay controllers (Reloop Mixon 4, Beatpad, Beatpad 2, Mixtour, Pioneer DJ WeGO4), you're able to instantly plug-and-play into the app and take control. Use with other class-compliant MIDI controllers is limited to the Pro subscription version.
The Good Stuff In A Pro Subscription
I delayed before finishing off this announcement article because I didn't just want to regurgitate the press release of Pro features. There's a lot of stuff in there, and much of it is added value for some DJs but completely useless to just as many. Instead, I decided look for the most compelling stuff that would make a $4.99 monthly djay Pro subscription worth it. There's a 7-day free trial, so I started that and began playing around.
Four Deck Mode: We've seen this in djay Pro already, but it's worth noting that being able to mix on four decks is limited to subscription users only.
Looper + Sequencer: If you love setting loops and saving them – like Traktor Remix Deck style – this new update has a Looper feature that is built just for that.  Not only can you sequence and loop samples in time with the beat, you can also build out a loop-based set with Looper, which is a Launchpad-like array of time stretched loops. Make your own or download some that work well with your genre of music (more on that below).
Visuals: Being a casual VJ myself, it was awesome to see that Algoriddim has smartly folded their vjay app into djay. As in the original app, you can mix videos, Live Photos, and apply audio-reactive FX to the visual loops that you trigger. You can also sync specific loops to audio loops that you're triggering in the Looper feature, above.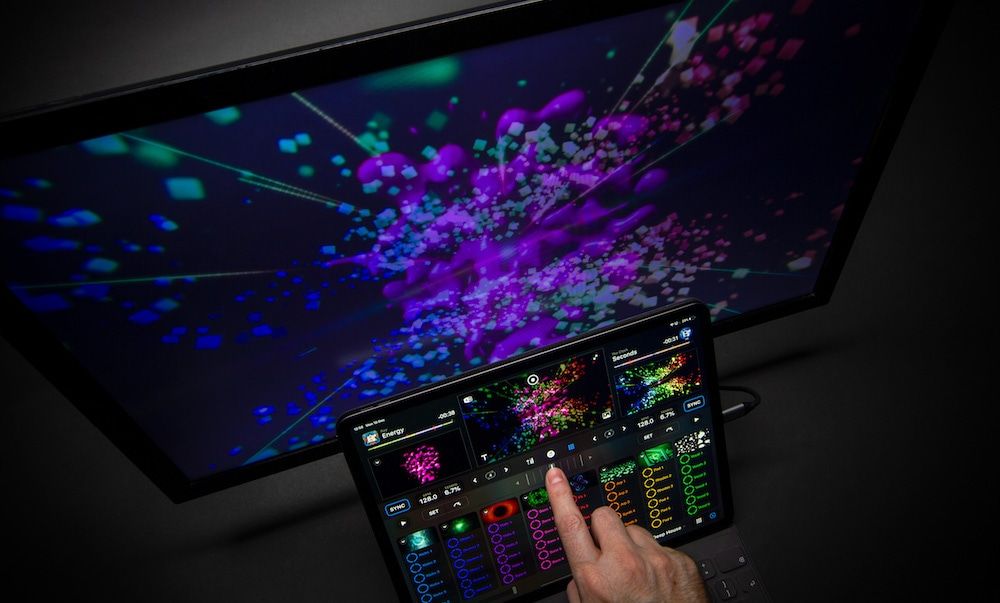 A Massive Content World: Audio Loops, Samples, Video, FX: Djay has chosen four strategic partners to provide content for every Pro subscriber to djay, and this is really where the app subscription shines and becomes incredibly fun. The subscription unlocks "over 1GB of audio loops from Loopmasters, samples from Future Loops, and video clips from DocOptic, along with 40+ professional audio FX from Sugar Bytes and various video FX. Get loops and sound packs from a wide range of popular genres such as Hip Hop, Deep House, EDM, and Trance, as well as more eclectic sounds from Ambient House, Electro Swing, or Jazz" – and I can honestly say that having genre-specific loops and samples made me far more likely to want to use those features than on a platform where I'd have to bring my own.This also feels like where the subscription value will really come from – continued flows of fresh content into the app.
"Advanced Automix AI": this one almost deserves an article on its own, because the advanced Automix mode claims to be "using machine learning and training sets from human DJs" to "intelligently [identify] rhythmic patterns and the best intro and outro sections of songs", "calculate optimal fade durations and automatically applies parameter changes to EQs and filters for a seamless transition"
Advanced MIDI Support: Any class-compliant MIDI controller can be mapped with a basic MIDI learn workflow in the app, but also there's over 50 controllers that the app instantly recognizes. You'll need the right adapter cable to go from Lightning to USB (or USB-C to USB, if you've got the newest iPad Pro), but it means a bit less screen touching, which is great! There's also support for Bluetooth MIDI devices.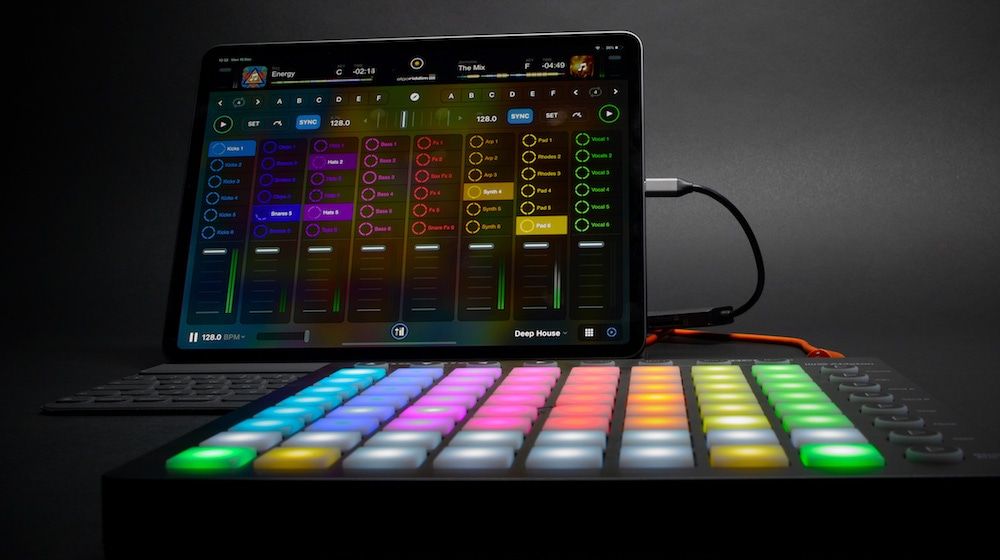 USB-C = Multiple Peripherals: Again, if you have the new iPad Pro, the USB-C port has unlocked a bunch of additional functionality. Specifically, you can connect multiple devices to the iPad Pro, which means it is reasonable to output the visuals to a projector and use an external MIDI controller and charge your iPad all at the same time. You'll want to pick out a solid hub for this.
Honestly, there's a lot to dig into in this version of djay – and it feels worth a more extended mix session and review. I'll be checking it out over the coming winter holidays to see what other softwares could stand to learn, and why entrenched DJs should check out Algoriddim's offerings.
Worth noting – the new version requires users to be running iOS 11.2 or later, so if you're a late adopter of iOS versions this might hold you back for a bit.