For years, Image Line's FL Studio (and Fruity Loops before it) served as a fun and effective entry point for DJs and music makers on Windows machines to get their feet wet producing beats and loops. As the software developed from a perceived kiddie pool into a deep sea suitable for full-scale professional music, some of those producers—Afrojack comes to mind—stuck with FL Studio as their main production tool.
Others, such as Deadmau5 or Martin Garrix, reach for it when they need to put down new track ideas very quickly, because even as the software matured, it never lost its immediacy.
In mid-2018, FL Studio crossed a threshold, and Mac users finally got a chance to try a native OS X version of FL Studio 20 (named for the program's 20th anniversary). Now, FL Studio has reached another milestone as Akai Professional has forged the first mass-market dedicated hardware controller for FL Studio, Fire.
Reviewed: Akai Professional Fire controller
Price:

$199

Software included: Image Line FL Studio 20 Fruity Fire Edition for Mac/Windows
Dimensions: 1.7" (4.3 cm) H x 12.4" (31.6 cm) W x 6.6" (16.6 cm) D
Weight: 1.68 lbs. (0.76 kg)
Many fans of the software have burned for a controller like this for a long time, and the Fire also makes now the best time for curious beat makers to see what all the fuss over FL Studio is about. For those just beginning to explore making music, the Fire and its included software rival something like the Native Instruments Maschine Jam or Maschine Mikro as an affordable, just-add-laptop starter studio.
With its 64 multi-color, velocity-sensitive pads as the foundation, touch-sensitive encoders, and multiple modes of operation, the Fire lets you create drum and melodic patterns with a step sequencer, keyboard-style note input, and MPC-style drum pads. With the Perform mode, you can lay out your patterns in clip slots in the software and launch/remix them in real-time from the Fire's pads—all color coded as you choose.
The Fire itself is well-built and quite easy to use. Once you familiarize yourself with the different layers of controller functions that come with its Alt and Shift buttons, you can comfortably settle into a smooth creative flow. However, if you've never used FL Studio software before, there's still a learning curve for sorting out it's particular methods, tools, and menus. Consulting the Image Line manual and third-party video tutorials will help.
FL Studio Software
Fire comes with FL Studio 20 Fruity Fire Edition, which is basically the $99 lowest-tier commercial edition of FL Studio, and Image Line includes lifetime free updates. While FL Studio works similarly to other digital audio workstation (DAW) software, it has its own character that is still very focused on loops.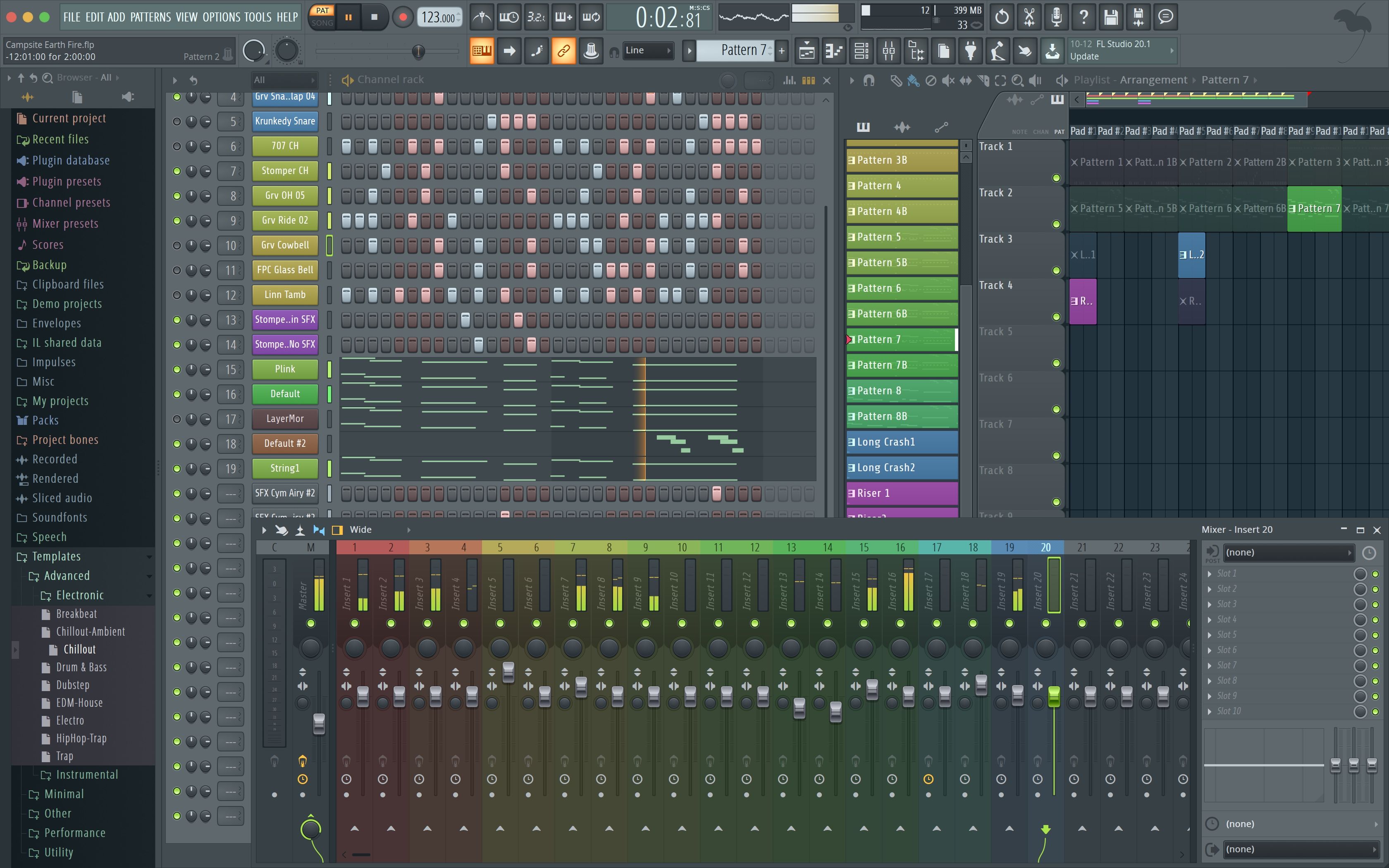 The program's methodology boils down to creating patterns in the Channel Rack, and then arranging those patterns into songs in the Arrangement window. Its other main GUI element is the large-format Mixer. The software includes about 30 or more instrument, sampler, drum machine, and effects plug-ins. It can also host your third-party VST instrument and effects plug-ins (the Mac version also hosts AU plug-ins) and can import your samples of WAV, FLAC, MP3, and other formats.
This Fruity Fire Edition is limited in that it can't record audio tracks from external microphones (although you can use audio samples in your patterns), a few other workflow features, and a smaller set of instrument and effect plug-ins than the higher-end FL Studio Producer ($199) or Signature ($299) editions. It's a very capable software, but Image Line bills it as being for basic percussion and instrument loop creation and arrangement.
If that's not enough for you, it's very easy to export your patterns to MIDI or audio formats to use them in another DAW, or you'll get a $90 discount off upgrading to a higher version of FL Studio. Windows users can also open FL Studio as a VST plug-in in other DAWs, which is a huge advantage.  Unfortunately, the Mac version can't be opened as a plug-in in other DAWs yet, but that feature's on Image Line's "To-Do" list.
Catching Fire
Without question, hooking up the USB powered Fire takes FL Studio to another level. It doesn't handle everything within the software, so don't trash your multi-button mouse just yet, but its every function works in lock step with FL Studio to pull the software out of the digital space and into the tactile. As a supplement, Image Line also makes the free IL Remote controller app for iOS and Android, which you can use simultaneously with the Fire.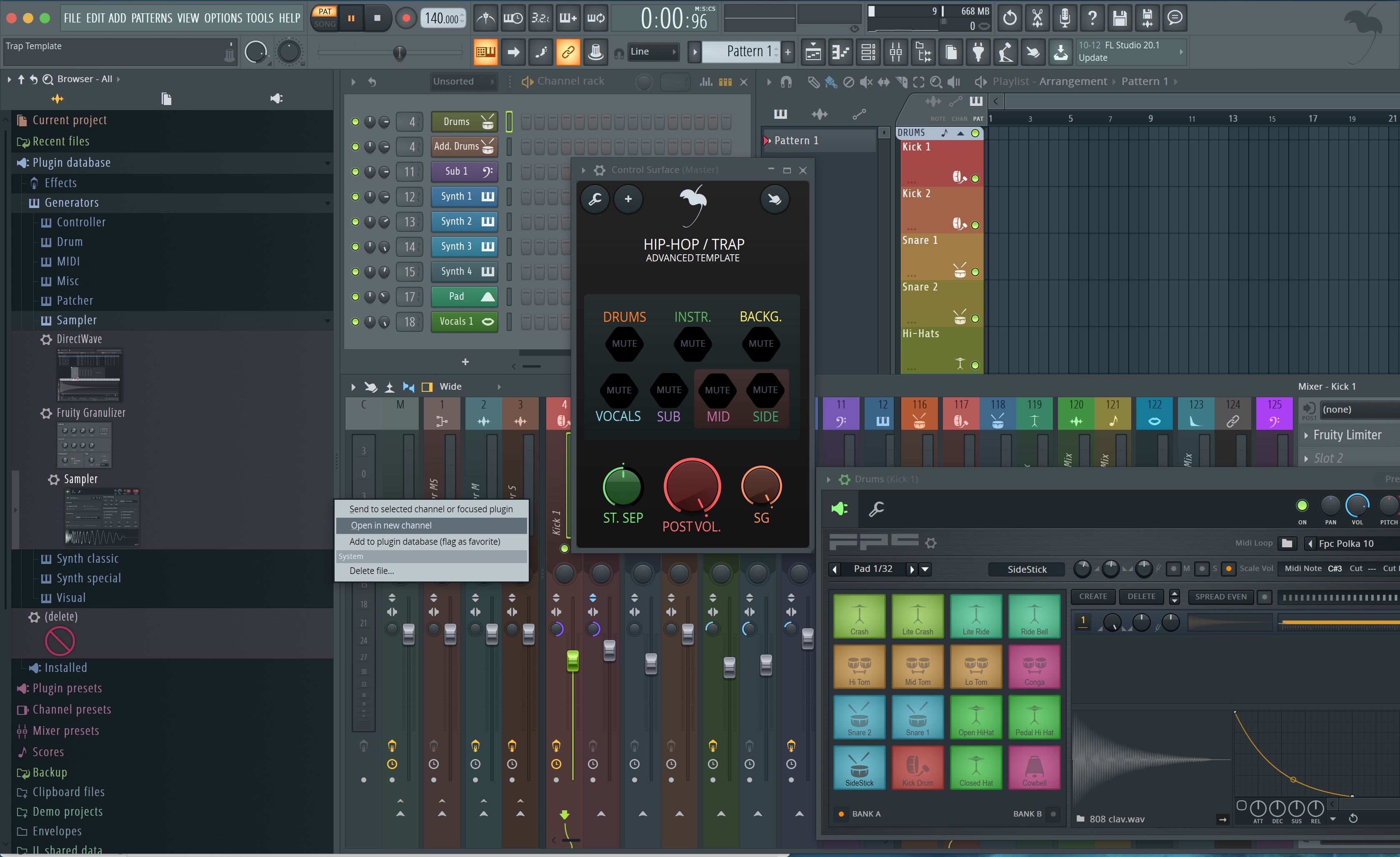 Browser Mode 
To get started making a track, you'll want to load sounds, plug-in instruments or loops from the Browser into the Channel Rack for making patterns, and the Fire lets you do that straight from the hardware. (New FL Studio users may could start with one of the many templates from the File menu. The templates range from basic set-ups to fully stocked palettes loaded with drums, instruments, effects, and mixer signal chains intended for trap, breakbeat, EDM-house, dubstep, and other styles.
Fire's Browser's button turns red when pressed, and then you use the push-button Select knob to scroll through the plug-ins, samples, and other Browser items. You can audition samples from the Browser with Fire's Grid right button, and push the Select knob again to load a sound, loop, or plug-in as a new channel in the Rack.
Step Mode
With sounds loaded into the Channel Rack, Fire's Step mode button sets Fire's 64 pads to the step sequencer of the Channel Rack. Each row of 16 buttons represents a channel on the rack, with steps for 4 bars of 16th notes. The Select knob scrolls through the channels with visual feedback in the software, so you can sequence as many channels as you want from the Fire.
Simply press the buttons you want to illuminate them and enter notes in the sequence. If you assign colors to the channels in the software, Fire's buttons will display those colors. You can playback your work immediately using Fire's transport controls.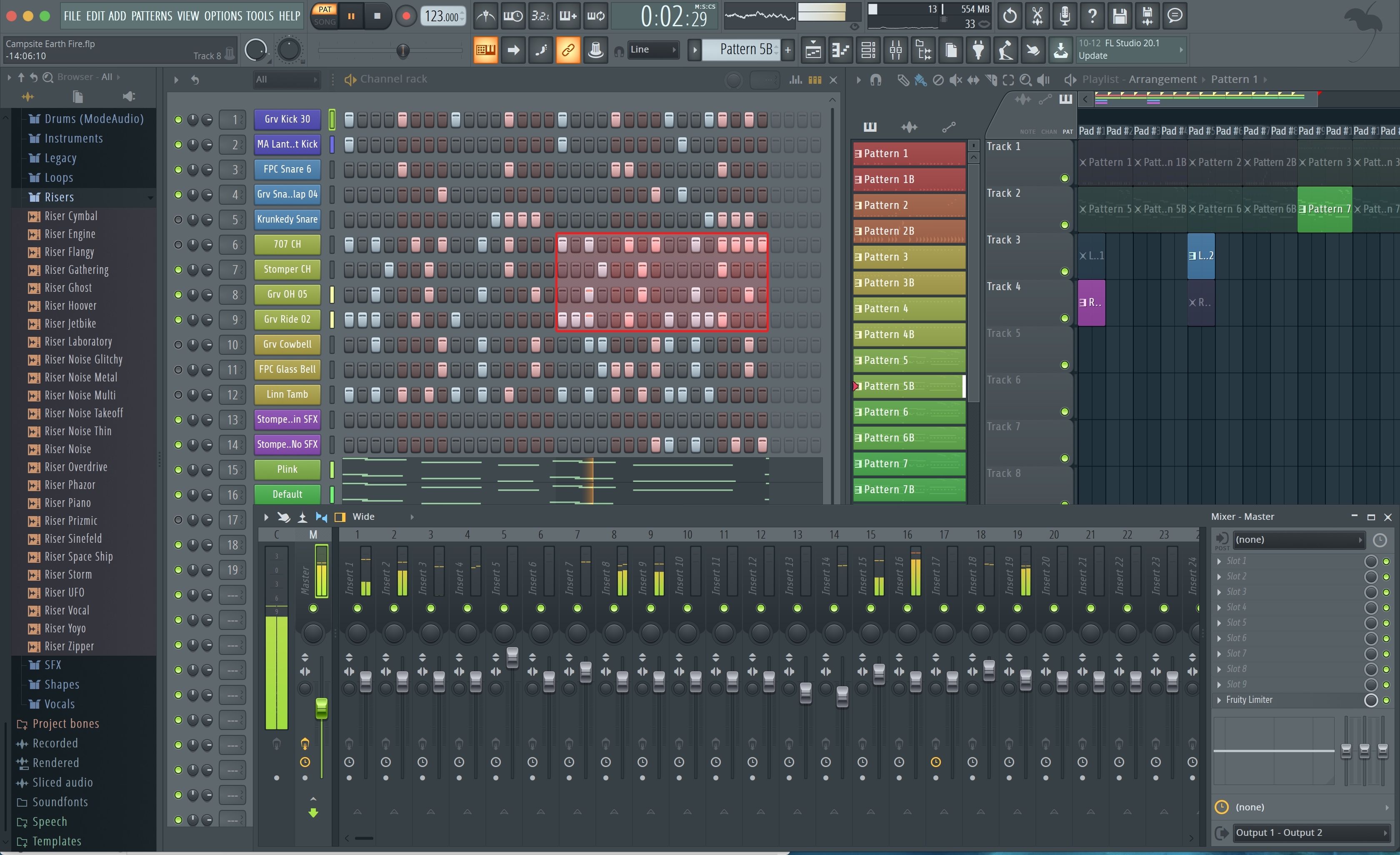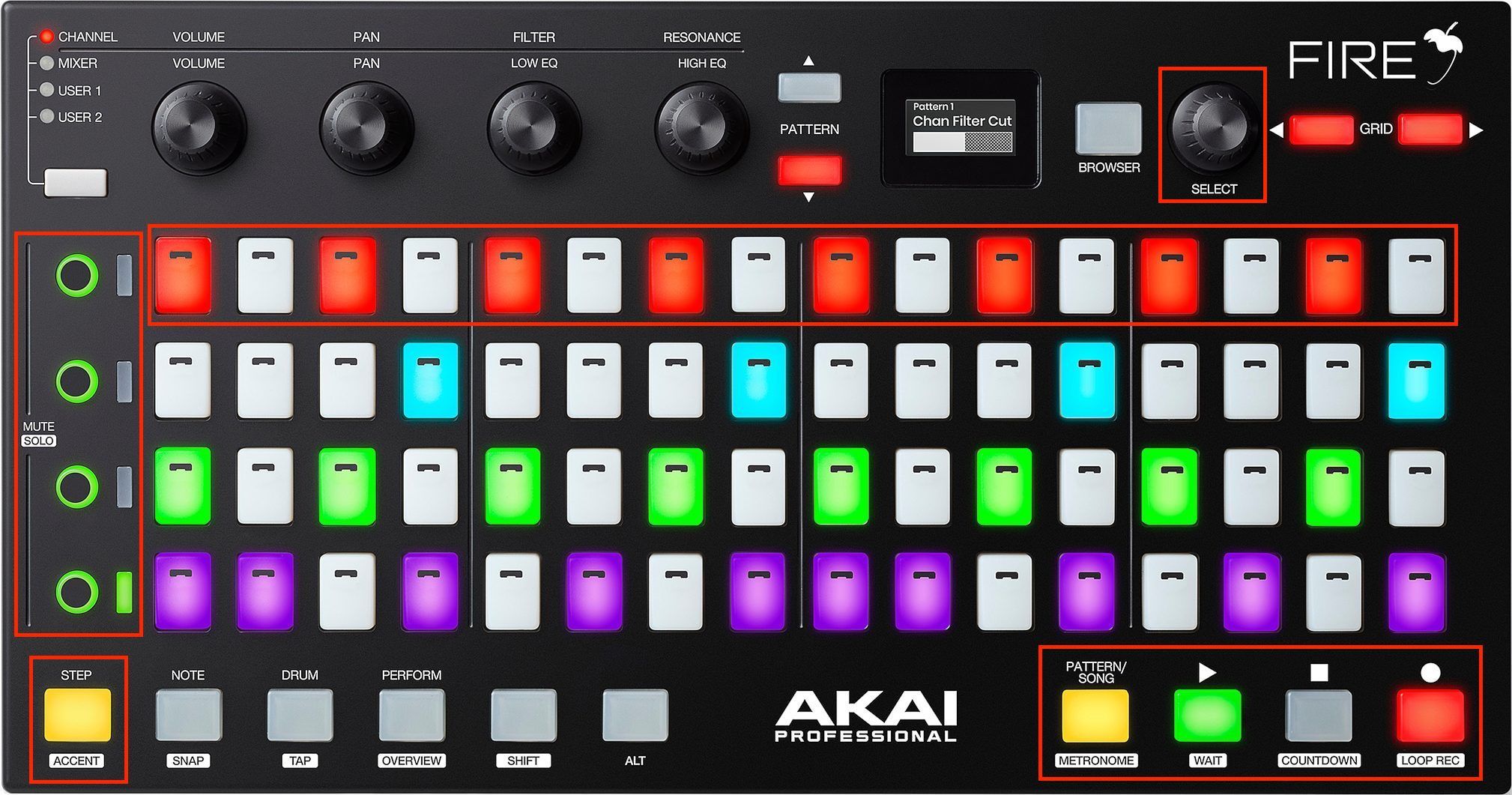 Fire's Grid buttons can lengthen the pattern and then navigate through its sets of 16 steps. When holding down one or more pads, the Volume knob adjust those steps' velocities (volume), and the Select knob adjusts the  steps' pitch—great for quickly dialing in the multi-pitched hi-hats, snares, kicks, etc. that you hear in a lot of modern beats. The Fire's small but dynamic display shows the steps' velocity and pitch values as you adjust them.
The round, green-lit buttons to the left of the Fire's pads mute individual channels. Use these buttons and Shift to solo a single channel, or Alt to select a channel. A green LED on the Fire shows the selected channel, and the Fire's four touch encoders—Volume, Pan, Filter, and Resonance—apply to the selected channel. Alt+Shift scrolls through the channels with the display showing each one's name.
The Fire's four knobs in Mixer mode apply Volume, Pan, Low EQ, and High EQ to the selected Mixer channel, which you can scroll through using Shift+Select. Two more knob banks—User 1 and User 2—are fully assignable to any control in FL Studio, which is easy to assign through the software's contextual menus. You can record these knobs' movements into your pattern as well.
To start a new Pattern, just hit the Fire's Pattern Down button, and then use the Pattern buttons to scroll through all the available Patterns.
With the Fire's Step mode, it's very fast and straightforward to get complex beats going using as many drum sounds, samples, and triggered loops as you want. Using the mouse a little bit to duplicate and color code Patterns in the software is also helpful.
Note Mode
For melodic instruments in the Channel Rack, select that channel and then go to Fire's Note mode. As a default, this turns the Fire's 64 pads into a Dual Keyboard—3 octaves of notes in a keyboard layout with root note in yellow and the "black keys" in orange. The Grid buttons move the octave range up and down.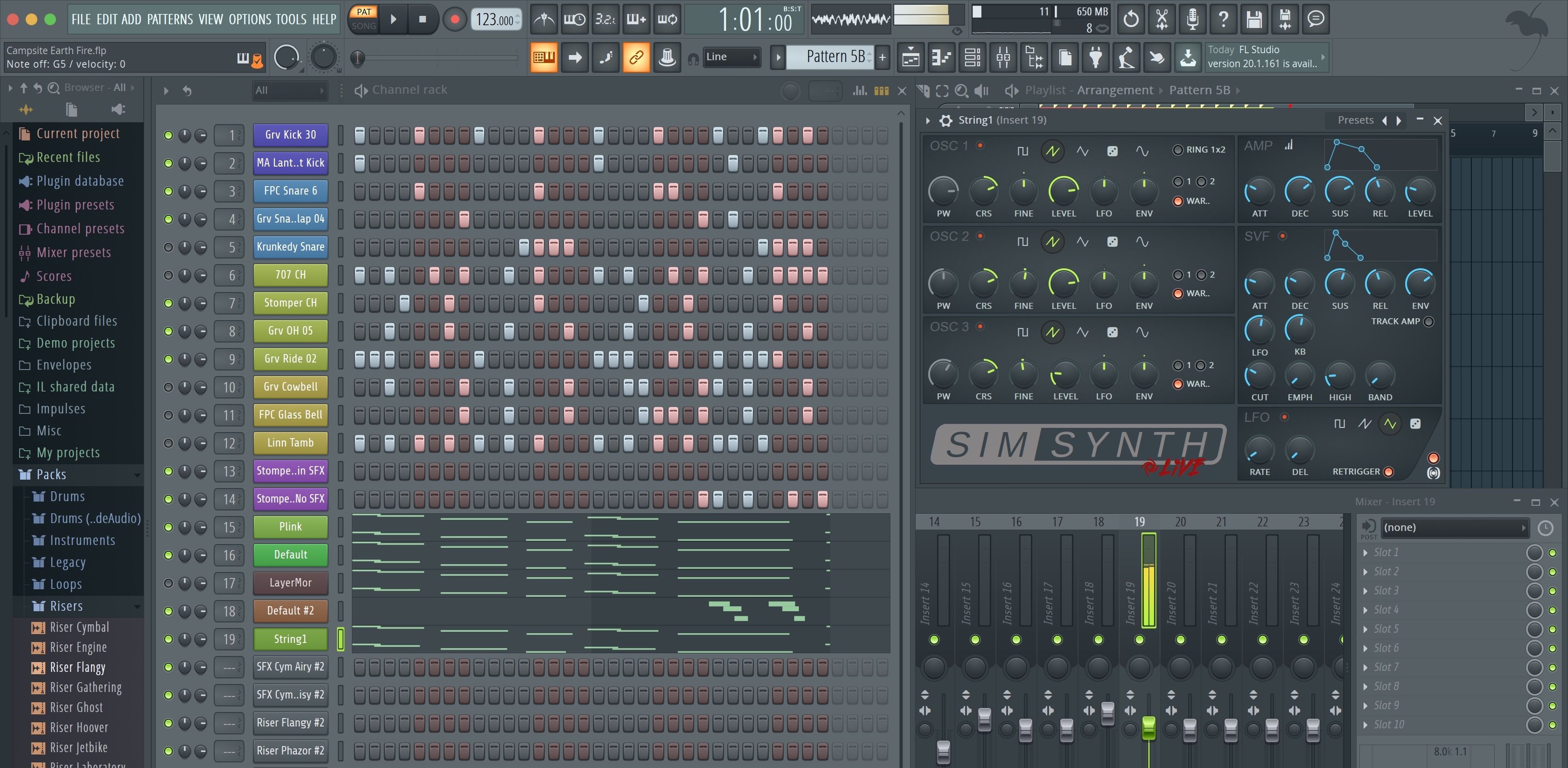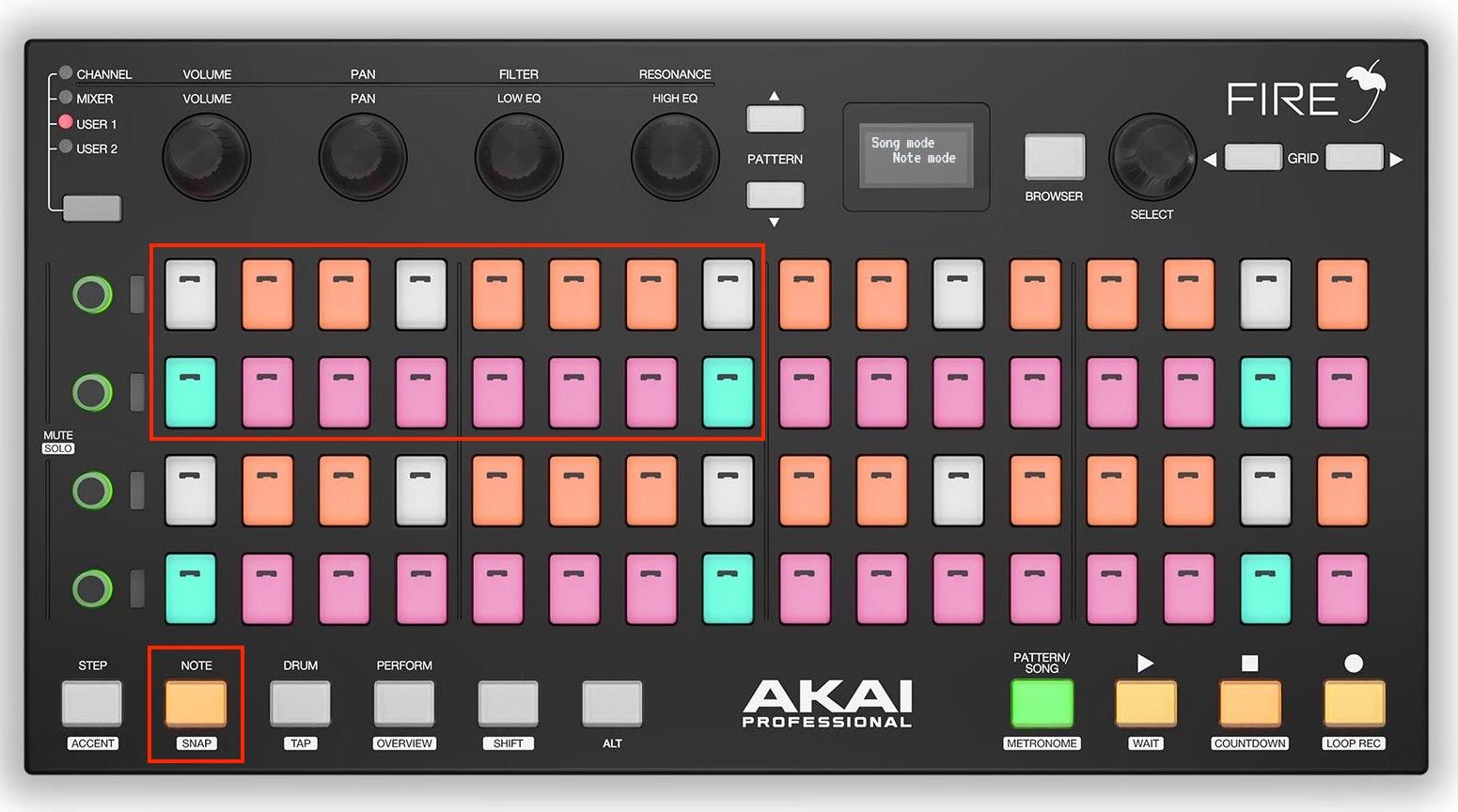 Fire comes with two dozen Note mode layouts for the pads, which you can choose with the Select knob. In these layouts, every pad will play a note in a selected scale or note range such as Major, Harmonic Minor, Whole Tone, Arabic, Dorian, Chromatic, etc. These make for interesting experimentation and are good if you're used to playing notes on a pad grid or just don't like the standard keyboard layout.
Drum Mode
Fire's Drum mode gives you two sets of 16 drum pads for MPC-style finger drumming. This mode works on any channel, but is especially intended for channels loaded with FL Studio's FPC drum pad plug-in. In the basic software, FPC comes with 16 presets to get you started with various acoustic and electronic drum kits, such as the 808, 909, and Linn drum machines. These presets leave FPC's Bank B empty, so you can drag any sounds you want into pads 17-32 and play them from the Fire.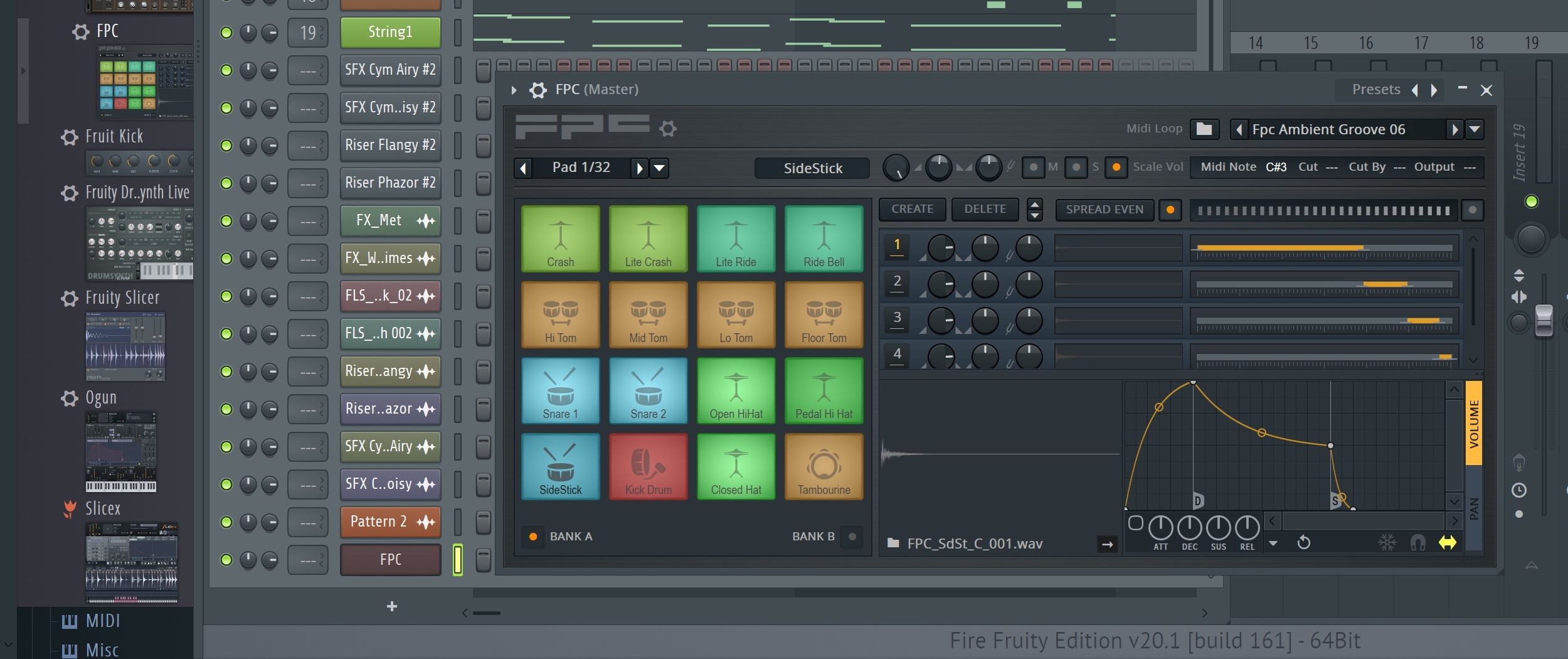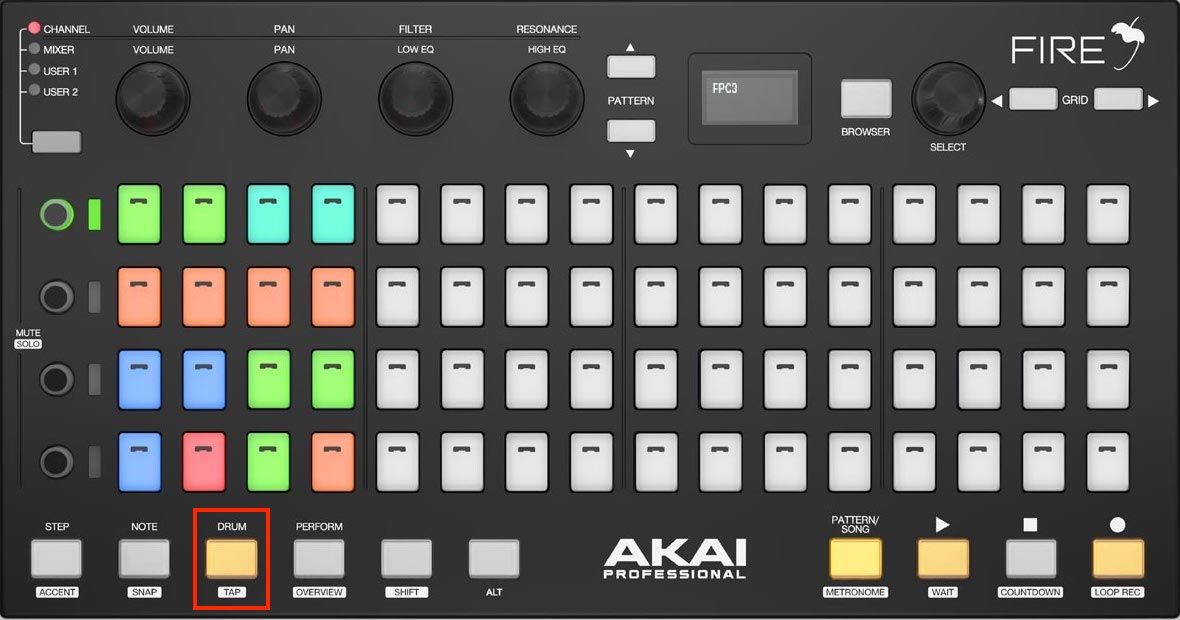 For finger drumming, Fire's pads are very responsive, yet rather small and tightly spaced if you're used to playing on an MPC, Maschine, etc. However, if you're looking at Fire as a jack-of-all trades controller that you can take anywhere, the Drum mode is a fine addition.
The Drum mode's pads also have an alternate layout for Slicex, FL Studio's plug-in for chopping up and remixing audio loops. This assigns the 64 pads to playback each individual slice in the loop. However, the Slicex plug-in only comes with one of the upgraded versions of FL Studio.
Perform Mode
Once you create Patterns, they show up in the Playlist area of FL Studio's Arrangement window, and you can drag them to the timeline to arrange a song or drag them to the separate Performance area of the timeline to set up a grid of Patterns for clip launching.
Fire's Performance mode sets its 64 pads to launch clips from the software's Performance area, similar to what you might do with a pad controller and Ableton Live or Bitwig Studio software. You can color code your Patterns in the software to see those colors reflected on the Fire.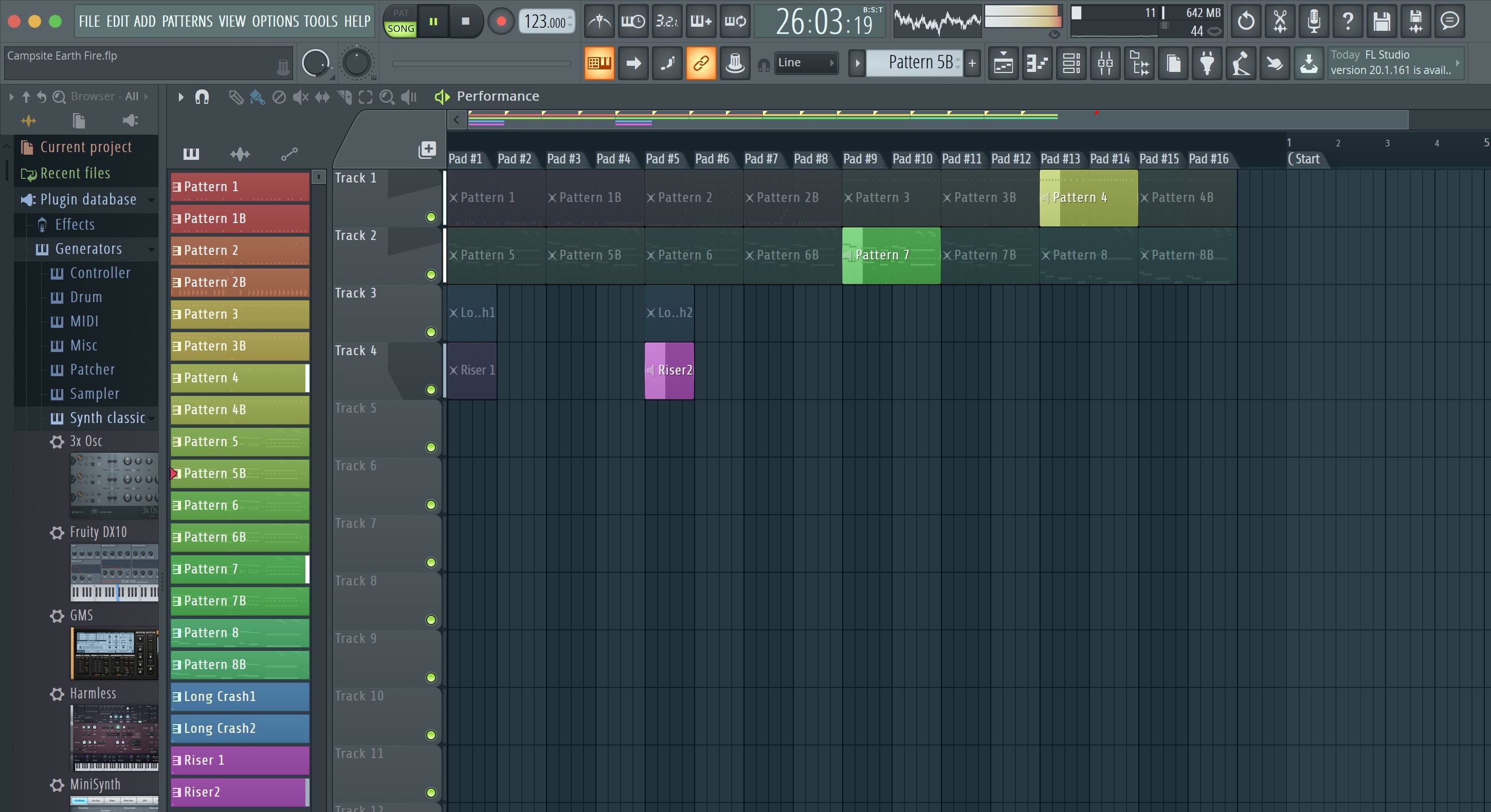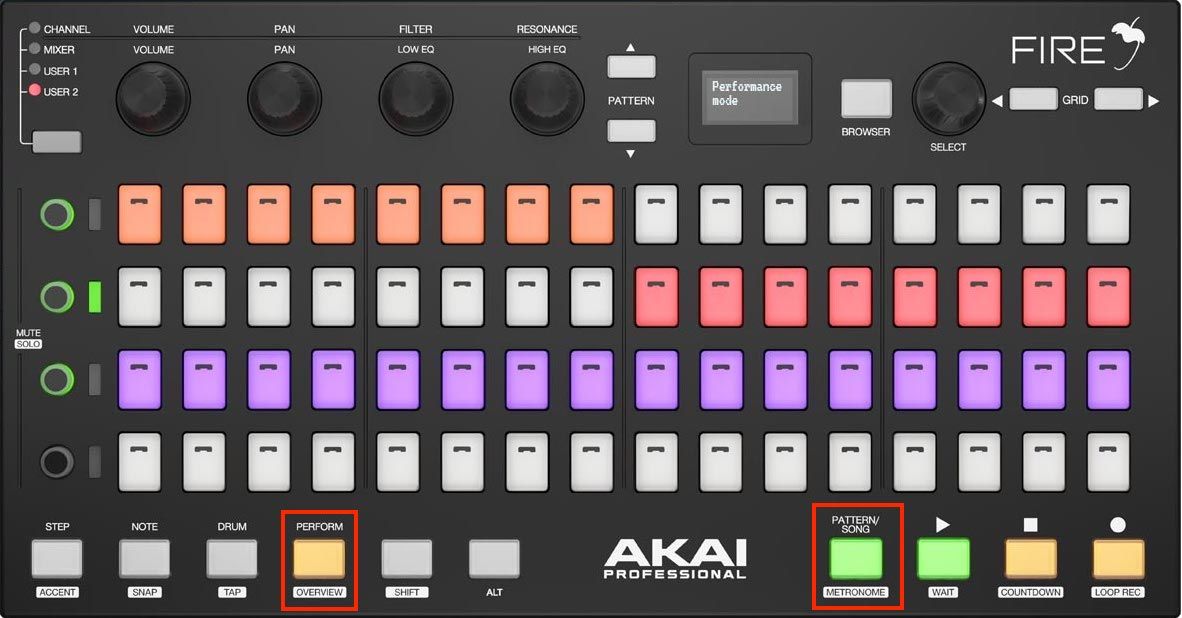 As a new user of FL Studio, I ran into a frustrating snag, because Fire's Pattern/Song and Perform mode buttons do not automatically enable Performance mode in the software, as some of the video tutorials seem to suggest. You first have to set up the FL Studio project for Performance in the menus by going to Tools > Macros > Prepare for Performance Mode. After that, it worked as advertised.
To get even more hands-on surface area for the Performance mode and other work, you can connect up to four Fire controllers to a computer to create a total pad matrix of 8 x 32, or to use one Fire for sequencing, one for note input, and so on.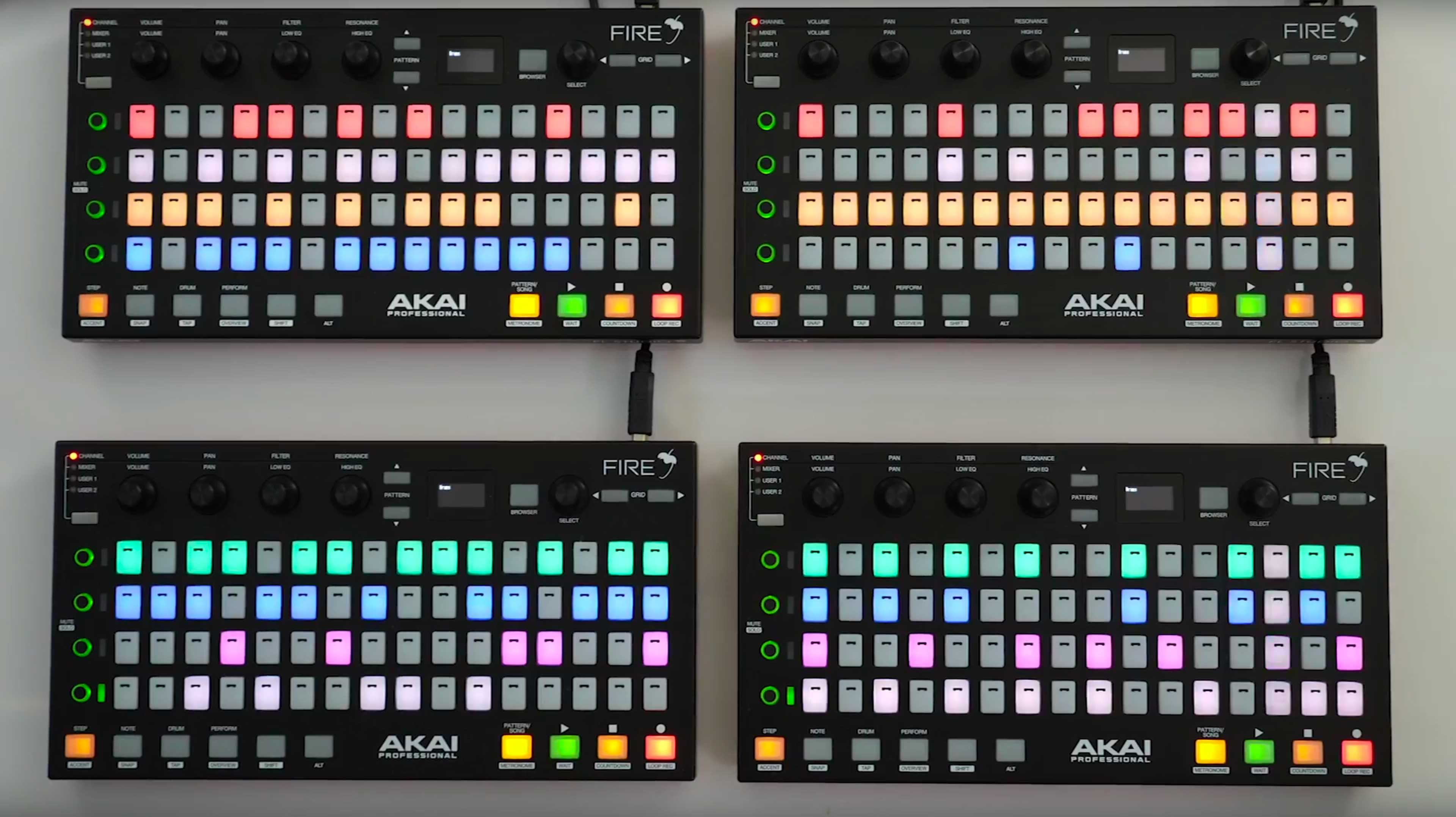 Bring the Heat
Akai has made the first dedicated hardware controller for FL Studio an enticing prospect for all levels of producers. Fire capitalizes on the software's pattern-focused workflow by making it easy to whip up melodic and percussive beats on the step sequencer or by recording from the drum or keyboard interfaces. The four banks of knob functions, four pad modes, multi-tasking Shift and Alt buttons, and dynamically updating display allow you construct the better part of a full track and to perform live remixes of its patterns, all from a controller perfectly sized to sit in front of a laptop and fit into virtually any backpack.
For DJs just getting into production, the Fire's attractive price includes a strong piece of software that, while limited, makes it easy to export audio loops or full songs and use your own VST plug-ins. If you outgrow the Fire version of FL Studio, you can upgrade to one of the professional versions or use the Fire as a general MIDI controller in other software.
It will be a huge boon to Mac users if Image Line eventually lets them open FL Studio as a plug-in in other DAWs, which is currently limited to Windows systems. It may be too much to ask for Akai to add native Fire mappings in other software, but even without that, this instrument should spark the attention of FL Studio users old and new.