What happens when a DJ develops their ideal portablism device? Introducing the 7PS (short for 7″ Portable Scratcher), a fully-working prototype product by French designer Lauris Honoré. We saw it at NAMM 2019, where the product (and it's designer) are on the hunt for a company that will produce the unit on a larger scale.
7″ Portable Scratcher
The 7PS (check out their official website here) has been under development for three years. It contains a number of features that aim to directly improve on some of the bigger difficulties with portablism decks. Here's what's onboard:
Magnetic Tonearm – this is a special design that's intended to actively keep the needle in the groove via magnetic suspension.
Rotating crossfader case that allows you to move the crossfader around the platter. This means that left and right-handed portabalists will can comfortably use the unit.
Battery powered: This was an obvious requirement to make it battery-powered to compete with the PT-01, but the 7PS has a rechargeable battery inside that can take a charge via microUSB.
Bluetooth input: instead of hooking up your phone via a cable and passing it through to the audio out, a bluetooth connection is onboard for easy connection.
Rollers-based platter: It's not a direct drive unit (neither are Vestax and Numark portablism gear), but instead the platter is "on rollers" which Lauris claims will help eliminate friction and speed reduction and make the platter more stable.
DVS Ready: As shown in the video below, the 7PS is more than capable of controlling DJ software via DVS as well
The final feature set is of course dependent on their manufacturing partner – keep reading for more details on that process.
Looking For A Home
Independently developed gear prototypes are a rare breed, particularly at NAMM, which occasionally has larger companies "testing out concepts and gauging reactions." But 7PS is different – the team behind it have developed the concept and now are trying to find a company to partner for manufacturing.
That's not always an easy task – moving hardware from a development and prototype stage to mass manufacturing is hard (a great example is the 3-times delayed, Phase project which debuted last NAMM). Lauris is specifically not interested in managing a crowd-funded solution – he wants a company to manage the manufacturing and marketing sides entirely.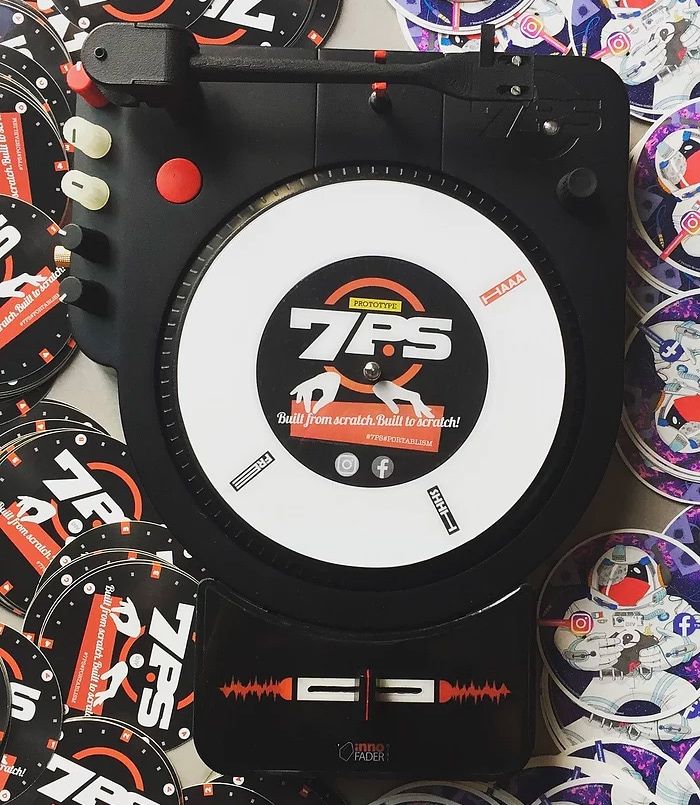 One of the dangers of shopping around a really nice prototype device like this is giving a chance for the competition to react. As the 7PS website notes, it's "the ultimate 7" portable scratcher that will be copied". But aside from Numark and their PT-01 Scratch, there aren't many other companies making portablism decks – so it does feel like there's a prime opportunity for a smaller company to stake a claim in the space.
Would you buy the 7PS? Who do you think should make it?
Share your thoughts in the comments below.