Pioneer DJ has licensed access to Pro DJ Link network information, allowing visual effects software and hardware to sync with high-end Pioneer DJ players
Denon DJ got the drop on Pioneer DJ last year when they announced that their hardware would be able to send dynamic control information from their Prime hardware into Resolume (visuals software) using StageLinq. It's hard to look at all of the advanced features that the Prime ecosystem has added, and pick just one that Pioneer would feel the most threatened by. This performance-enhancing pipeline from FoH desks to DJ booths is one of the items on that list that Pioneer DJ has been able to do something about.
Today, they're announcing Pro DJ Link licensing – essentially, this means that specific companies will be allowed to access the information that NXS2 or TOUR1 units send across their local networks. That information can be used for "seamless syncing between visual effects and DJ performances."
What Companies Have Licensed Pro DJ Link So Far?
Right now, there's a list of 6 companies in the lighting and visuals space that will have access to this information.
Visual processing technology for software and media servers: ArKaos S.A. (they develop ArKaos Grand VJ)
Integrated lighting and media control for visual technology: Avolites Ltd.
Timecode software: BLCKBOOK B.V. (they already had their own solution for this integration in their software, Timecode Sync, but now it is officially licensed. Note that Timecode Sync actually supports more Pioneer DJ hardware than just TOUR1 and NXS2….)
Hardware and software for real-time video manipulation: Green Hippo Ltd.
Visual software and media server: Resolume B.V.
Timecode and show control software: TC Supply (they've had an integration/collaboration to get Pioneer DJ since 2017)
How To Connect?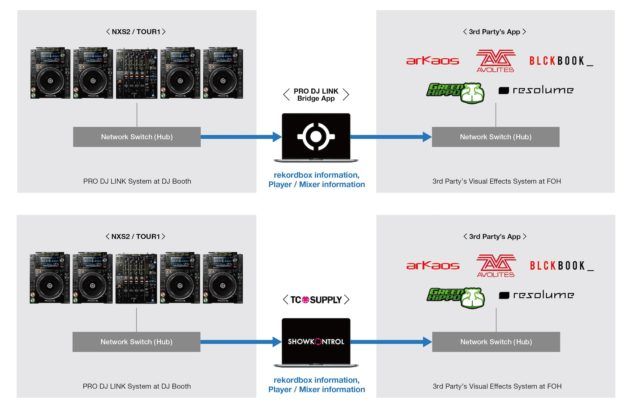 To use this connection, you'll need to download the Pro DJ Link Bridge app, which runs on the same network as your DJ setup, and parses the information over to various software solutions. (If you're using TC Supply's ShowKontrol, you don't need to run the Bridge app).
It also requires an updated firmware on the compatible hardware (CDJ/DJM-TOUR1 or NXS2).
What About Homebrew Solutions?
Make no mistake: Pioneer DJ must know about the several projects on GitHub that utilize the Pro DJ Link information to do useful things. Pioneer DJ's new licensed solutions will (we hope) not get in the way of these projects, many of which are useful and fun tools. Stay tuned for a full overview of these projects in an upcoming DJTT video.
The news here is more for people looking for complete, finished solutions and integrations for club and festival scale performances. It would be a shame if this also came at the cost of locking out creative coders from making their own cool projects.