DDJ-200: Pioneer DJ's new $149 beginner controller – built with Beatport streaming + smartphone DJing in mind
Remember how last week, electronic music blogs were excited to announce the clickbait misunderstanding that Pioneer DJ was "exiting the DJ business"? Today's announcement proves that nothing could be further from the truth, as Pioneer DJ announces their brand new DDJ-200 controller, designed to be their newest entry level beginner DJ controller.
They're also announcing the new version 2.0 of WeDJ for iPhone which includes direct streaming library integration with the Beatport LINK streaming service (more on that in this article).
DDJ-200 + WeDJ for iPhone
Controller: DDJ-200
Manufacturer: Pioneer DJ
Price: $149
Availability: Mid-May 2019
It's pretty wild to see Pioneer DJ pack so many features and offerings into what is now the cheapest DJ hardware that they offer – here's a quick roundup of the features:
Designed to work with smartphones (via Bluetooth 4.2)
USB bus powered (there's a single USB-B port) – which can be powered with basic 5v USB power banks (like for charging your phone).
Compatible with WeDJ, edjing, djay, and rekordbox apps
Tutorial functionality when used with WeDJ (summarizes the basics of the DJ hardware) as well as a "Pop-Hint" feature that explains each button's function on the hardware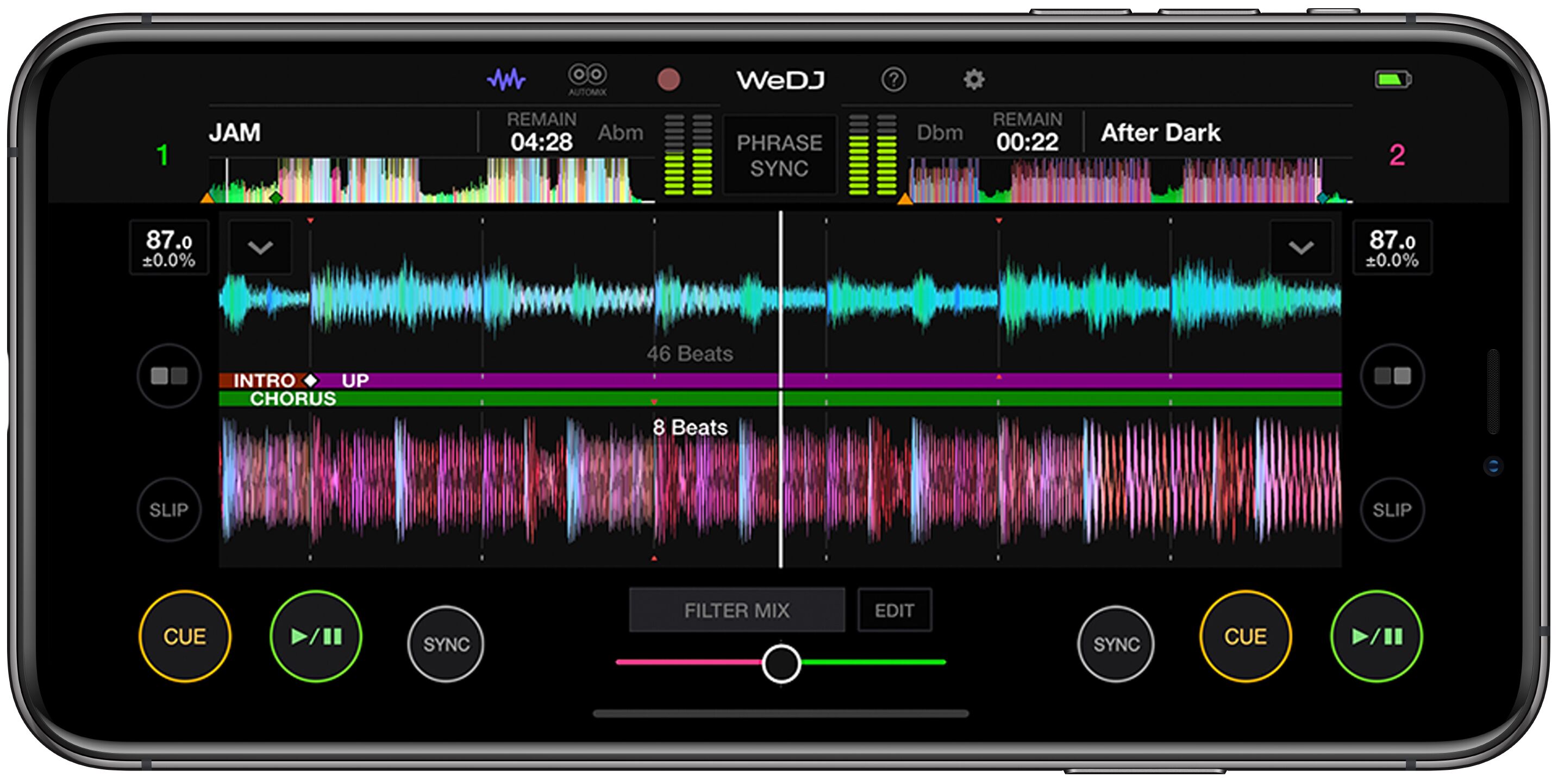 Phrase Sync: this is more of a feature of WeDJ for iPhone than of the DDJ-200 – it aligns the start and end positions of phrases in the loaded tracks.
Transition FX: another WeDJ feature that applies one of 11 patterns to transition from one track to another when you move the crossfader.
The DDJ-200 Solves Beginner DJ Problems
What makes an ideal beginner controller? Generally, there are three problems that most people starting a DJ hobby have to solve:
creating/organizing a DJ music library
learning how to use gear
keeping a low investment cost
The DDJ-200 product launch seems targeted to answer each of these problems:
Music: One of the main questions that many people who are considering starting a DJ hobby ask is "can I use my Spotify library?" – because one of the hardest transitions for a lot of modern music consumers is moving back to an era of physical file ownership.

To use the DDJ-200, you can plug it right into your iPhone and with the WeDJ app, mix songs locally from iTunes or stream them from Soundcloud Go+ and Beatport LINK. Beatport also recommends Algoriddim's djay iOS/Android app to stream tracks from Spotify Premium, or edjing to load tracks from Deezer.
Learning: As outlined above, the WeDJ app seems really oriented towards learning to DJ. While "Transition FX" and "Phrase Sync" might really irk some longtime DJs who will decry these features as cheap/cheating, the reality is that emulating a professional DJ workflow creates a template for learning.
Investment Cost: $149 is about as low as you can go with DJ hardware and still get a full set of controls that feel decent. I've played on the DJ2GO2, and found myself loving the portability but sorely missing dedicated features (channel faders and EQs, anyone?). With the DDJ-200, Pioneer DJ really wants to cement themselves as the budget entry point and immediately get users inside of their own ecosystem. This is key – unlike the insanely popular DDJ-SB models, the DDJ-200 is really focused on Pioneer DJ's software, and there's no mention of Serato anywhere in this release.