Ever seen spiral art in action? The basic concept focuses around using a spinning canvas platform that you apply paint onto, creating unique patterns and geometric shapes.

Now imagine spiral art taken to the modern digital era – that is exactly what one intrepid DJTT community member and programmer has done. Meet Jeffrey Alan Scudder, an artist who has built a fascinating software for creating spiral art using the Midi Fighter Twister. Watch the video below for an overview, and then keep reading to learn more.
Dr. Dot = Spiral Art Mayhem
How To Start Painting Right Away
Midi Fighter Twister owners can download the linked configuration file and load it using the Midi Fighter Utility app. Then, visit this URL in Google Chrome to start painting: http://dr.dot.justanothersystem.org. Watch the video above and refer to the control layout below:
Why Build This Tool?
I built Dr. Dot to demonstrate my own theory of picture resolution and to build an animated painting called Tumpin, but quickly realized that it was also an impressively expressive instrument for live painting and spiral art. Below is some footage of the dance party I just VJ'd a few days ago at https://dwebcamp.org, where the whole dance floor began to engage in an interactive feedback loop with my spirals.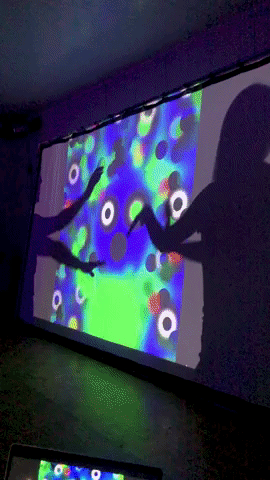 At the same time, it is also been an incredibly useful tool for dot painting in my studio:
How Did You Build It?
Dr. Dot was developed in vanilla JavaScript, using WebGL and a MIDI Fighter Twister. I started making experimental drawing and painting programs about 10 years ago and often give lecture shows to demonstrate all this software and the ideas behind it.
Dr. Dot is the first time I've been able to synthesize my personal software suite into a form that could be used for live performance. More than a tool, Dr. Dot presents a new type of instrument that is suited for the performers, dancers and party-goers of today.
It's like Kid Pix for grown-ups!
Jeffrey travels and spends his time performing, programming and making pictures. Since 2016 he has given over 65 lecture performances on Radical Digital Painting and related topics in the US and in Europe, often with collaborators Goodiepal & Pals, Julia Yerger, Artur Erman, and Casey REAS. He has taught at UCLA and Parsons The New School for Design and worked previously at the design studio Linked by Air. Jeffrey received an MFA in Sculpture from Yale University School of Art in 2013.