Finnish DJ and recording artist Yotto specialises in the clean, precise house music that exists in the space between deep and progressive. One of Anjuna's breakout acts, his productions get plays from DJs including Sasha, Laurent Garnier, Annie Mac, and Jamie Jones and he has lent his remixing skills to artists like Gorillaz, Coldplay and Röyksopp.
His is house music that delivers emotive chord sequences, melodies, counter melodies and carefully constructed peaks and troughs, all underpinned by restrained, efficient percussion. Yotto's DJing style mirrors his production: smooth, crisp and with a high degree of musicality.
Who is Yotto? This producer has built up an impressive discography. He's released on Anjuna, as well as Joris Voorn's Green Records, Global Underground and Toolroom. He's made remixes for Sasha's Last Night On Earth, Bedrock, and SoSure. As a DJ he's travelled the world, playing in Ibiza, New York, London, Miami, Mexico City, Moscow and is about to embark on a DJ tour of the US and Canada.

This year, Yotto launched a label – Odd One Out – and had three summer releases, the debut 'Shifter', second single 'Nova', and just released 'Is This Trance?'. We managed to get hold of Yotto just before he begins the next leg of his tour to quiz him about the art and craft of DJing.
Turn On This Mix And Keep Reading:
DJTT: First off, please introduce yourself and share a little about your history in DJing and production?
I'm Yotto, hailing from Finland (which actually exists). I make music that I want to make and play that music in dark rooms. And sunny parks. And sometimes to my dog. I started making music when I was maybe 14, trying to copy The Chemical Brothers and Moby. DJing came next as a great way to perform the music I make and the music I love.
How do you approach DJ gigs? Do you have a clear idea of what you want to play?
I usually have an idea of some of my own tracks I want to play, especially at shows where people buy tickets to see me, they generally want to hear the music that made them buy the ticket in the first place. I build the set around those tracks but never really plan anything, it always happens once I get to the venue and get started.
I'm completely unable to build a set beforehand, you never know what is going to work at a specific moment of the night before the moment comes. In my head I like to be 2-3 tracks ahead but not more than that.
you never know what is going to work at a specific moment of the night before the moment comes
Some DJs fade one tune to another, others re-edit live and apply lots of effects – what is your DJing style?
I loop a lot of stuff and enjoy long mixes, but sometimes I enjoy just smashing a track in for a little shock effect. I used to overdo effects when I was using Pioneer DJM [mixers] but switched to a XONE:96 because I have that at home and it makes me concentrate a bit more instead of washing too many effects on everything.
What gear do you play on, and what do you bring with you to DJ gigs?
Right now I'm on a very light setup of USBs stocked with digital files and every now & then I add FX pedals to the mix. The main setup is very simple, 4 CDJs, Allen & Heath XONE:96 and often an Eventide H9.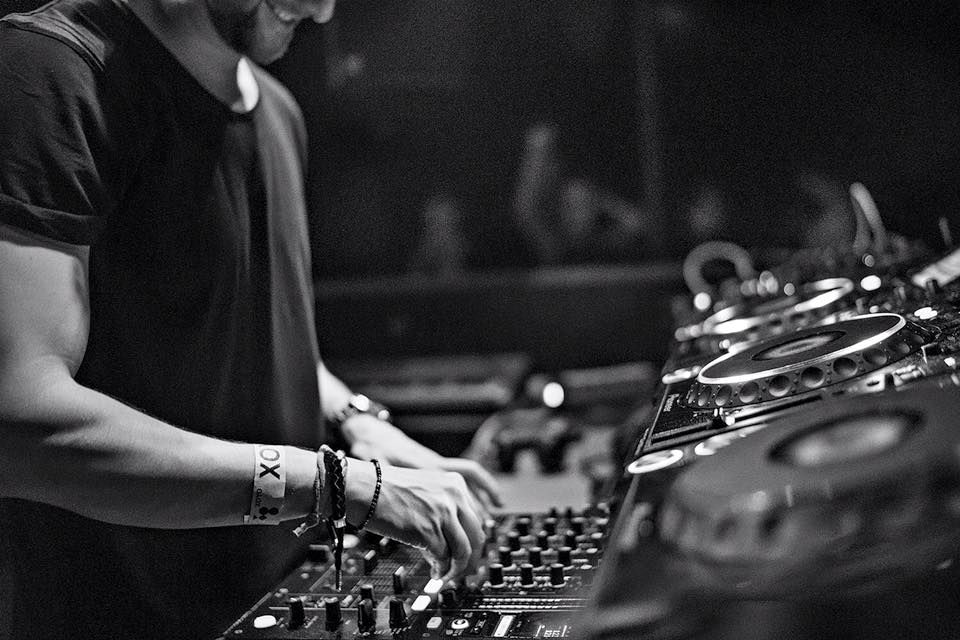 Do you have any particular tricks or techniques you like to use when DJing? Do you ever do live re-edits, create your own breakdowns using the effects, use three decks or acapellas etc.?
My favourite thing is having 2 tracks running and putting them under the same filter for a relatively long time, then bringing the low end back from a different track than where it was in the beginning of that makeshift breakdown; and acapellas for sure, they give new context to tracks.
Do you have any advice to young DJs regarding using the EQs or filters?
I try to keep the EQs dry when I'm playing so the tracks are heard as the producers wanted them to. When mixing I'd be careful with overlapping low frequencies, there can be phase issues with kick drums and annoying stuff like that.
But I do recommend just playing around as much as possible and finding your own favourite methods. With good filter and EQ combos you can isolate a lot of cool elements from tracks that exist in the low & high mids.
With good filter and EQ combos you can isolate a lot of cool elements from tracks
What advice can you offer to aspiring DJs regarding hunting for music?
Take your time, it's a never-ending hunt. But rewarding when you find something nobody is playing. Also, you need to have a healthy relationship with music from the past, that's usually where the gems are.
What is it that makes a record work on the dance floor?
A vocal or a melody you will remember the next day or functionality that has been tweaked to perfection.
How much does your DJing experience affect how you make your music?
A lot – I produce usually with musicality and hooks first but after I have the musical idea nailed, I start adding and removing things, thinking [about] what would help the track perform better in a club.
What synths and software do you use to get your signature sound?
I think a combination of dirty analogue sounds with clean, accurate digital stuff create the best results. They exist in a different space and work together well because of that.
My Prophets and Moogs are definitely toys I could not live without, especially the new Subsequent 37 which has been finding a lot of use in my studio lately.
I think a combination of dirty analogue sounds with clean, accurate digital stuff create the best results.
Tell us your favourite place to DJ:
An intimate, 500 cap room with a great sound system or a venue that's not built for dance music. I recently played this amazing place in Sydney which was like a large patio in the middle of all these high-rise buildings which made it look and feel very special when it got dark.
What's the worst or most challenging thing that's happened during a gig?
EMERGENCY LOOPS, they are just stupid. In 2019 CDJs should be able to buffer a full song and not just a partial loop. Technical problems are always the worst because you're usually quite exposed and helpless.
Can you tell us one of your very best DJ moments?
I was on my first US tour in 2015 and had just finished a track called Personal Space. I played the final version for the first time that night to a very memorable reaction and after finishing the set I walked out of the club to emails saying it was Pete Tong's Essential New Tune – something I had always looked up to. That was a gooood day.
Stream Yotto's latest release, "Nova", here on every platform.

Follow Yotto on various other social sites: Facebook | Instagram | Twitter | Spotify