DJ2GO2 Touch: Numark Updates Portable DJ Controller With Capacitive Jog Wheels
In the lead up to NAMM 2020 (which starts next week), we're going to be covering a lot of new gear that's set to hit the DJ market. Here's the first one: Numark's DJ2GO2 Touch, which is an incremental update of Numark's hyper-portable pocket DJ controller. It's largely the same as the last iteration, but with serious update to the jog wheels.
DJ2GO2 Touch
This being a budget, beginner-minded gear release, it wouldn't be right unless there was a release video of teenagers using it at a party, right? Maybe some airhorn, too? Don't worry, Numark has us covered:
DJ Controller: DJ2Go2 Touch
Manufacturer: Numark
Price: $79 (same as the previous model)
Release Date: January 2020 (exact in-store unknown)
This new unit vs. the first DJ2GO2
What's the big difference between the last model and this one? It's largely a change in the quality of the control surfaces.
The new capacitive jogwheels are a big one – they're now touch sensitive like you might find on controller that costs more than $100 (note the small but significant scratching moment that actually happens in the promo video above).
"Beginner and professional DJs can perform light to heavy scratches and blend the mix by nudging the side of the capacitive touch jog wheel." – Numark's Press Release
What we don't know yet: Are the touch-capacitive jogwheels any good? While they're certain to be worlds better than the older DJ2GO2 platters which felt incredibly toy-like, can you really expect great responsiveness from a $79 controller's jogs? We'll find out when we get hands on.
You can also tell just by looking at the comparison image that Numark has updated the materials used – going with more of a brushed look on the faceplate, changing the crossfader to more standard, non-tapered design, and slightly changing the knobs on the Master Level, Cue Level, and Browse controls.
What About Streaming?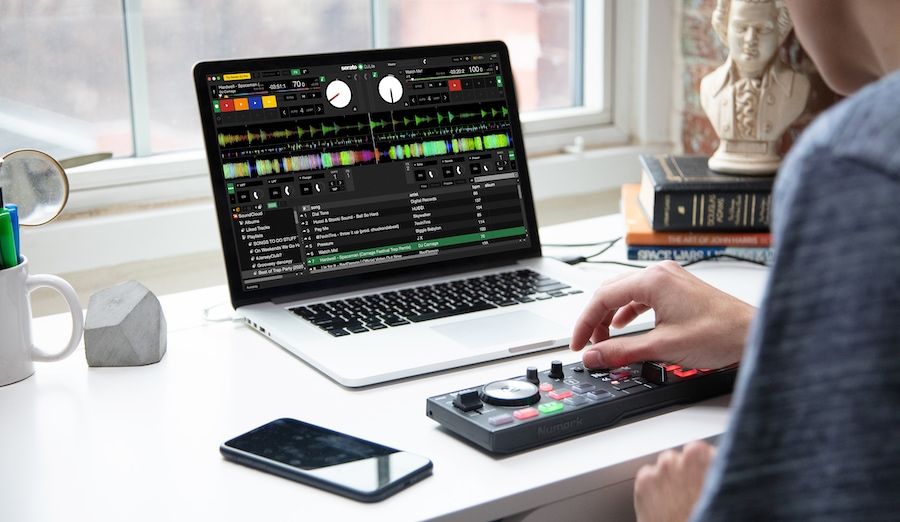 Yes, there's lots of talk of streaming music support in Numark's press release – but remember, that's all software based. A Serato DJ Lite / Intro license has been included on both versions of this product, and nothing about the unit itself has changed to be better for streaming.
More To Come?
This is the first new gear we've seen from Numark since the Scratch mixer back in June of 2019. It's enough to feel like the brand has finally seen some significant attention from their InMusic owners, and that there's a chance we could see even more from the budget-conscious brand at NAMM and beyond.
Stay tuned for more NAMM 2020 news – we're certain to see a lot of exciting announcements over the next two weeks!