After releasing a teaser of their new CDJ last week – Pioneer DJ has officially announced the CDJ-3000. Four years after the CDJ-2000NXS2 was released in early 2016, the media player has been highly anticipated by many DJs.
Meet the CDJ-3000
Gear: CDJ-3000
Manufacturer: Pioneer DJ
Price: $2,299
New players, fresh features
A faster, more advanced processor
The CDJ-3000 features an MPU unit with heavy-duty processing capabilities – the first time it's ever been placed in a Pioneer CDJ – to make the system run faster and the new features run smoothly. It has two chips inside of it – which account for some of the more processor-heavy actions like track preview (even while a track is playing) beat jumping, key sync/matching, faster track loading, and more.
Upgraded audio design
The internal audio calculation processing on the CDJ-3000 has been upgraded to 96 kHz/32-bit, and usable with all audio formats. The updated technology also comes with a new Key Shift function (more on that below), variable speed playback, and master tempo controls.
No more CD slot: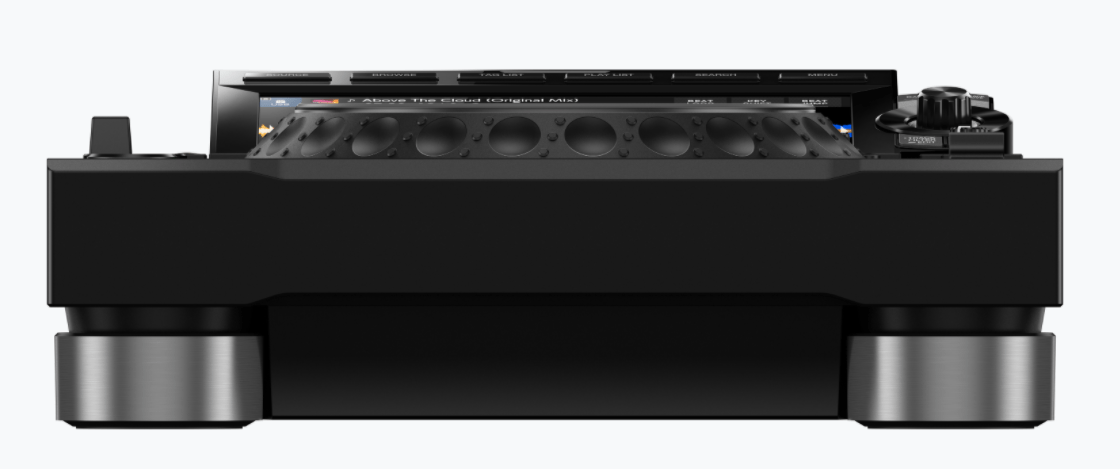 A larger, 9-inch touch screen
A bigger screen makes it easier to browse your library and make musical moves as you're DJing, so this new 9-inch touch screen is a great feature to see. As a DJ with not-so-great eyesight, I appreciate this.
Redesigned hardware controls
Playlist and Search buttons – placed above the screen to quickly access your go-to playlists and easily browse your library
More hot cues – a total of 8 hot cue buttons now live under the screen for ease of access
Beat Jump buttons – jump forward or backward in your track in beat periods of 1/2, 1, 2, 4, 8, 16, 32, and 64
Advanced Auto Beat Loop button – an upgrade from the NXS2's 4-Beat Loop control, the 8-Beat Loop button doubles your looping capabilities
rekordbox and iPhone compatibility
No matter how you like to DJ, there's probably an option here for you. You can plug your laptop in and play your rekordbox library directly, play off a USB or an SD card, or – as long as you're using the most updated version of rekordbox – even plug your iPhone into the CDJ-3000 with a USB cable and mix tracks directly from the phone.
The CDJ-3000 also serves as a rekordbox Hardware Unlock device, so you can use their software on Performance mode (even if you have the free subscription of rekordbox 6.0).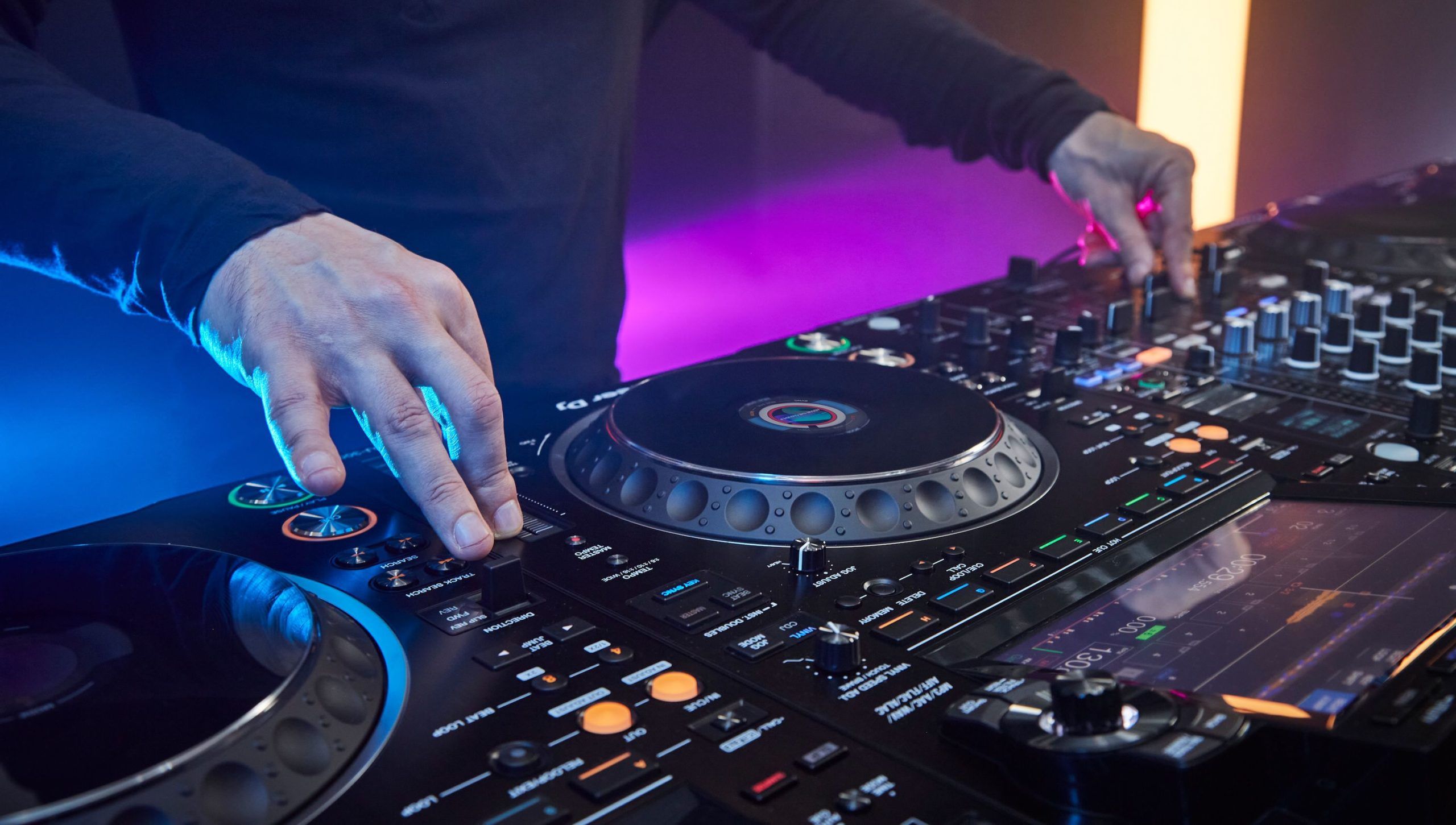 Major workflow updates
An array of new software features have been added to the CDJ-3000. A few of the most significant ones involve being able to quickly listen to your tracks, whether it's the one you're currently playing or others from your playlist you're interested in hearing, and powerful key-syncing capabilities.
Touch Preview
You can now jump around and listen to any part of your track by touching the waveform where you want to listen. If you're connecting multiple CDJ-3000s with the Pioneer DJM-V10 or DJM-900NXS2 mixers, you can use Pro DJ Link to preview tracks on the opposite player as well.
Touch Cue
Trying to listen to a different part of the track you're currently playing? Touch Cue lets you do this now, which is particularly handy if you're thinking about how to mix out and want to hear the breakdown or outro. All you need to do is touch the waveform, similar to Touch Preview.
Waveform updates: stacked views & 3Band Support
The CDJ-3000's enlarged screen enables you to see both the current track and the cued track all in one place as they stack on top of each other, simplifying your mixing process without needing to move too much between CDJs.
3Band Waveform software is also included here, which analyzes your tracks and shows the volume of a track's frequency bands with various colors.
Mixing in key made easier
If you're a fan of key mixing and harmonizing, this is huge: two new features, Key Sync and Key Shift, let you shift an incoming track's key to the current track playing.

Six player link
This appears to just be the case with CDJ-3000 units (no backwards compatibility), but you can connect 6 total players together via Pro Link. Makes sense considering the DJM-V10's channel count…
Tech & hardware specs worth noting
On the technical side, take a look at some of the latest upgrades:
Advanced MPU with significant processing power
Pro DJ Link with Gigabit Ethernet
Significantly more screen brightness – able to be increased higher by 150% compared to the NXS2
Heavy-duty build, including an aluminum top-plate and redesigned play, cue, and Hot Cue buttons meant to withstand tougher environments
A redesigned, smoother-to-the-touch jog wheel, with half the touch latency of the NXS2
Versus the competition
There's one reality about the CDJ-3000s: many of the upgrades seem to aiming to reach feature parity with the SC5000/SC6000 models. We'll have a full review of the CDJ-3000s in the next few days that will dive into this comparison between Denon DJ's Prime offerings and this new Pioneer DJ player.
There's a lot to be excited about for Pioneer-oriented DJs who have lusted after the Prime players but not decided to make the switch – higher quality jogwheels, a bigger screen with high-res waveforms, dedicated look controls, key sync, and more.
The Prime players continue to be more "bang for your buck" – coming in at a price point far below these Pioneer DJ players, and with a heftier feature set (dual layer being the clear difference here – these CDJ-3000s only have one layer per unit). There's no onboard analysis, no wifi, no streaming services unless you have your laptop and Rekordbox DJ nearby.
We're guessing that Pioneer DJ is mostly hoping that club life / festival life will go back to normal soon, and that touring DJs and venues will continue to have Pioneer gear in their booths and riders, including this new model. That's a big if, especially for those of us in the US right now.
At the same time, considering supply shortages, we're betting that this is a total replacement and that the CDJ-2000NXS2 won't be sold again – to be replaced entirely by these units. Like it or not, these are Pioneer DJ's new players.
They're also making a limited edition in white
Not much to say here, but it looks pretty nice in white. We'll have a handful of these in the DJTT store too – preorder here at a slightly higher price – $100 more.
Price and availability
Pioneer DJ's CDJ-3000 is available for presale now for grabs now, sitting at a hefty price of $2,299.
Keep your eyes peeled for a first look at the gear, coming from DJTT soon. What's your take on the CDJ-3000, would you buy it? What impresses or doesn't impress you? Sound off in the comments.