Beatport DJ, new web-based app, streamlines workflow for crate digging, set curation, & track prep
Many DJs are well aware of the workflow pain point that comes with finding and prepping new tunes – crate digging, track-buying, transferring-to-your-performance-software, then loading to your USB process. It's not a simple one, and it can be time-consuming. Well, Beatport has recognized this – and today, they've released a potential solution: Beatport DJ.
Beatport DJ is a browser-based application that simplifies the user workflow. Beatport LINK subscribers can utilize the platform to browse tracks, build and search playlists, and audition full tracks. Yep, this means you can layer two songs to see if they flow well without loading them out to your USB and onto your gear.
The goal here is simple: streamline the workflow for Beatport users.
Jonas Tempel, Founder and Chief Revenue Officer of Beatport, explained:
"BEATPORT DJ is a very powerful tool for all DJs and a must have for LINK subscribers. We designed the software to solve the cumbersome workflow challenges of music discovery and building LINK playlists. On top of that, we know our customers need to audition the tracks to make sure the song fits in their sets. Our solution combines a host of advanced web-based technologies to give users a truly effortless experience that you would expect from dedicated desktop software. To take it even further, we made it possible to connect select midi controllers via USB and bluetooth from our LINK hardware partners. In every way possible, we have exceeded our goals with this project."
---
A better, faster process
This is huge, as it no longer requires the multiple-step flow of finding tracks on Beatport, purchasing and downloading, loading into a performance software like Rekordbox and then getting to test them out – and eventually loading them on to a USB for your gig.
Track demo'ing on your browser
Want to try out two tracks layered on top of each other to see if their transitions sound good? Yep, no problem. It's similar to a Rekordbox flow, but all usable on a web browser.
Instant track access
It doesn't stop there, either. If you have a Beatport LINK account, you can stream the tracks directly on your performance software instantaneously.
Let's say, for example, that you've created a new playlist on your Beatport DJ account while you're flying to a gig – because all you need, after all, is internet access. You don't have time to download all of these new tracks from Beatport and load them onto a USB before you head to the club. As long as you're signed up with LINK and Beatport DJ, you'll be able to open rekordbox when you're ready and the playlists will be accessible right there.
---
Exploring on Beatport DJ
Smooth navigation
The ultimate goal with Beatport DJ is to streamline the workflow – and the on-web ability to audition tracks makes this insanely easy. The program also offers new navigation and exploration capabilities that allow you to dig through labels, artists, and genres with ease. You can sort by key or BPM within playlists, favorite the genres you love, and customize your process as much as you'd like.
The "collection" tab also allows you to access any and all tracks you've purchased on Beatport, ever – and it's also sortable by filters.
Automix
The new "Automix" feature on Beatport DJ does, well, exactly that. You can toggle Automix to "on" within the browser, and it will transition through tracks within your playlist. It's a great way to test tracks out, play tunes in the background as you want to get to know them, or for finding new tunes without manually needing to click through each of them. This has often been a pain point of my own Beatport crate digging, so it's fantastic to see this feature integrated.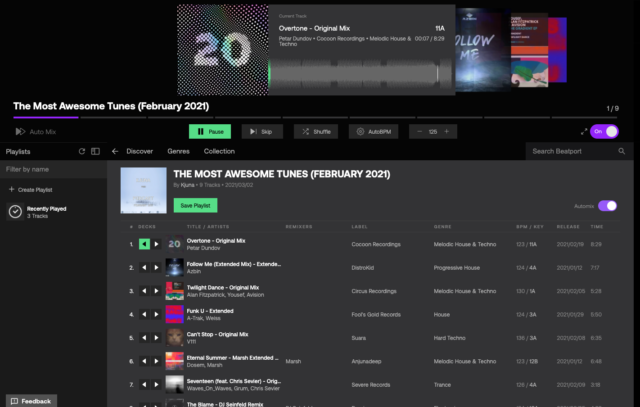 MIDI compatibility
Self-explanatory, but worth noting: Beatport DJ is also MIDI-compatible.
---
Getting Beatport DJ
If you're an existing LINK, LINK PRO, or LINK PRO+ subscriber, you'll have instant access to Beatport DJ. It's also integrated with LNIK partners, including Algoriddim djay, Denon Engine OS, Hercules DJUCED, Pioneer DJ rekordbox and WeDJ, Serato DJ, PCDJ, and TRIBE XR.
Beatport DJ is currently usable on any Google Chrome browser. Safari will eventually be added later this year, and a mobile app may be forthcoming as well. The Beatport team also plans to add new features down the road based on initial user feedback.
The software is available for all levels of Beatport LINK subscribers. If you don't have an account yet, the company is currently offering a free 30-day trial of any LINK subscription tier at link.beatport.com.
You can try out Beatport DJ in Beta here. Give it a spin and let us know what you think!