We Tested 3 Online Music Creation Tools You Can Try In 2023: Soundful, Soundtrap + Soundation
In the 2020s, it seems that everything costs a monthly fee, and everything is connected to the cloud. For better or for worse, DJ software is no different, with the advantages of cloud storage, music streaming, and library syncing coming with a highly-divisive subscription price for more and more of our best DJ software options.
Whether you already make your own music or plan to start producing, music-creation DAW software is also taking a turn toward the cloud-based, monthly-priced future. While the concept of an online DAW that runs inside a web browser and stores files on offsite servers rather than your own computer goes back many years, until recently, the browser-based DAWs available were typically unwieldy and too limited to take seriously.
However, the latest developments to both Soundation and Soundtrap Studio prove that online music tools have come a long way. Both of them provide powerful enough performance and ample enough instruments, effects, and recording features for high-level music production, while making online remote collaboration easy. 
At the same time, a discussion of modern music tools is hardly complete without mentioning the specter of artificial intelligence. AI for mixing and mastering music has become commonplace, but is it about to take over music creation altogether? The new Soundful service generates full tracks with AI in a single click and lets you monetize the results if you can.
Soundation, Soundtrap Studio, and Soundful all have free limited versions, as well as multiple tiers of paid subscriptions, and they all have names that sound way too much alike. I tested all three to discover where the state of online music creation is in 2023.
---
What it is:
Browser-based DAW
Key Specs:
12 virtual instruments: 3 drum machine/beat samplers, 7 synthesizers, and 2 sampled instruments. 
16 audio effects: dynamics, reverb, delay, EQ, filters, modulation, and distortion effects, as well as a pitch-correcting effect for auto-tuning vocals or other monophonic audio.
Drop your own samples straight into a project channel or into the Beatmaker sequencing drum machine. 
Audio recording from devices' built-in mics or from hardware audio interfaces.
Real-time remote collaboration with other Soundation users.
Tutorials and free example projects for learning music production. 
Pricing Tiers (per-month prices are lower if billed annually):
Free: Instruments and effects, parameter automation, MIDI controller support, project and clip MIDI and audio export
Starter, $9.99/month: 10 projects; 2,000+ loops & samples; 10GB storage
Creator, $14.99/month: unlimited projects; 15,000+ loops & samples; 100GB storage
Pro, $49.99/month: unlimited projects; 20,000+ loops & samples; 1TB storage
Soundation is an online, browser-based DAW that provides many of the most common and essential features of a desktop software DAW but in a web app that doesn't require any installation or updating. One key difference is that you can't use it with third-party VST/AU instrument or effects plug-ins. However, a big advantage comes with its easy, real-time online collaboration with other Soundation users. You can share a collaboration link or a listen-only link to your music projects for others to work on or listen to.
The searchable Sound Library includes instrument presets, beats, MIDI melodies & chord progressions, and a selection of loops and samples that varies according to your subscription level. There are also genre-based sound packs representing a wide array of classic and current styles and sub-genres for inspiring your ideas.
Its included synthesizer instruments comprise a lot of different options for polyphonic and monophonic synths, virtual analog and FM synthesis, and purpose-built instruments like the Wub Machine for making dirty, fat, wobbly sounds particularly suited for bass music, or the Noiser for making white-noise risers, downlifters, and more. The synths all have preset sounds to choose from, and the sampled instruments have selections of sampled acoustic instruments, like pianos, organs, strings, brass, etc. Drum machines cover sampled kits and classic drum machines inspired by the vintage Roland TR series. You can also get Reason Studio's awesome Europa synth, but it costs another $30/year on top of your subscription price.
The library's browser shows you many recommended sample packs, labeled by genre, mood, BPM, etc. You can audition these sounds straight from the library and drag them into a project to launch them into a new track.
Helpful tools include tutorial videos on aspects of music productoin and free projects of well-known tracks that you can study to learn more about arrangement, mixing, etc. Some projects included Billie Eilish "Bad Guy" and Dua Lipa "Physical." Other tutorials focus on how to make genres like trap, lo-fi, and others.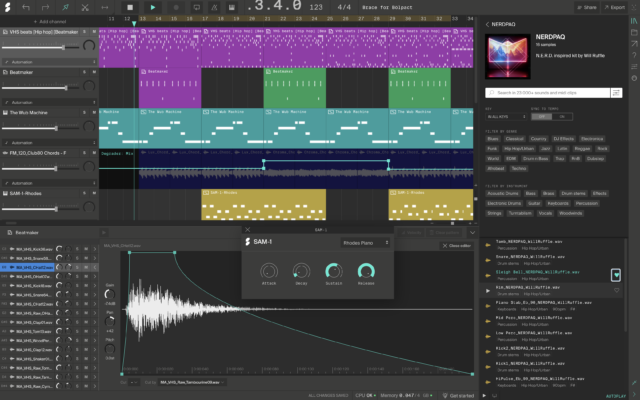 Soundation In Use
You can work within Soundation in a browser like Chrome very similarly to how you work with a desktop software DAW. It uses many key-command shortcuts that match the familiar shortcuts like Command-D for Duplicate, or Option-dragging a clip to copy and drag the clip somewhere on the timeline. Many other features work just like other DAWs, such as moving/extending the loop region of the timeline and MIDI note editing.
Soundation's one-window interface is also flexible like a desktop DAW. It can expand to full screen; instrument/effect interfaces can pop out for editing parameters; and areas like the sound library and the selected track's instrument/effect chain can collapse to save screen space.
While working on music, I was impressed by the speedy responsiveness of Soundation's interface. I also found its variety and quality of sounds on offer from its sampled instruments, synthesizers, drum machines, samples, and effects to be a diverse and well-rounded palette for seeing musical visions to fruition. For anyone just starting out in music, this may seem like a sonic amusement park. However, it's not at the point of rivaling what producers are used to if they have for example, Ableton Live Suite's instruments, some high-end synth plug-ins, and a decent collection of, say, Kontakt sampled instruments.
To Soundation's credit, the Beatmaker sequencing drum machine provides a powerful and very efficient tool for creating dope beats fast, which even Ableton Live doesn't have unless you also have its Ableton Push hardware. Soundation's Beatmaker doesn't have as many sophisticated options for crafting beats as some DAWs, such as Logic Pro's beat sequencer, but it is one of Soundation's best and most immediately gratifying tools.
Beatmaker's drum kits in the Beats section of the sound library also already sound well mixed together and have levels and pan positions set, so you don't have to fuss with their mix too much if you don't want to.
For playing Soundation's instruments, there's a virtual keyboard you can play with the mouse or the QWERTY keyboard, and can use MIDI keyboards and record audio from any available audio input. There are MIDI mappings that support more than two dozen popular MIDI controllers from Akai, Arturia, Novation, Native Instruments, Korg and more. I was able to choose my Native Instruments Komplete Kontrol S49 MKII in the MIDI panel to use it as a controller. Unfortunately there was some latency to recording MIDI tracks, which is one thing you don't get from a good desktop software DAW. In most cases, Soundation's quantizing or some light MIDI note editing was enough to make up for any inaccuracies caused from the MIDI recording latency.
---
What it is:
DAW with browser-based, Windows, MacOS, iOS, and Android app versions
Key Specs:
Over 5000 loops and sounds to use in your music. 
Sequencing Beatmaker drum machine and a virtual instrument with hundreds of sounds
Audio recording from devices' built-in mics or from hardware audio interfaces
Import your own audio files into a project channel
Collaboration with other Soundtrap users including in-app video chatting and text  comments within a project
Video tutorials and Soundtrap community access
Pricing Tiers (per-month prices are lower if billed annually):
Free: Unlimited projects, nearly 5,000 loops, 440 instruments and sounds, new sound packs every second week, 150,000+ sound effects from Freesounds.org
Music Makers Premium, $9.99/month: All of the above plus nearly 20,000 loops, 890 instruments and sounds, 808 instrument, Antares Auto-Tune, parameter automation, remote interviews
Music Makers Supreme, $14.99/month: All of the above plus nearly 23,000 loops, 950 instruments and sounds, high-quality downloads
Storytellers, $14.99 /month billed monthly: A mixture of Music Makers features plus features specific to podcasters such as text transcripts and publishing podcasts directly to Spotify
Complete, $17.99/month: All of the Music Makers and Storytellers features combined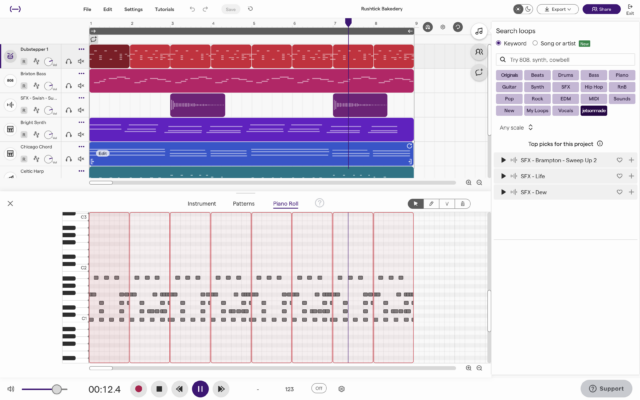 Like Soundation, Soundtrap Studio works as a browser-based DAW for making complete songs using samples, virtual instruments, and your own recorded audio. In addition, Soundtrap comes in Windows, Mac, iOS, and Android versions, and your stored projects can be swapped between any version so that you can work on them anywhere. (It's basis is still a web app, which makes it unable to work with VST/AU instrument or effects plug-ins.) Other Soundtrap users can collaborate remotely with each other, and the cloud stores a version history of the projects, so you can go back and recall older versions if you wish. Soundtrap includes extra collaboration features such as video chatting with your partners and leaving text comments within the projects.
While Soundation's interface achieves a very good facsimile of a full desktop software DAW on a browser, Soundtrap's interface goes for a little more streamlined approach that simplifies the options somewhat. For instance, instead of offering multiple drum machine, synthesizer, and other virtual instrument types, Soundtrap has one Beatmaker instrument for drums, and one virtual instrument for playable pitched instruments, and it includes all of its hundreds of preset sounds within those two interfaces. Its sounds are still just as varied and high-quality, comprising many synthesizer, keyboard, orchestral, bass, guitar, brass, and other instruments, but the virtual instrument interface does not has as many editing and sound-tweaking options as those in Soundation or most other DAWs and plug-ins. Also, the Soundtrap Beatmaker drum machine doesn't have individual volume and pan settings for each drum sound like Soundation has.
That doesn't mean, however, that Soundtrap is less capable of pro-sounding results. It's a very capable platform with high-level production in mind. Case in point: paying Soundtrap users get access to Antares Auto-Tune, the industry standard for vocal pitch correction. Soundation by contrast does have a vocal pitch-correcting effect, but it's not as robust as the OG Auto-Tune.
Spotify acquired Soundtrap in 2017, and today Soundtrap has a special set of podcasting features (for certain subscription tiers), such as podcast templates, the recording of remote interviews, text transcription, and—best of all—the ability to publish podcasts directly to Spotify. You need a Spotify for Podcasters account to get stats and analytics for those podcasts.
Soundtrap Studio In Use
I tested Soundtrap with the browser-based version in Chrome and the iOS version on an iPad, and it was very cool and convenient to go back and forth between the two versions and pick up right where I left off. Using the browser version, I hooked up the Kontrol S49 MKII for recording and playing MIDI parts, and I didn't experience any latency with the notes.
Moving over to the iPad, I was able to continue to develop tracks, recording them on the onscreen touch keyboard. The iOS app has almost all the features the desktop browser version has, but some things are missing, such as the piano roll MIDI note editor, so I swapped back to the laptop later to edit a few parts.
While I mentioned some of the limitations of Soundtrap compared to Soundation, Soundtrap also has a grip of very useful features usually found in desktop software DAWs that Soundation does not have, such as changing the sound of the metronome and setting the count-in length for the metronome before recording begins.
Soundtrap also has a little more high-tech flare to it. Besides things like the in-app video chat, Soundtrap's libary browser makes suggestions for loops and one-shot samples that may go well with your current project, presumably from an AI algorithm.
And speaking of AI, that brings us to the next online music creation tool.
---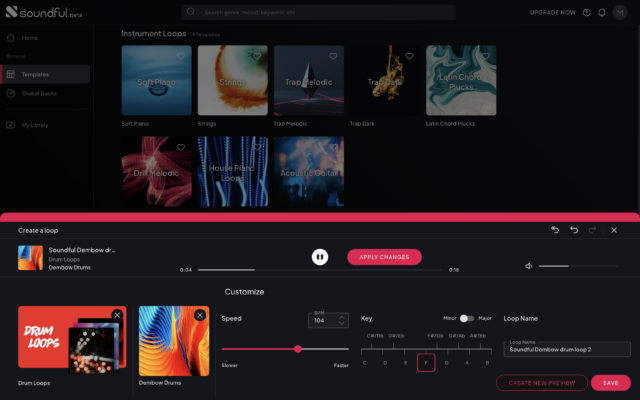 What it is:
Browser-based AI tool for creating full musical tracks, drum and instrument loops, and sound effects clips
Key Specs:
50+ musical genre templates
Downloads in MP3 and WAV formats
Stem packs in WAV and MIDI formats
Pricing Tiers:
Standard (free): 10 downloads per month, 1 stem pack per month, unlimited personal use and track creation
Premium, $89/year or $9.99/month: Unlimited track downloads, loop downloads, and social monetization, 5 stem packs per month, full copyrights available for purchase
Soundful is an artificial intelligence-based tool that generates full music mixes in many genres, as well as drum loops, instrument loops, and sound effects. It was still in beta as of this writing. As a user, your rights for what you can do with Soundful's audio vary according to your subscription. Paying members can use the audio in videos for social media and digital platforms, making it attractive for content creators. If you want to sell the music created on Soundful, you have to buy the copyright. That requires a Premium membership, and $50 per track. However, you can upload tracks to digital streaming platforms like Spotify and others without copyrighting them first.
The company says that every track Soundful generates is unique in at least some way. Results are based on dozens of stylistic templates. There are top-level genres, like RnB, Latin, EDM, and Hip-Hop, and then subgenres, like Pop>Pop Disco, Latin>Reggaeton, Hip Hop>LoFi Chill, and EDM>Deep House, and many more subgenres. Some of those genres were still listed as "coming soon."
Soundful In Use
To begin with Soundful, you click the create-track button, select a genre and a genre template, and it generates something within a few seconds. The few customize options are: track name, Speed (tempo), and key. Generated tracks are available from your library, where you can download tracks; share them directly to WhatsApp, Facebook, Twitter or Reddit; email a link; or just copy the link. You can also opt to create another track similar to any of those in your library.
For my first generated track I picked the Ambient template, and it came back with a 6:34-long synth drone ambient track. I listen to a considerable amount of ambient music on Spotify and Bandcamp from ambient artists whom I know are not algorithms, and I thought the Soundful track was decent and listenable. It wasn't remarkably distinctive though. I also tried the Ambient>528 Hz template. 528 Hz is commonly referred to as the "love frequency" and is popularly used in sound healing music. Again, the generated track was not the most moving of the genre I've heard, but it also was as pleasant as many other similar tracks I've heard and included ambient noises like rainfall and temple bells. It was not special, but not too bad.
However, for more complicated genres like Future Bass or Drum n Bass, I was less impressed. They certainly did fit the pattern of typical tracks in those genres, but didn't really include any out-of-the-ordinary sound design, arrangements, or funkiness. Other templates I tried like Tropical House, LoFi Chill, and Old School Hip Hop did not even qualify to be listed in those genres in my opinion.
The generated Trap track I got did sound like a trap beat. It was nothing that would supplant a great trap producer, but a young MC could rap over it if they couldn't afford to buy anyone else's beats. For what it's worth, the RnB Dance track generated for me was my favorite one due to its bouncy feel that a little more life to it. A good vocalist may actually be able to do something with it.
Unfortunately, so many of the generated tracks from many different genres just sounded like they're using the same synth presets, similar drums, etc. It's just all so sterile. The sounds in a Reggaeton track might as well have been the same as the Drill track for all I could tell; just the rhythms sounded different.
As a DJ, I would not have singled out any of the full tracks that Soundful generated as something I'd want for a set. While listening to many of them, I was imagining watching a product video on Kickstart or a montage scene during the schmaltzy, feel-good portions of an activist documentary. But that's really the point to this full-track creation. It's more meant to be inexpensive background music for content creators than music for someone to put their name on as an artist and distribute.
Fortunately for music producers, Soundful's Drum Loops, Instrument Loops, and FX sounds could be useful as building blocks for an artist's fully produced songs. The Drum Loops—Trap Drums, Trap Tops, Drill Drums, Drill Tops, EDM Drums, EDM Tops, and Dembrow Drums—come in about 15-30-second segments and often sound as good as many of the drum loops you find from soundware producers. Plus, at least there's a decent chance that they'll be unique to you when you get them, so in the hands of a creative producer they could be quite useful.
The same goes for some of the Instrument Loops and FX & Ambience. I got some interesting results in the Drill Melodic and FX categories. Also, because Soundful's stem packs, which separate the parts of generated audio to individual files, include MIDI files, producers can take the patterns and substitute the often-repetitive sounds with their own sound design.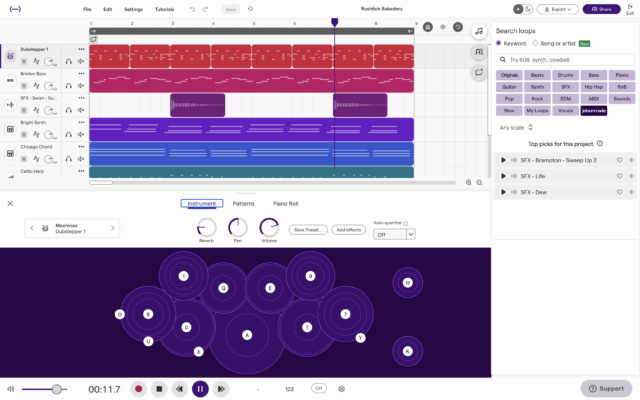 ---
Which Sound Is Right for You?
To sum up testing these online music-creation tools: all are powerful and at least interesting enough to try. Worth noting, though, that the AI music-generating Soundful does not directly compare to Soundtrap and Soundation, which are DAWs fully focused on making music creation more accessible to everyone, but don't do the work for you. 
Soundful as it stands today can provide producers with some unique building blocks, and it could suffice to give content creators fully-formed background music for an affordable price. However, don't think that it's ready to replace talented and original music producers. Maybe eventually AI will replace all the human music-makers because it's actually good, but we're not there yet. If AI generated music can do anything positive for human music, I hope it will encourage people to stand out by being wild, outrageous, daring, unique—all the good things humans can be, because apparently AI now has bland and formulaic covered.
When it comes to comparing Soundation with Soundtrap, both of them were impressive in their features and performance compared to where browser-based DAWs were just a couple of years ago. I enjoyed making music on both of them. While I'm experienced and invested in using traditional desktop software DAWs like Ableton Live, Logic Pro, and Bitwig Studio, and don't plan on switching away from them, I now consider online alternatives like Soundtrap and Soundation to be viable options for people—especially beginners—to conveniently access powerful music-making platforms without high up-front costs. They don't take up a computer's storage space and don't require updating. They also make collaborating with other musicians remotely over the Internet easy to initiate and a core focus of the programs.
These two DAWs differ a bit in their overall aesthetic in that Soundation feels more like an attempt to recreate existing DAWs for the cloud-based, subscription model world, whereas Soundtrap feels more like a streamlined mobile app scaled up for laptop production. Both of them lack a dedicated mixer window, which is their most glaring omission when compared to desktop software DAWs and one thing that traditional DAW users will more than likely miss.
I personally thought that Soundation's educational resources, such as tutorials and example projects from pros, were a little more robust that Soundtrap's. Soundation also costs less if you pay for a year at a time. However, Soundtrap's free version has one big advantage over Soundation's free version in that Soundtrap Free lets you create unlimited projects. But since they both have free versions to try, perhaps the question is whether you're interested in a subscription online DAW at all, or do you prefer to stick with traditional software?
Let's hear it: what are your thoughts on these three platforms? Have you tried any that you prefer more, or feel like they're lacking? Is there another tool worth choosing instead? Sound off in the comments below.