As a follow up to this jog wheel post last week, here are two more ways you can you can creatively re-use your jog wheels for tighter performance. Are you really going to scratch on a vci-100 or similar small jog wheel? Lets be honest with ourselves- most likely not. So what do you do the most during a song?
Adjust the tempo in small increments
Pitch bend a track
Then why not have your Jog wheel dedicated to those 2 functions?
The vci-100, for instance, has 2 zones. The outside area is for pitch bends:

the touch sensitive metal zone is used for scratching:

There are several problems with this concept including:
the pitch bend area is too small, so its quite easy to accidentally trigger the touch sensitive zone (stopping the song because you have just "scratched")
Scratching is really only used in the begining of the song when you are cuing up to find the first beat.
Fortunately, Traktor has a great assignment which allows you to re-assign the touch sensitive zone to a CDJ-1000 style controller. That means that when a song is not playing you can use the top to search through a track and once you hit play that same zone now becomes a dedicated pitch bend area. That frees up the outside edge to be assigned a new function. To rock a CDJ style jog wheel just re-assign yours in the following way: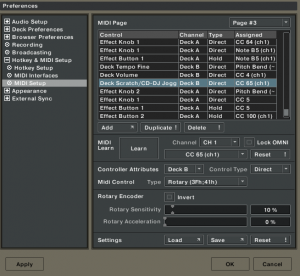 (note- the CC number of your jog wheel is going to be different)
TEMPO NUDGE
With bpm sync and fined tuned tempos your really only going to make small adjustments to the BPM of a playing track. Unfortunately, many controllers don't have buttons dedicated to this function. So why not use the outside of the jog wheel to make fine up and down adjustments to the tempo. I can tell you it works quite well and after a little practice feels very natural. Here is what that assignment should look like: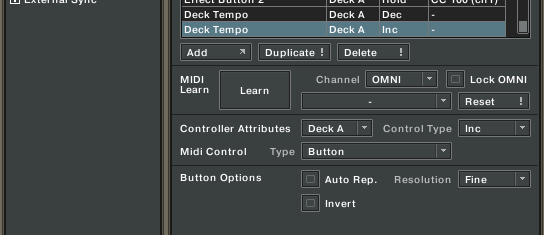 DOWNLOAD THE GOODS
Owners of the VCI-100SE can download a new TKS file with the jog wheels remapped using the method above. Owners of a standard vci-100 can also try the technique using this TKS but the other controls may act funny. Don't worry though, the upgrade package will soon be available.