Much frustration has been expressed during the past year over the difficulty in getting your VCI-100 updated. We are happy to announce that it just got a lot easier. Next week you will be able to purchase a VCI-100 firmware update unit (pictured above) directly from Dj TechTools for $20 that allows you change your own firmware at home. That means that you can update any VCI-100 to the coveted firmware version 1.3 which:
For those of you that already have found a way to update your VCI-100, here is the 1.3 firmware file that you can download free of charge. Step by Step instructions demonstrating how easy it is to do the update yourself will be posted next week.
To upgrade your firmware please visit this post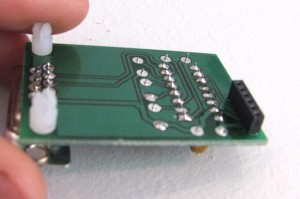 The kit is a simple and elegant design that was created by Dj TechTool's own MidiFidler. He deserves much respect and credit from the community for stepping up and helping to make this happen. Send him a shout out in the Forum and say thanks! The black part of the piece connects directly to your vci-100's mother board. Connect the serial port to your computer, install and run the firmware software (WIN only) and presto- your firmware is updated.