It's official: The first DJ controller manufactured by Native Instruments is going to be available in February for  $229. It's called the Kontrol X1 and is the same controller shown in the Ritchie Hawtin video we posted several weeks back. The X1 is aimed at serving the needs of professional DVS DJs who need MIDI control over loops and FX, or pure digital DJs who use an analog mixer and want compact control over Traktor's decks. The X1 is a dedicated 2-deck controller with FX, loops, loading and transport controls for 2 decks, but it lacks mixer controls, much like our newly released Oxygen 8 mapping that serves similar purposes.
DJs who want a dedicated deck controller in a small form factor have surprisingly few options on the market today. The Faderfox series of controllers, one of the first dedicated DJ MIDI controllers on the market, has retained a dedicated following of pro and hobbbyist DJs over the years due largely to a lack of competition. The X1 may offer the first good candidate to replace  the Faderfox, offering dedicated functionality and software-level interaction for a plug-and-play experience with Traktor Pro. Read on for more info on NI's first digital DJ controller.
ALL HANDS ON DECK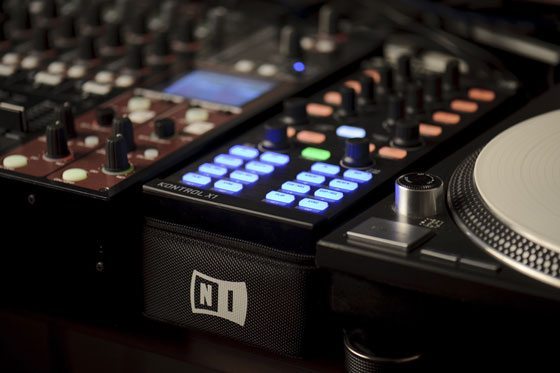 According to the press release, the X1 connects to Traktor via a "dedicated high-resolution protocol, resulting in a level of precision and responsiveness beyond what regular MIDI-based controllers can provide, and allowing for true plug-and-play operation with no setup or special configuration required."  The  controller is also MIDI compliant, so you can use it with other software or re-map the controlls for other purposes in Traktor. The X1 starts up in a dedicated communication mode, but can be switched into sending MIDI on the fly by pressing SHIFT+ MIDI in the center of the unit. This would disable control to Traktor and enable MIDI control over other MIDI-learned Traktor functions or a different software entirely.
We initially thought the dedicated protocol could not be configured in the same way as midi but NI has told Dj TechTools that in fact both modes can be customized to suit the users personal needs.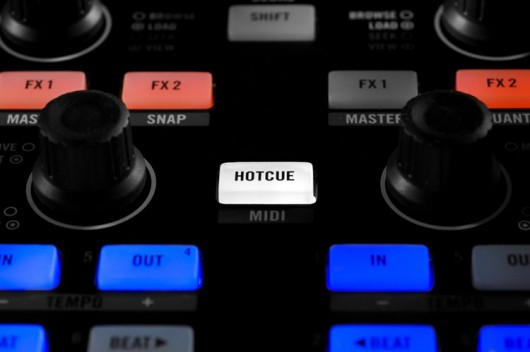 The X1 can be doubled up to provide control over all 4 decks in Traktor but would require a soundcard like the NI Audio 8 DJ, which can route 4 decks of audio out to an external mixer. From the official press release:
"The functionality and layout of TRAKTOR KONTROL X1 was carefully engineered and fine-tuned based on extensive artist feedback and usability testing in order to combine a versatile feature set with maximum ease of use."
NI worked long and hard on putting as much function in a small space as possible without blowing up the size of this controller, so many functions are double- or triple-layered on a single knob or button. For example, the center encoders are used for track searching: outside scroll, loading (push) or track seek (outside + Shift).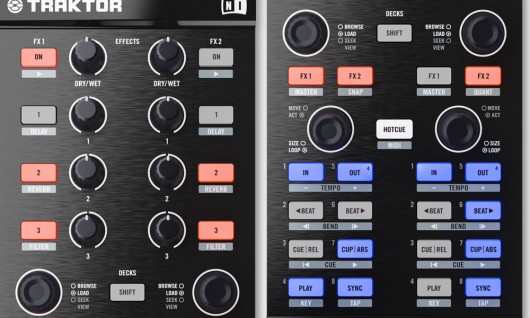 For those bringing the X1 into a club, chances are high it will fit into the booth. The depth of the controller is roughly equilvilant to a turntable and the width is small enough to fit between most components. An optional carrying case ($49) doubles as a riser, bringing the controller height up to mixer level.
Not just a Traktor controller, NI also has plans to make it work with competing Scratch Live.
"The X1 also comes with a carefully designed set of parameter assignments for the Serato Scratch Live® system, matching the relevant features of the software to the controller in an ideal way without any individual setup effort. A special Scratch Live overlay for the X1 is also available."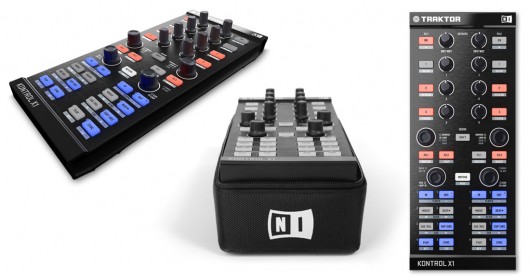 ESSENTIAL DATA:
Release Date: February 2010
Price: $229 / 199 €.
Ships with: Traktor LE and is upgradeable to Pro for $139
Plug and Play operation with LE and PRO
Optional Case available for $49/ 39 Euros
more info from nativeinstruments.com
REAL-LIFE TEST
DJ TechTools got exclusive access to test the X1 early in its production cycle. We are happy to report that the knobs, encoders and buttons are all good quality and well made. The endless encoders in particular have a really nice feel and are large and grabbable. The buttons have bright, visible LEDs, and are of a medium resistance. Not as playable as our famous arcade buttons, but comprable to the buttons on the VCI-100SE. The plastic case is robust and professional, and the black aluminum top plate gives the controller a nice pro look without too much weight.
Q&A WITH NI
We asked the senior DJ product developer at NI, Friedemann Becker, about his X1 project.
1) Tell us more about the "dedicated high-speed protocol" the X1 uses with Traktor Pro. How is this superior to MIDI or HID?
The central advantage is that using our own protocol gives us total freedom in how we let the controller interact with Traktor, without having to work around any artifical limitations. We can use parameter resolutions that are as high as the individual parameter requires it to be. Looking at the potentiometers on the X1, their physical resolution is 12-bit, and the software effectively recognizes 500 increments from the minimum to to maximum position. This is much finer than the smallest increments you can effectively create when turning the knob with your fingers. We could have an even higher resolution for faders or other elements with a longer travel. Our own protocol even allows us to attach precise time stamps to controller input events, and much more. It's important for us to be not limited in what we can add in the future.
2) Is there any particular interaction between controller and software that the X1 provides thanks to this protocol that would not be possible with MIDI?
The X1 is totally plug-and-play with zero configuration for multiple units, and we were able to design a very tight bidirectional integration between the software and hardware. For example, when two tracks in Traktor go out of sync, we are able to make the sync button on the controller flash to communicate this in a very intuitive way.
3) How do these advantages carry over when using the X1 as a controller for other DJ software?
When you use the X1 and its MIDI mode to control other software besides Traktor, you won't of course get the same level of integration. But even when you use it as a pure MIDI device it is still a highly capable controller with a very functional layout, so I think it will get a lot of interest from users of other DJ software too.
4) For DJs who don't have an analog mixer, how do you recommend they use this controller?
The X1 is really primarily designed to be used with a hardware mixer, and be part of a typical club setup that many Traktor users play on. But you will also be able to activate an optional layout where the upper section of the X1 controls the EQs and channel faders instead of the effects. You don't have crossfader control with this, but it is still a nice way to use the X1 as an all-in-one controller in a more casual environment.
5) Now that NI has released its first DJ controller, can we expect more in the future?
Yes, the X1 is definitely just the beginning and you will see more DJ hardware from us in the future.